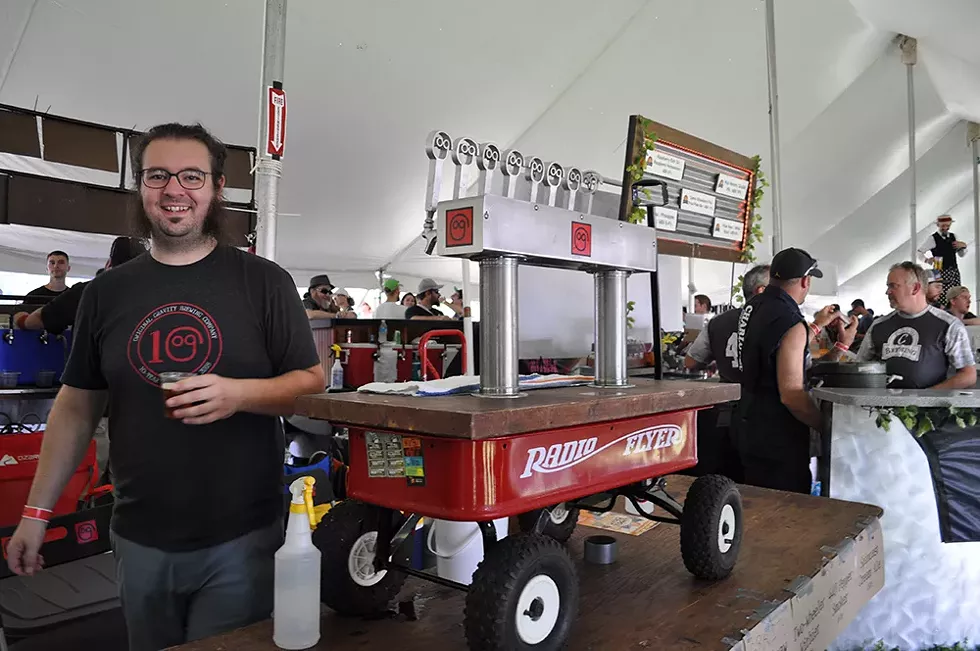 John Linardos has seen some things. When he opened Motor City Brewing Works in 1994 (470 W. Canfield St., Detroit; 313-832-2700; motorcitybeer.com), it was located in what was then known as the Cass Corridor, not Midtown — there were no artisanal candle stores or dog parks nearby. Back then, there were only a dozen or so brewers in the state, and they all helped each other out, swapping hops, borrowing barrels, and trading yeast. When he was able to persuade a bar owner to carry his kegs, it took a lot of work to convince them that anything other than a watered-down pale lager would sell.
Years before the advent of grapefruit IPAs and peanut butter porters, brewing and selling beer in Detroit was a job for the few and hardy. It would take three more years for the state's brewers to band together and throw a small festival in celebration of Michigan beer.
That first year, around 30 brewers participated. This year, the annual Michigan Brewers Guild's Summer Beer Festival, held July 26 and 27 — boasted more than 150 breweries serving 1,100 or so different options. There were plenty of off-the-wall flavors, including beers infused, dry-hopped, kettle-soured, barrel-aged, and agitated, in just about any combination you could ask for — and some you would never ask for. For Linardos and other area brewers, the novelty beer fad is "a natural expression of a brewer's love of experimentation." It's also a warning sign. "We've hit a tipping point," says Linardos, "and all the indicators are showing that we're at a saturation of the market."
Tell that to the scads of new taprooms, microbreweries, and brewpubs cropping up all over town, though. In the same week that well-known Axle Brewing closed its Livernois Tap in Ferndale, Brooks Brewing Company in Shelby Township opened a Ferndale satellite (22925 Woodward Ave., Ferndale; bbrewing.com). Just last week Smith & Co announced plans to open up another Midtown microbrewery on Selden Street. But the week before, industry favorite Cellerman's in Hazel Park closed with much mourning.
Michigan's strength as a brewing state (it ranks fifth in craft breweries per capita and ninth in economic impact), combined with the last few years' economic boom in Detroit, led to double-digit growth in the craft beer industry. From 2011 to 2018, the number of craft breweries statewide more than tripled, and Detroit's restaurant boom saw a concurrent rise in craft beer options.
The heady boom days of brewing are past, though, and as it enters its mature phase, the industry will likely see more course corrections, especially in Michigan. That doesn't necessarily mean that newer spots won't succeed, says Bart Watson, chief economist for the national Brewers Association. "We're starting to see some of the leading spots in the country (Portland, Oregon, for example) where openings and closings start to get closer together and the market starting to look more like restaurants, where new breweries open but they are balanced by closings," Watson says. "It's worth noting that the vast majority of new brewery openings are pretty small in production terms, so the number of breweries doesn't necessarily shift the overall beer landscape that much."
There's still room for the smaller bar, though, especially if the minds behind the project are industry veterans. Bo Holcomb has been brewing beer since 2000, in Germany and then as head brewer for Atwater. Just over two years ago, he and Laith Roumaya opened Fillmore 13 (7 N. Saginaw St., Pontiac; 248-977-3972; fillmore13brewery.com). "You've got to be passionate or just crazy to do this," says Holcomb. When asked about his forecast for the future, he's not too concerned. "Pontiac's had a rough go of it for the last decades, but we're starting to see a great little scene here," he says. Foot traffic is increasing, and Fillmore 13's next-door neighbor Exferimentation Brewery (7 N. Saginaw St, Pontiac; 248-648-1377; exferimentationbrewing.com), along with area favorites like Rochester Mills up the road (400 Water St., Rochester; 248-650-5080; beercos.com), encourage visitors to stick around for a while.
Like Linardos, Holcomb has seen plenty of changes in the industry. Speaking at the Summer Beer Festival in Ypsilanti, Holcomb told me that the festival is nearly unrecognizable compared to its earliest incarnations. "Back then, there were only a few of us," he says. "We've got more beer now than we used to have customers."
Both Holcomb and Linardos have noticed a troubling trend in consumers, though — what Holcomb calls the variety chasers. He tells me of a recent incident in which he delivered a half keg of Fillmore 13's Apricot Belgian Ale to a local bar on a Friday. By Saturday morning, the keg was gone, so he swung by the bar to replace it. The bar's manager didn't want it, though, telling him that his customers weren't interested in drinking the same thing again. They wanted something new. "People love your beer," he explains, "but they don't want to drink it again if there's a newer option right there. People used to have a little bit of loyalty to a certain brewery, but it's hard to be loyal to one brand or style when it keeps getting changed up."
As Linardos sees it, this pattern of novelty-seeking leads to a vicious cycle: brewers have to come up with increasingly wacky flavors and labels just to grab the fickle consumers' attention, which leads to sensory overload, which leads to more hurried production times and a lack of long-term sustainability for the breweries chasing the novelty seekers. When distributors formerly counted on pumpkin beers showing up in October, he now sees them asking for it in August. "Who's got ripe pumpkins in August?" he asks. "So now people are using canned pumpkins to keep up with the demands for pumpkin beer in August, because they have to chase all avenues of growth. We've hit a wall" as an industry, he says. "There's only so many [consumer] dollars, so many resources. There's going to be some cannibalization."
Linardos has kept the roster at Motor City Brewing Works on the steady side, declining to chase down outrageous flavors and sticking to his reputation as a neighborhood anchor. He's also keeping the creative juices flowing with The Garage Project, founded recently with some friends. "It's the ultimate answer to the 'what's new' problem," he says. Amateur and professional brewers from all over the country come for a brief stay, bringing their recipes and working with local brewers to refine and produce one round of cans and kegs—and then the release is gone. No repeats, no do-overs.
While there may be a slow-down in growth, Brewers Association economist Watson still sees plenty of hope for Detroit's beer market. He explains, "the 'critical mass' also shifts over time. There is no way the 1980s beer market could have supported the number of breweries we have now. So even if we approach what feels like a mature market now, there could be more opportunities (or fewer) in the next five or ten years."
Brooks Brewing's Ferndale manager, Mike Pierce, is banking on the former. "The hospitality industry has always been a difficult nut to crack. The brewery industry definitely isn't any different," he says. "It's timing, it's functionality, it's enthusiasm, it's drive, it's staff, it's product, it's branding, it's community, and sometimes it's absolutely none of that." Pierce sees plenty of room for one more Michigan brewery, so long as Brooks retains its commitment to family involvement and listening to the community around it. "It's exciting to move and join the Ferndale community, but we're still committed to our Shelby Township neighborhood too."
Breweries have, for a couple of decades now, been both the symptom and sometimes the cause of economic growth in industrial neighborhoods nationwide. And their meteoric rise contrasts sharply with the national economic retail and manufacturing trend of consolidation and conglomeration. A craft brewer like Motor City or Fillmore 13 plays a crucial role in the life of its neighborhood. The corner pub may have shifted what it serves in the last twenty years, but as Linardos says, "we didn't build it in anticipation of 2019. We built it for our neighborhood and as a gathering place for us and our friends. Everything that's happened since is because of that."
So many restaurants, so little time. Sign up for our weekly food newsletter delivered every Friday morning for the latest Detroit dining news.