Located two hours north of Detroit, Midland's Whiting Forest has recently undergone a trippy makeover that includes what is now the nation's longest forest canopy walk, spanning nearly 1,400 feet across more than 54 acres.
The new attraction also includes a 40-foot-high glass-floored observation deck, an outdoor amphitheater, and even otherworldly, pinecone-like pods that look like something out of Star Wars. The park is set to open in October, just in time to view the autumn leaves.
Alan Metcalfe, the principal at Philadelphia-based Metcalfe Architecture & Design, says his firm was hired in 2014 to reimagine the site as a "family-friendly forest of play." The $20 million project links the forest to Dow Gardens, the grounds owned by the Herbert and Grace Dow Foundation (of Dow Chemical fame).
"They wanted us to create something that would cater to the right side of your brain," says Metcalfe, whose firm has also designed sites at Morris Arboretum of the University of Pennsylvania and the Brooklyn Botanic Garden. "Typically, a lot of these arboreta and museums kind of lecture to people. They tell them, 'You're going to do this, you're going to do that. You're going to learn this, you're going to love it.' Instead of that, we wanted to create an outdoor experience that would make people gather and enjoy being together, but also learn about the forest, and even about being a human being."
He says the site's rope netting bridges are a great example of how to do that.
"Kids jump in first, and then they get their parents to come in," he says. "Then they come in, and what usually happens is they all fall to the bottom of the net, and other families meet each other because they can't help but bumping into each other. And when you break a social barrier, that's what gets people to start talking."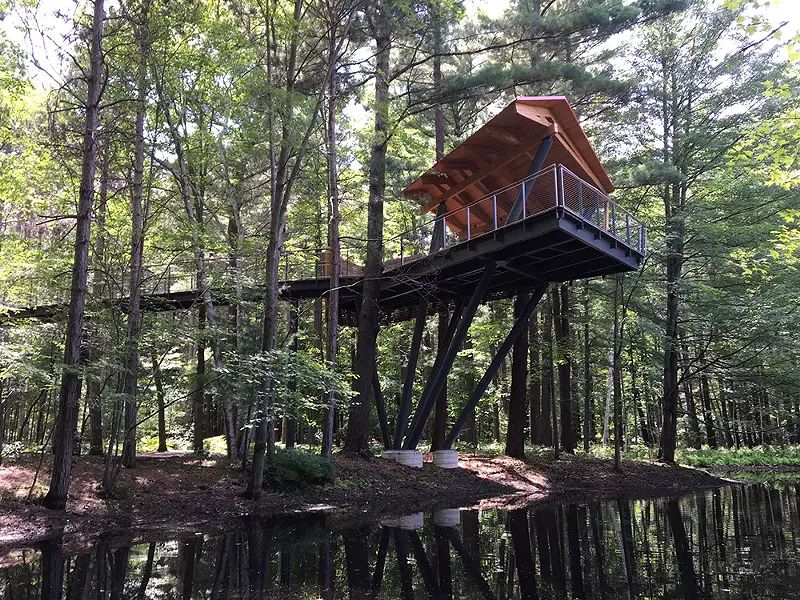 The "nature playground" is made up of three arms that come off of one central axis, taking visitors over a pine forest, an apple orchard, and a pond. The grounds also include pedestrian bridges, rope netting suspended over the trees, hammocks, a café, an outdoor amphitheater, a "forest classroom," a fire pit, and a visitor center in the remodeled mid-century modern house designed by Alden B. Dow. The grounds will even host a house available for overnight stays.
Metcalfe says the attractions aim to make both the "littlest kid and the oldest adult happy." He also notes the site is compliant with the Americans With Disabilities Act.
The goal for the team was to maintain a sense of wonder and whimsy throughout the project. "I think of Grimms' Fairy Tales and I think of the danger and excitement of the forest," he says. "That's what we're playing on."
He says he also hopes to fight against what he calls "nature deficit syndrome."
"The experience I had as a kid of running around outdoors doesn't seem to exist anymore," he says. "So we're trying to fabricate that and let them run wild."
Whiting Forest opening week is from Sunday, Oct. 7 through Sunday, Oct. 14; 1809 Eastman Ave., Midland; 989-631-2677; dowgardens.org/whitingforest; Admission is included with tickets to Dow Gardens ($5 daily, $10 for an annual pass, and $1 for kids). Fall hours are 9 a.m.-6:30 p.m. until Oct. 31.
Stay on top of Detroit news and views. Sign up for our weekly issue newsletter delivered each Wednesday.