This season, don't let the brutal Michigan cold prevent you from enjoying everything that Michigan has to offer. Whether you're a novice or you've got advanced skills, Michigan has myriad winter activities that will keep you in shape all year long. Want to get away from the hustle and bustle and enjoy a quiet weekend? Michigan also has plenty of winter resorts within easy driving distance of metro Detroit.
Cross-Country Skiing
When the snow finally hits Michigan this winter, you can strap on some skis and hit the trails at some of metro Detroit's finest parks, which range from perfectly groomed, easy terrain to more challenging skate-style skiing on Michigan's rolling hills. Using the Nordic Ski Trail Difficulty Rating System, Metroparks allow beginners to build confidence along easy greens, while experienced skiers can traverse black diamond trails.
Hudson Mills Metropark
8801 N. Territorial Rd., Dexter; 734-426-8211; metroparks.com
Park hours: 8 a.m.-8 p.m.
Rental equipment: $15 for adults, $9 for children 16 and under.
Huron Meadows Metropark
8765 Hammel Rd., Brighton; 734-426-8211
Park hours: 8 a.m.-8 p.m.
Rental equipment: $15 for adults, $9 for children 16 and under.
Kensington Metropark
4570 Huron River Pkwy., Milford; 810-227-8910
Park hours: 6 a.m.-10 p.m.
Rental equipment: $15 for adults, $9 for children 16 and under.
Stony Creek Metropark
4300 Main Park Rd., Shelby Township; 586-781-4242
Park hours: 7 a.m.-8 p.m.
Rental equipment: $15 for adults, $9 for children 16 and under.
Skiing and Snowboarding
Boyne Mountain Resort
1 Boyne Mountain Rd.; Boyne Falls; 855-688-7024; boynemountain.com
If you're looking for a little outdoor fun, Boyne Mountain Resort offers 60 downhill runs across 415 acres of land. Beginners can enjoy easy greens without a lift ticket, while experienced riders can get an adrenaline rush by speeding down the resort's double black runs.
Open-to-close lift passes start at $78 for adults, $67 for teens 13-18, and $57 for kids 6-12.
Mt. Brighton
4141 Bauer Rd.; Brighton; 810-229-9581; mtbrighton.com
Good news for people who don't have the time for a weekend getaway: Mt. Brighton has partnered with Liftopia to launch "Liftopia Experiences" to help get people on the slopes this season. Starting at $89, Liftopia offers round-trip transportation from Detroit and Ann Arbor, as well as lift pass to Mt. Brighton so you can carve through powder all day and get back home before dark. Liftopia trips start at $89 and leave from Detroit's Rosa Parks Transit Center (1310 Cass Ave., Detroit) and Ann Arbor's State Street Commuter Lot; more information is available at experiences.liftopia.com.
Adult lift passes start at $42, children lift passes start at $37 per day.
Pine Knob
7778 Sashabaw Rd., Clarkston; 248-625-0800 ext. 3; skipineknob.com
If you want to build some confidence on the slopes, Pine Knob is a short trip from metro Detroit. You can explore 14 trail runs perfect for beginners or seasoned riders, or practice your freestyle skills at Pine Knob's three terrain parks.
Single full-day lift tickets start at $37 for kids and adults.
Mt. Holiday
3100 Holiday Rd., Traverse City; 231-938-2500; mt-holiday.com
Are you focused more on tricks than cruising down fresh powder? Mt. Holiday's terrain park in Traverse City is made for riders by riders, with plenty of trails to help you perfect your freestyle game.
Lift passes start at $22, children 0-4 and adults 65+ ride free.
Treetops Resort
3962 Wilkinson Rd., Gaylord; 866-348-5249; treetops.com
Treetops Resort boasts comfortable accommodations for the avid skier in the winter (or golfer in the summer). Rates start at $89 per night. You can rent a standard room or even rent an entire cottage.
Big Powderhorn Mountain Resort
11375 Powderhorn Rd., Bessemer; 800-501-7669; bigpowderhorn.net
Big Powderhorn Mountain Resort offers lodging and lift packages that are sure to enhance your love affair with winter. Nightly rates start at $107 per night. Get a two-night lodging and lift package starting at $249.
Caberfae Peaks
1 Caberfae Ln., Cadillac; 231-862-3000; caberfaepeaks.com
At Caberfae Peaks, guests can select a lift and lodging package that includes night skiing, or choose to stay for a weekend of rest and relaxation. Lodging-only packages start at $89 per night.
Pine Mountain Resort
N. 3332 Pine Mountain Rd., Iron Mountain; 906-774-2747; pinemountainresort.com
Just a stone's throw away from Wisconsin, Pine Mountain Resort's newly-renovated hotel-style rooms start at $131 per night. Rates that include breakfast start at $146 per night.
Fat Tire Winter Mountain Biking
Fat tire winter mountain biking offers all of the benefits of riding a mountain bike in the summer, with the additional challenge of navigating tough terrain covered in ice, sleet, and snow. Travel just a couple hours north of metro Detroit to the Great Lakes Bay Area and you'll find several great trails that will make you excited to get outdoors.
Saginaw Valley Rail Trail
401 East Water St., Saint Charles; 989-790-5280; mitrails.org/saginaw-valley-rail-trail
Pere Marquette Rail Trail
220 West Ellsworth St.; Midland; 989-687-2396; peremarquetterailtrail.org
Bay City Area Riverwalk/Railtrail
E. Hart St., Bay City; 989-894-8314; bayfoundation.org/what-we-do/recreation/riverwalk-railtrail
Don't have a fat tire mountain bike? No problem! You can rent one from one of two locations in the area: Jack's Bicycle Shop (207 Third St., Bay City; 989-684-1735; jacksbikeshop.com) and Ray's Bike Shop (303 Salzburg Ave., Bay City; 989-892-7516; raysbike.com).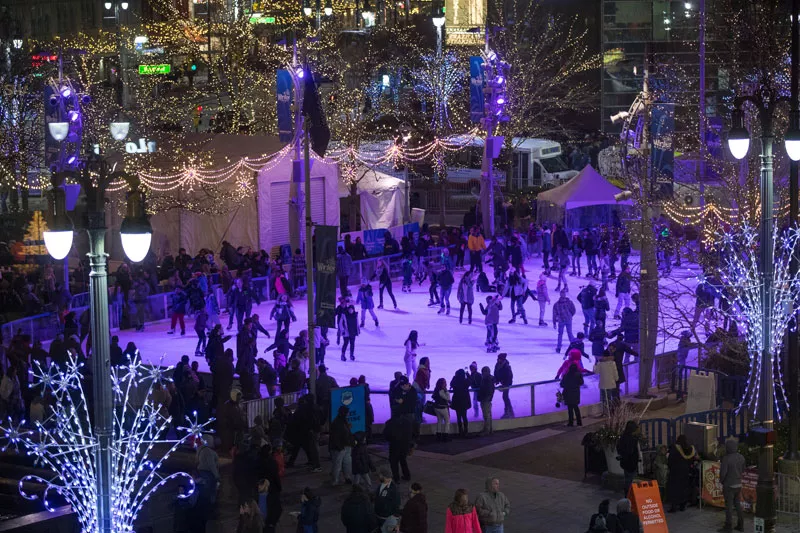 Ice Skating Rinks
If you need some time on the ice this season, metro Detroit offers many ice skating arenas to help you work on your speed and form, or to get the family together for a few laps around the rink.
The Rink at Campus Martius Park
800 Woodward Ave., Detroit; 313-963-9393; www.downtowndetroitparks.com
The Rink at Campus Martius Park is downtown Detroit's only seasonal outdoor ice rink. Open through March 3, the Rink at Campus Martius Park offers skate rentals for just $5. Admission is $10 for adults, $8 for seniors 59 and older, and $8 for children 12 and under. Hours vary.
Warren City Square Ice Rink
29000 S. Civic Center Blvd., Warren; 586-268-8400; cityofwarren.org
Warren City Square Ice Rink is an outdoor arena that offers nighttime skating. There is a heated indoor area that includes skate rental, concessions and restrooms. General admission starts at $4 and skate rental starts at $3.
Dearborn Ice Skating Center
14900 Ford Rd., Dearborn; 313-943-4098; dearborniceskatingcenter.com
The Dearborn Ice Skating Center, also known as the DISC, is an indoor arena that offers public skating on most early afternoons Sunday through Thursday, and late afternoon public skating on most Fridays and Saturdays. The public skating fee for residents is $6, and the fee for non-residents is $7. Seniors and children under age five can skate for $3.
Birmingham Ice Arena
2300 E. Lincoln St.; Birmingham; 248-530-1642; bhamgov.org/icearena
Birmingham Ice Arena offers open skate, skate lessons, and ice party rentals to people of all ages. Open skate admission costs $5 for people ages 17 and under, and $6 for adults 18 or older. Seniors skate for $5. Skate rentals cost $3.
Hazel Park Ice Arena
1555 E. Woodward Heights Blvd., Hazel Park; 248-546-5700; hazelpark.org
Hazel Park Ice Arena is Hazel Park's only public indoor ice rink. It costs $5 to skate and $2 to rent equipment. Call their facility to inquire about public skate hours.
Garden City Ice Arena
200 N. Log Cabin Rd., Garden City; 734-793-1882; gcicearena.com
Garden City Ice Arena offers both public skate on Saturday and Sunday afternoons, and Glow Skate on Saturday nights. Skate rentals cost $2.50 and public skate admission starts at $4 for adults and $3 for children age 15 and under.
Stay on top of Detroit news and views. Sign up for our weekly issue newsletter delivered each Wednesday.