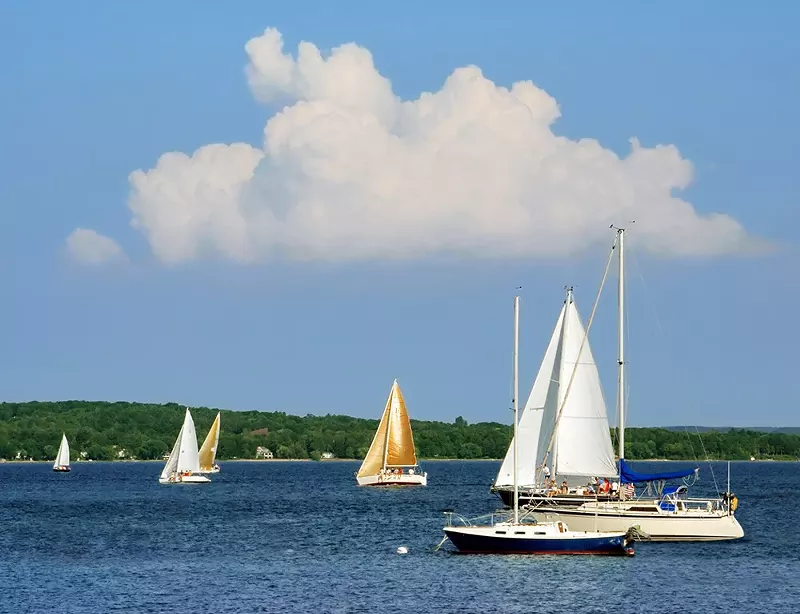 It's time to head north.
About three hours north of Detroit, you hop off I-75 and, for another hour, you wind west through lush shady woods, over crystal lakes, past groves of fruit trees and pastures of sleepy cows toward the tip of the pinkie — Traverse City. Though the Pure Michigan commercial mainly shows fancy moms in Ann Taylor sweaters smiling at their shopping bags, and Teva-wearing dads wrangling their sticky kids, there are plenty of ways to take on Michigan's Cherry Capital that fit your style.
The Foodie
The local food movement is alive and well in Traverse City, and it has attracted the attention of renowned chefs from across the country. The surrounding 100 miles have enough boutique farms to stock a different farmers market every day of the week, provide for the local organic food co-op, and supply niche restaurants around town. There are more good places to eat in Traverse City than you can get to in a year, let alone a weekend, but there are a few can't-miss spots for a memorable meal.
Little Fleet: Traverse City mixes up the food truck trend with vendors offering kimchi and fried avocado burritos, molten chocolate lava cakes, sushi, and super-stacked nachos. Of course, it wouldn't be a food truck fleet without a chic bar featuring craft cocktails and local beer and wine. Cross the street and you're looking out over the Grand Traverse Bay, a perfect spot to watch the sunset. 448 E. Front St., Traverse City; 231-943-1116; thelittlefleet.com
BLK MRKT: Easily the trendiest coffee spot in TC tucked inside the one-block "warehouse district" on the west side of town. Beans are roasted in-house by a small staff of dedicated coffee connoisseurs. The minimal shop also features work by local artists and house-made sweet and savory pastries. 144 Hall St., Traverse City; 231- 714-5038; blkmrkt.coffee
Frenchie's Famous: House. Smoked. Pastrami. This place doesn't mess around. Expect a wait — the cafe inside only seats 15, the covered patio outside is a hot spot in the summer, and people are desperate to get their hands on pastrami hash, green chile shakshuka, and Ethiopian breakfast dishes. If you ask, they will give you a to-go box of sliced pastrami to take to the beach. 619 Randolph St., Traverse City; 231-944-1228; frenchiesfamous.weebly.com
The Adventurer
Rent a kayak: The Boardman River snakes from Grand Traverse Bay through downtown Traverse and into Boardman Lake, about a 2-mile trip. You can get a single-person kayak dropped off to you for the day for just $49. There are a few places to dock your watercraft and head up to street level to enjoy a beer or a snack at one of the riverside restaurants or breweries. Summer bod maintenance included, free!
Hike or ride the TART: Traverse has more than 10 miles of easy trails, from Williamsburg on the east side to Sutton's Bay on the Leelanau Peninsula. Get the insider's view of M-22 without straying too far off the beaten path.
Get out of town: Traverse City is less than an hour from some of the purest of pure Michigan areas. You can head northeast on M-22 to hike the dunes in Sleeping Bear National Park, or the Houdeck and Whaleback Natural Areas in the Leelanau Peninsula. Go northeast for trails in Petoskey, or south for wooded trails in the Huron-Manistee National Forest.
The Partier
No city has anything on Detroit Techno City, but you can definitely get loose and have some fun.
Wine Tours: Michigan wines get a bad rep — (We know, we know, just hear us out) but Michigan is located on the same latitude as fine wine regions in France and Germany, and is among the "cool climate" group of wine-producing regions that are known for food-friendly styles of wine, according to the Department of Agriculture. Go ahead, drink — plenty of companies will take you to the best wineries on the Leelanau and Old Mission peninsulas and safely back to town.
Blissfest Music Festival: About an hour northeast of town in Petoskey, the small annual roots and folk festival celebrated its 39th year in July with musical performances, merch vendors, and food. If you're looking to avoid fancy moms in Ann Taylor sweaters, this is definitely the spot to be. Wooded and field camping is available. 522 Liberty St., Petoskey; blissfest.org
The History Buff
Despite all the new business coming into the area, western Michigan has rich Great Lakes, fishing, and tourism history — the kind of stuff that will impress your mom.
Fish Town: A row of weathered fishing shanties along the Leland River is the oldest commercial fishing village in Michigan. Some of the buildings have been repurposed as boutiques, art galleries, and specialty food shops. Plus there's a cheese store next to a candy store — need we say more? 203 Cedar St., Leland
The Village at Grand Traverse Commons: The former mental hospital was built in 1884 to provide state-of-the-art recovery and care to patients, featuring bright rooms and natural hiking paths, but in 1989, the building was vacated and left to rot. Five years later, the space was refurbished and repurposed with boutique shops, a naturopath, a rare books store, restaurants, and art galleries, along with winding hallways. There are also spooky twilight tours of the underground tunnels and unfinished wings of the hospital. 830 Cottageview Dr., #101, Traverse City; thevillagetc.com
Mission Point Lighthouse and Hessler Log Cabin: In the late 1800s, a boat of mariners hit a shallow reef in the dangerous waters of the West Grand Traverse Bay and sank, killing the entire crew. Today a lighthouse sits in that spot, keeping mariners safe. Only a handful of full-time keepers have lived in the secluded lighthouse at the tip of Old Mission Peninsula. The grounds were also home to a couple of the first immigrant settlers. Every third Saturday in June, "pioneer" women cook a meal over open flame and demonstrate turn-of-the-last-century tools to celebrate the first people to legally own their land on the Mission Peninsula for Log Cabin Day. 20500 Center Rd., Traverse City; missionpointlighthouse.com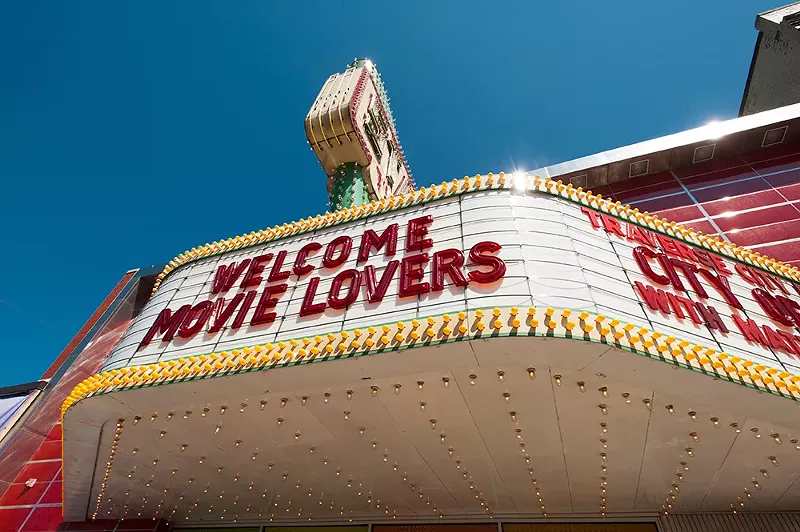 The Artsy Friend
Traverse City Film Festival: Michael Moore hosts a two-week film festival at the end of July that draws an international crowd, with films for all ages and interests, discussion panels with directors, educational workshops, and — of course — free outdoor movies. There's other fun to be had, too: 2017's event featured a bayside dance party to the Talking Heads' Stop Making Sense. If you plan on coming that weekend, book your lodging and buy your tickets early — they both go quick. traversecityfilmfest.com
City Opera House: This building, located on downtown's main drag, is one of seven active Victorian playhouses built in Michigan in the late 19th century. Today you can find a range of theater classes, lecture series, and nationally touring performances, such as The Lion King. 106 E. Front St., Traverse City; cityoperahouse.org
Michigan Legacy Art Park: More than 50 contemporary sculptures are on display in this 30-acre wooded park, with local and international artists interpreting the stories, history, and beauty that creates Michigan's legacy. Visit the amphitheater for live performances and educational series throughout the summer. 7300 Mountainside Dr., Thompsonville; michiganlegacyartpark.org
From our 2018 Made in Michigan issue.