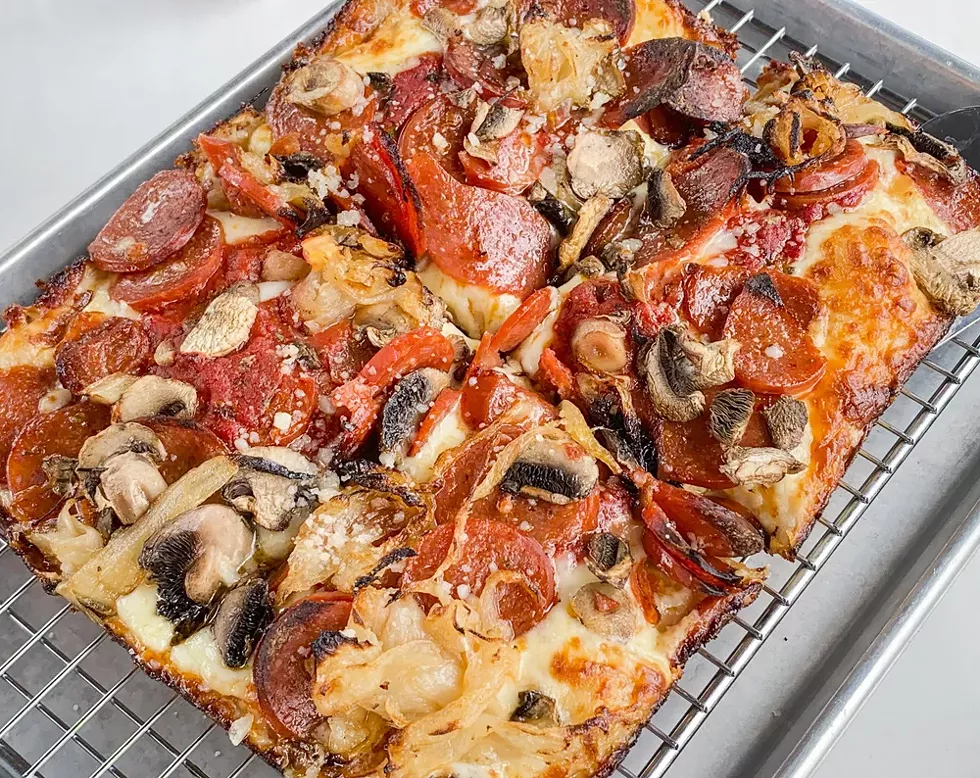 Growing up in a suburb of Detroit, "Detroit-style pizza" was not a term we used to describe the layered, rectangular Jet's Pizza pie with caramelized crust and block cheese baptized in tangy sweet tomato sauce. Instead, we just called it "Friday night," as we — my father, step-mom, and step-siblings — frantically called dibs on one of the four coveted corner slices because those crispy, gooey pieces were as good as currency and both a source of joy and inner-familial contention.
But as of the past few years, it's become less of a geographically-specific treat — Detroit-style pizza has gone national.
By now, the origin of Detroit-style pizza is relatively well-known. It was Gus Guerra, owner of the former Buddy's Rendezvous in Detroit, who gave his Sicilian pizza recipe a Motor City twist in 1946 by using steel automotive pans as the baking vessel to give the pie its crispy crust. Guerra eventually moved on to found another Detroit-style pizza joint with Cloverleaf, and other spots opened like Loui's in Hazel Park, Shield's and Niki's in Detroit, and, much later, Jet's in Sterling Heights. This was all decades before Vice would call Detroit-style "the best pizza you never had," followed by Esquire magazine, which made the bold claim that our take on the beloved dish is "conquering America."
The rapid spread of Detroit-style pizza's national takeover is giving Michigan expats a taste of home and, for the uninitiated, a taste of something new. Founding chef of St. Clair Shores' Detroit Style Pizza Co., Shawn Randazzo, took home World Champion Pizza Maker during the 2012 iteration of the International Pizza Expo in Las Vegas. At the time of his victory, he and his Detroit-style slices were an island in a sea of Neapolitan and New York-style pies. Thankfully, for the nation's taste buds, this is no longer the case.
This year's expo featured a plethora of Detroit inspired pizza, including Nick Franchi of Ohio-based Upper Crust Pizza, who took the top prize in the Pan Division for his Detroit Crunch Crust. It's grown in such popularity, the massive expo now offers a Detroit-style pizza workshop.
San Francisco has a Detroit-style pie via Square Guy Pies, a popular pop-up turned brick-and-mortar. In July, Portland scored a second Ranch location — a pizza hotspot that specializes in our famed pan pizza served with their in-house ranch dressing — while Washington D.C.'s Red Light restaurant has most recently changed up its menu to accommodate the addition of 10 varieties of Detroit-style pies, including a Coney-dog inspired concoction, replacing pepperoni with hot dog — topped with chili, white onions, and mustard, of course.
But the trend isn't just bubbling across the country — it's having a moment here at home, too.
In the past year, the Motor City's OG Detroit-style pizza spots have expanded. Buddy's has announced national expansion, including its first downtown Detroit location, which is slated to open its doors later this year. Cloverleaf is set to add a Saint Clair Shores restaurant this year, marking the local franchise's seventh location. And Shield's opened its fourth location this past spring in Midtown.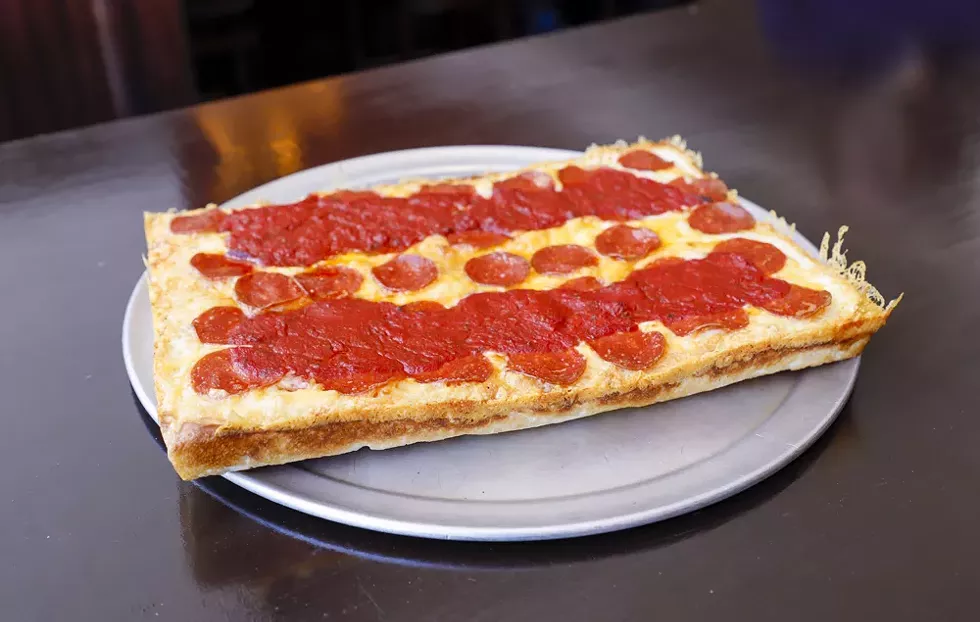 "Shield's originated in Detroit, and you know years back when I think things got a little dicey downtown and things weren't going well, a lot of those small pizzerias closed up," says Norman Mourad, the owner of Shield's Midtown spot. "With the resurgence of Detroit, we were just so excited to bring Shield's back. We thought what better to showcase Detroit-style pizza on a university campus, especially with Wayne State students. We just thought it would be a great spot, across from the DIA, right next to the Detroit Public Library — the area, just the way it's booming, we wanted to be a part of it."
Metro Detroit appears to be leaning into the tradition of Detroit-style pizza, while also turning it on its head with creative use of ingredients. Ferndale's newly resurrected Como's, which now operates with chef and restaurateur Zach Sklar at the helm, joins the ranks of Detroit-style pie-purveyors, offering a variety of non-traditional toppings, including kale, black garlic honey, and marinated tomatoes. And in Woodbridge, Pie-Sci Pizza specializes in a rotating selection of unconventional pizzas, like the Salami Kilpatrick (essentially a hoagie or grinder in pizza form, which was named by Metro Times as the best in the city) and the Sammy Samosa (which uses spiced red lentil, potatoes, peas, fried puff pastry dough, and a tamarind ketchup drizzle). Like most of Pie-Sci's offerings, their pizza can be ordered round or Detroit-style.
Then there's Grandma Bob's, which opened its doors in the spring. The Corktown pizzeria is the result of a partnership between restaurateur Dave Kwiatkoski and chef Matt Ziolkowski, who last ran Pepe Z's in El Club before parting ways in 2017. Though they specialize in kooky Neapolitan-style pie, including a Taco Pizza, Grandma Bob's has, on occasion, offered limited-edition Detroit-style pizza, according to their social media.
But the neighborhood's newest pizza pusher comes from a husband-and-wife duo whose Michigan & Trumbull pizzeria recently opened within the Fort Street Galley food hall earlier this summer. The food hall is but a temporary location for Kristen Calverley and Nathan Peck, both metro Detroit natives who first launched their Detroit-style concept under the same name in Pittsburgh in 2012.
"The response has been overwhelmingly positive in Pittsburgh, people are disappointed to see us go," Calverley says. "I think initially it was tough convincing people that the pizzas — particularly the signature caramelized cheese crust — was not 'burnt,' but eventually it caught on. I think it's helped a lot that Detroit-style pizza is everywhere now and extremely on trend."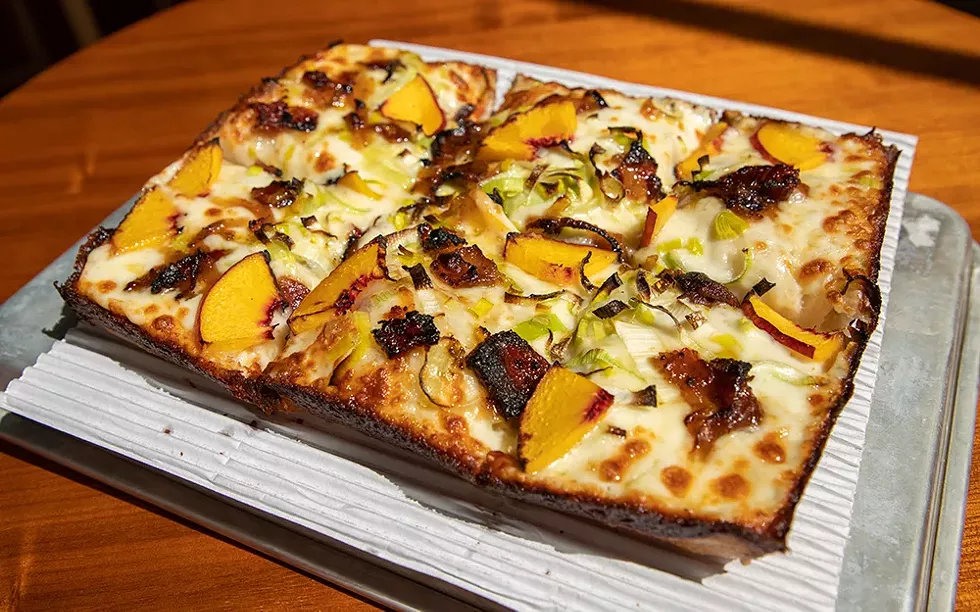 Calverley, a Royal Oak native, and Peck, who hails from Southgate, both grew up eating Jet's, sheepishly admitting some shame in loving a chain restaurant, but holding it in high esteem due to sentimentality. They also enjoy a visit to Loui's, both for its atmosphere and commitment to the traditional Detroit style.
The choice to return home was not an easy one, and was sparked when the pair found themselves being sought out by a Detroit real estate developer looking to fill a vacant storefront in Corktown. She says the project "was not the right fit" but it got them thinking about bringing their Detroit-style pizza back to Detroit. It wasn't until they found the location at 1441 W. Elizabeth St. that they knew the time to strike was now — just as so many others have seemed inclined to do.
"I'm confident that our product is different enough that there's a market for it," Calverley says. "I think a lot of the Detroit-style 'institutions' are still not straying much from the traditional toppings and offerings, which absolutely has its place. But we're really trying to do something a little bit different. Of course, it's important to us that our pizza is still accessible, but we play with ingredients and flavor combinations we personally enjoy."
A point of pride for Calverley is in the Woodward White, a white pizza with mozzarella, baked ricotta, garlic oil, lemon zest, and red pepper flakes, while she says her husband enjoys the couple's Bagley Chorizo, which boasts housemade chorizo, cilantro ranch, and pickled red onions. Everything is made in-house, Calverley says, including the dough, sausage, pickled veggies, and sauces — adding that her husband prides himself on the choice to opt for a more simple red sauce that puts the tomato center stage rather than a complex, and aimless, spice-heavy base.
In recent months, local critics have suggested the Detroit restaurant boom is over, citing back-of-the-house burnout, inexperience, Darwinism, and the rapid increase of closures in both casual and fine-dining establishments, including the quick departure of two restaurants, Allenby and Pursue, both of which were located within the Fort Street Galley, where Michigan & Trumbull will operate out of until they open their Corktown location this fall.
So what does this mean for Detroit-style pizza in Detroit? By our prediction, not a damn thing. There are countless people working hard to take our local delicacy to the next level and to make even more to make it. Just as some prefer putting a Jet's pie down on the family dinner table on Friday nights versus artisanal slices as concocted by the area's latest pizza scientist, there is room in the Detroit market of Detroit-style pizza for everyone to have a favorite.
"I speak for Nate and I both, when I say that this has become a lifestyle for us, an obsession even," Calverley says. "We're constantly eating pizza and constantly trying to improve. We are so excited for the people of Detroit to try it, we've been working hard to make our hometown proud for the last two years."
Buddy's
17125 Conant St., Detroit; 313-892-9001; buddyspizza.com (multiple locations)
Cloverleaf
24443 Gratiot Ave., Eastpointe; 586-777-5391; cloverleaf-pizza.com (multiple locations)
Como's
22812 Woodward Ave., Ferndale; 248-677-4439; comosrestaurant.com
Detroit Style Pizza Co.
28630 Harper Ave., St. Clair Shores; 586-445-2810; detroitstylepizza.co
Grandma Bob's
2135 Michigan Ave., Detroit; 313-315-3177; grandmabobs.com
Jet's
jetspizza.com (multiple locations)
Loui's
23141 Dequindre Rd., Hazel Park; 248-547-1711
Michigan & Trumbull
160 W. Fort St., Detroit; 313-230-0855; fortstreetgalley.org
Niki's
735 Beaubien St., Detroit; 313-961-4303; nikisdetroit.com
Pie-Sci Pizza
5163 Trumbull Ave., Detroit; 313-818-0290;
piescipizza.com
Shield's
5057 Woodward Ave., Detroit; 313-262-6087; shieldspizza.com (multiple locations)
So many restaurants, so little time. Sign up for our weekly food newsletter delivered every Friday morning for the latest Detroit dining news.