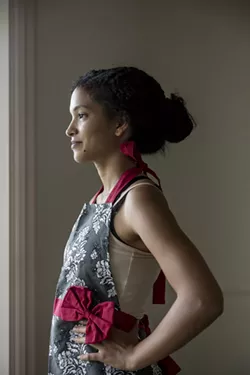 First off, metro Detroit has always had plenty of black food, whether it's Creole, soul, or the wide range of time-honored barbecue joints, from Aunt Bessie's to Vicki's. These days, it includes comforting dishes like chicken and waffles at Kuzzo's, restaurants such as the west side's Jamaica Jamaica that cater to Detroit's Caribbean immigrant communities, Southern fare with a twist at Savannah Blue, and the boundary-pushing plant-based preparations at Detroit Vegan Soul.
But when you begin to see foods with an African heritage showing up on the pop-up circuit, something new is happening. First it was Tunde Wey and his business partners starting the Revolution pop-up space in Hamtramck a few years ago. Wey has since moved on to creating a traveling pop-up showcasing the food of his native Nigeria, an endeavor that earned coverage from NPR and The Washington Post. More recently, Christian Noel did a series of Haitian-themed pop-ups called N'ap Boulé. Now we're seeing young Ameneh Marhaba's Kitchen Ramarj pop-ups, featuring the flavors of Liberia.
Is something more going on here? Are black chefs finding a new way to show off these cuisines? Is the fine-dining crowd primed to accept traditionally "black" foods in ways similar to the ways they've embraced European ethnic foods? Is that hunger for international foods deepening to the point where it begins to cross our city's stark racial divides?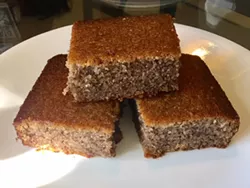 At the very least, it says something that the foods of Africa and the diaspora haven't had their moment in the limelight here in metro Detroit's fine-dining scene.
Noel of N'ap Boulé says it wasn't easy to introduce pop-up diners to Haitian food. He compares it to a battle.
"It's weird that in such an Afro-centric city, you get the same kinds of cuisines," he says. "Caribbean and Haitian cuisines are very underrepresented. The number of chefs are small, which makes it is tough to get on the same judging block as some well-renowned chefs."
"Restaurants are starting to open up with 'island flavors' but not necessarily 'island food.' The very few black chefs and cooks I know, their food is still more of the European or French style. I don't know many of them doing much with the African influences."
But when he did his series of pop-ups at the late St. Cece's in Corktown, he says the meals were well received, and even drew former volunteer doctors who had worked in Haiti and sought to satisfy old culinary cravings.
"They would hear about events I was doing through word of mouth," he says. "So it began to create a following."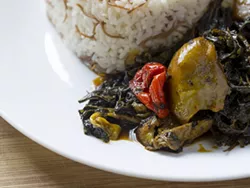 It should come as no surprise that Haitian food is imbued with a lot of the same flavors and techniques one finds in Jamaican fare.
"Most of the foods throughout the region are similar," Noel says. "That area is a big melting pot, and a lot of the culinary influences were French, but the Haitians, given their socio-economic history, could only use what they had. So we're talking about a lot of root vegetables being used for stews, and French or Spanish or Indian influences. ... Not to diminish anything, but a friend and I called it 'poor man's food,' where we take what we have and make the best of it. But it's enriching, filling, and always made with love. It's about making the best with what we have."
That said, with N'ap Boulé, Noel tried putting a Midwestern spin on the island cuisine. "We took these Haitian dishes and making portions that an American would be used to," Noel says.
With contemporary diners more eager than ever to return to basics, "peasant fare" is more having a moment. And many of the things that make the food of Haiti special — vegetable-forward dishes, meat as a condiment, cooking with fire, earthy spicing — would seem a perfect combination for diners seeking that balanced mix of the novel and the trusty. Noel has served some obvious crowd-pleasers, such as double-fried plantains and a hearty red-bean-and-rice dish. But he's also given tacos an island twist by braising chicken breasts and thighs, adding a topping of spicy, vinegar-based Haitian slaw of cabbage, carrots, habaneros and limes, and serving it in a warm tortilla.
If this sort of Haitian food already seems surprisingly international, prepare yourself for the idea of Haitian spaghetti.
"My father used to talk about this dish because it was what they ate for breakfast and all throughout the day," Noel recalls warmly. "I take regular pasta, make a red sauce from charred red peppers rather than tomatoes, add parsley, green onions, and roasted tomatoes that came from local farmers or gardeners, combine that with shrimp seasoned with star anise, clove, cumin, ground pepper, cinnamon, salt, and pepper." The dish also gets a final blackening in fish oil, and drizzled with a bit too before serving.
With dishes like this, it's clear that a lot of Caribbean fare is almost like an original fusion cuisine, one that shunts aside any arguments about authenticity by using what's available to give diners a comforting bellyful of revelatory flavors.
Due to life changes that include a new son, Noel doesn't do the pop-up right now. He still caters events, and assists a Haitian association he's a member of with dinners and celebrations of what he calls metro Detroit's "small Haitian community." But he had hardly discontinued the series before another newcomer arrived on the scene.
The Kitchen Ramarj pop-up is the brainchild of Ameneh Marhaba, a 22-year-old with a colorful, international history. Her mother is Liberian and her father is Lebanese. She lived in Lebanon as a child and then in Liberia until she was a teenager, which instilled in her a family knowledge of two very different cuisines.
"I had the opportunity to see how Lebanese food is made, because my mom used to make it all the time and we loved it." Marhaba says. "The food is amazing. Then you go to Liberia and it's like, 'Whoa! The flavors are awesome!'"
Of course, the two cuisines couldn't be more different. Lebanese chefs can be spice-averse, at least if they feel it disguises a lack of freshness. And Liberian food can heap on the habaneros. But Marhaba says it's possible to fuse the best of both worlds.
"If you know how the flavors work," she says, "it's not such a challenge. ... I'm lucky to have these two cuisines I know so well."
How does she approach this kind of balancing act? She tells how, at a recent pop-up, she made chicken wings seasoned as in Liberia, with a spicy peanut butter seasoning. "But in Lebanon, you'd usually accompany wings with a hummus dipping sauce on the side and a little bit of garlic, among other things. So when I did the wings, we put the wings on top of a bed of hummus. They loved it."
Also, Marhaba gives diners a choice of how high they'd like to turn up the heat. Instead of infusing the dish with chile heat, she offered a spicy habanero sauce on side. Marhaba sounds a little surprised that "some people kept requesting hot sauce." It's a little trouble to make the spicy sauce on the side, but it's worth it if diners timid about spice are grateful.
As with Noel's description of Haitian fare, Liberian cooking puts vegetables at the center of the plate, and cooks proteins longer for tenderness and flavor.
"In a regular American dish," she says, "chicken or beef or fish or whatever protein you choose is the main part of the dish. For a Liberian dish, you can put whatever protein you like in there: You can add chicken, beef, whatever, but the vegetable is always the star. Usually, Liberians don't specify which protein to put in a dish. They use a lot of fish flakes to flavor their food, and they'll mix chicken, beef, fish, so you have the opportunity to make the dish however you like. But the vegetable has to be present."
It offers a bit of flexitarian appeal to the diner who isn't prepared to go vegetarian all the way. Instead of a big hunk of meat, you'll often find it subsumed in a stew. For instance, Marhaba's palm butter stew is enriched with meat, but rich with palm oil. Though in Liberia, cooks will spend an entire day boiling down palm nuts to get the essential oils, Marhaba uses canned palm nut concentrate. Then she enriches it with her favorite blend of proteins.
"I use hen," she says. "I like hen better than chicken because there's so much more flavor. And I'll mix that with beef. I'll add five or six pieces of habanero so it's not that spicy, and then let it boil for a long time. You get a soupy, thick stew that goes on top of white jasmine rice."
Though only Marhaba's family and a few other Liberian guests were familiar with the dish, it earned some of its most enthusiastic praise from native-born American diners new to it. Some even introduced themselves to Marhaba just to compliment her on the way it tasted.
"I was wondering if people would like it," Marhaba says. "But a lot of people who hadn't tried it came specifically just to have that experience."
For dessert, she once made a Liberian rice-and-banana bread, one of the country's most popular confections. But even that dish got a tweak.
"Here they have banana bread, but in Liberia they mix banana with rice flour and add a few more ingredients, often ginger, and bake it in," Marhaba says. "When I do mine, I don't bake ginger in the bread. I made a ginger beer and had shot of it on the side. People loved it."
If Marhaba sounds like she's beaming over all the praise her pop-ups have gotten, it's not just because she admittedly loves to cook for other people. The series of pop-ups have been a way for her to get past the impersonal world of catering and, though she's usually in the back for the whole event, connect with an appreciative public. Not bad considering she didn't even know of the pop-up scene a few years ago.
"It's like, every time there's a pop-up, you find all these chefs," Marhaba says. "Every pop-up is a different kind of culture. Every day the food is different." She credits Nick George, who runs his own Dr. Sushi pop-up, for helping show her the ropes.
With pop-ups giving African food and heritage a new platform, it would appear a corrective is at work in Detroit, exposing diners to the very things that have been right in their city all along. And although the news is good, there is a cautionary note, and it comes from the pop-up operator who's been most successful of all: Tunde Wey.
Speaking to us by phone from New Orleans, Wey says, "The fact that we have a few pop-ups featuring just black chefs is great. ... But the danger is that it would be a trend. And why that's a danger is, first, it gets temporarily exalted, and second, it's discarded or appropriated. What seems like an effective tool of promotion is part of the process of appropriation and soft colonization."
It's a fair point. If black food is on the rise, it shouldn't be a craze that rapidly falls out of the hands of black communities. It should show off the richness of the community's heritage and ensure that the real economic rewards are returned to that community. The last thing we'd like to see is Dutch-American entrepreneurs from Grand Rapids swooping down on Corktown to open Lagos on the Avenue, a place that serves artisanally roasted plantains to a lily-white dining crowd, with the wall-sized portrait of Wole Soyinka the only black face in the room.
Yes, most would find that sort of outcome loathsome, and it's worth mentioning it in this brief piece, lest we risk flattening the narrative down to exotic flavors and newly explored folkways. That said, such possibilities are still a long way off. For now, there is indeed a fresh energy building that offers us all the promise of getting along, together, at a big table, with new friends. And that's worth celebrating. n