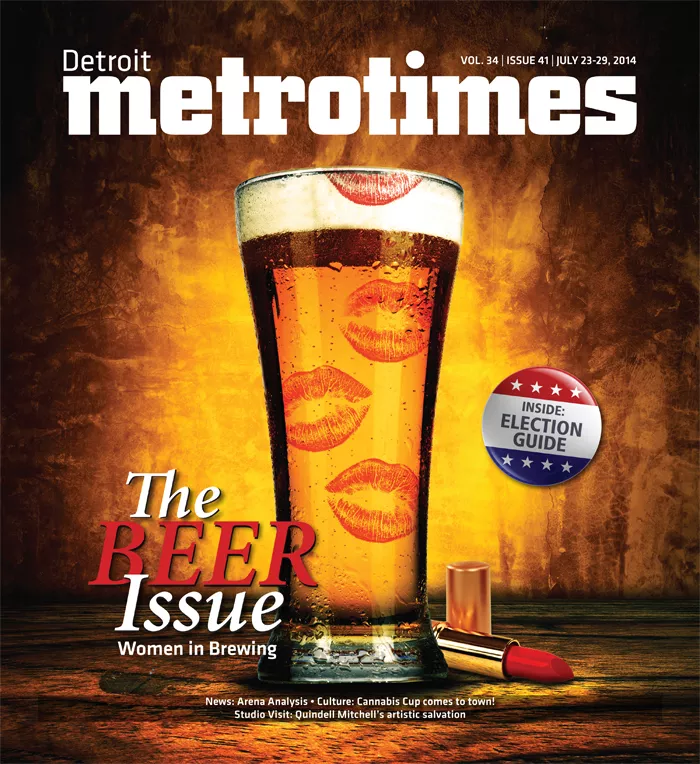 The landscape of Michigan's craft beer industry has changed dramatically in the last two decades. Back in the '90s laws were loosened, allowing locals to open breweries and brewpubs, creating a vast and varied collection of locally made beer.

Over the years, Michigan's reputation for crafting great beer has grown, and these days you could argue that our state has the best brews in the country. From the sour beers of Jolly Pumpkin to the ales of Arcadia to the IPAs of Griffin Claw and all the lambics, stouts, wheats, pilsners, lagers, and porters in between, some of the best beers in the country — nay, the world — are being made right here at home.

The inclusive nature of the industry has allowed breweries both old and new to thrive and grow. Many competing brewers call each other friend, and the solicitation of advice is a common practice. For our beer issue, we talked with several women in the brewing industry, all of whom spoke to the affable nature of their associates.

Back in 2012 we spoke with Scott Graham, executive director of the Michigan Brewers Guild, about how the Michigan industry was at a tipping point. It was not quite universally accepted, but more and more breweries, microbreweries, nanobreweries, and brewpubs were starting to pop up, nonetheless. Yet the market share remained markedly low. Back then, only one in 20 beers poured in the state were made here.

In the last two years, the craft beer movement has exploded into local restaurants, national chains, neighborhood party stores, and supermarkets. Pharmacies carry Michigan craft beer, for god's sake. Craft beer now makes up 10 percent of the market.

In accordance with the ever-extrapolating business of craft beer, festivals have popped up all across the state in hopes of celebrating the time-honored tradition of the tasting. Winter, spring, summer, and fall are inundated with specialized events that home in on the beers popular to that season.

Arguably, the Michigan Brewers Guild puts on the biggest and best of those festivals, and it's taking place this weekend at Riverside Park in Ypsilanti. The 17th annual Summer Beer Festival features 800 different beers from more than 80 Michigan breweries, plus some good food and music to complement the libations. "

To celebrate the occasion, we've brewed up a beer issue that celebrates not only our love for state-made suds, but for all those who craft in the name of good beer.

Summer Beer Fest takes place at Riverside Park in Depot Town, Ypsilanti; Friday, July 25, 5-9 p.m. and Saturday, July 26, 1-6 p.m.; mibeer.com; Tickets for Friday are $35, Tickets for Saturday are sold out.