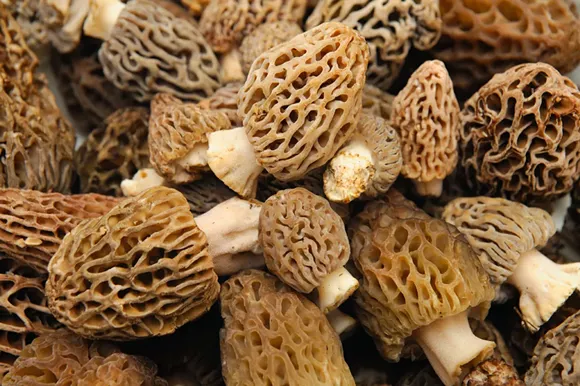 Every spring, after a week of ideal conditions, dedicated morel mushroom foragers will travel to their favorite spots — the locations of which they guard with much secrecy — and begin searching for the distinctive fungi. They're easily distinguished from other mushrooms due to a prominent honeycombed cap, and they're loved for their rich, buttery flavor. Local chefs will pay top dollar to get their hands on a pound or two of the hollow 'shrooms, but there is really no relying on when and where they might pop up.
"Once you think you've got it figured out, you're wrong," Scott Welcer, a local forager, says. Welcer's been hunting morels for the past five years or so, and he sells them — along with other foraged items like wild ramps — to local hotspots like Roast and Selden Standard.
Sure, the mushrooms are a tasty treat and their limited availability makes them even more desirable, but it's the thrill of the hunt that really draws people in.
"There is something super exciting about it," Welcer says. "It's like playing Pokemon Go, but in the forest." Also, the results are slightly more tangible.
Morel foraging can be tricky, but nature does offer some clues. They are more likely to pop up in the vicinity of certain types of dead trees, and abandoned apple orchards are an ideal place for novices to begin their hunt.
"You'll find them around dead and dying ash, elm, and cherry trees," says Keith Langdon, a local forager and chef. Langdon's been morel hunting since he was a kid, but he concedes a good forage depends as much on luck as it does on skill.
"This year I pulled about 10 pounds," he says. And because Langdon has a special certification through the state, he's able to use those meaty mushrooms in recipes at the restaurant where he works. The playful concoctions are available on a very limited basis in the early spring, but they're worth waiting all year for.
"I just kind of play around depending on what I find," he says. "I like to make a morel and wild beet scramble."
Weather conditions are also important to observe while deciding when to head out on your first hunt of the year. Morels begin growing in the early springtime in southern states, and they move north as the weather warms in each region.
After a week of weather that hovers around 50 degrees Fahrenheit, without temps dipping below freezing at night, morel hunters can head out with some certainty they'll find a few honeycombed caps sprouting up.
While morel hunting can often be perplexing, dining on the fungi should also be handled with caution, as some poisonous mushrooms can easily be mistaken for morels.
"Any mushroom is edible once," Welcer says, laughing. Easy precautions to incorporate while foraging include checking the inside of the mushroom. A morel will be hollow, while similar looking but poisonous 'shrooms will be filled with a cotton-like fiber.
"When in doubt, throw it out," Langdon advises.
Welcer also advises against eating morels that might pop up on your lawn or in other residential zones, as these grassy areas are usually treated with chemicals. Spongy mushrooms absorb those substances, and thus can be hazardous to your health.
Ideal mushroom hunting takes place in wooded areas, on bike paths, or down a hiking trail. While they grow on the ground, Welcer urges fellow foragers to keep their eyes on the sky.
"Look up at the trees," he suggests. "Not down at the forest floor. You could easily lose an eye."
Difficult to cultivate, morels have recently surged in popularity thanks to their sporadic availability, as well as a farm-to-table movement that puts an emphasis on using seasonally available ingredients.
Should you harvest a bounty of morels, you'll have to cook and eat them in the privacy of your own home, unless you have a special certification the state of Michigan rolled out a couple of years ago. Langdon and Welcer both went through the process, and it allows them to sell to food purveyors, should they unearth a bevy of morels.
The certification ensures that the mushrooms being sold to local restaurants and markets are, in fact, morels. According to the state of Michigan's website, the educational courses, which include a full day of training, certify foragers who commercially harvest and sell wild mushrooms in Michigan, and completion of the courses deems the student a "mushroom identification expert." The courses are offered during spring, just ahead of morel season.
The course costs $175, which is a relatively small fee, considering the fungi can go for upwards of $35 a pound at the store.
As popularity of the curious vegetation continues to broaden, its likely foragers will be facing increasing competition during the already short morel season. All the more reason to sauté a few freshly foraged morels with butter and onions and savor the meaty, earthy flavor while you can.