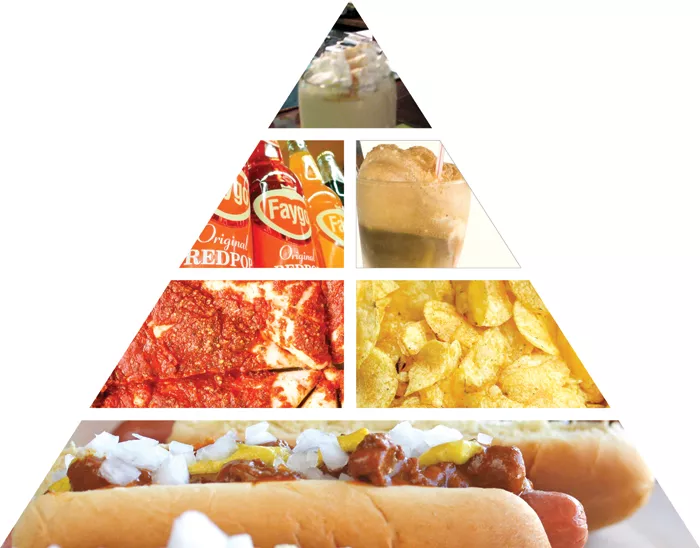 Apologies to the USDA, but there are all manner of food pyramids. Beyond the simple triangles designed for mere civilians, there are pyramids for vegetarians, vegans, superfooders. Too often they're imbued with a kind of subliminal scolding, that if only you could find the right fuel mix, you'd shed pounds and be able to do the 50-yard dash without pulling a ligament and throwing up all over the finish line. In these pyramid schemes, foods aren't delicious or comforting; they're things to be used, two or three times daily. In short, food pyramids are a drag.
So we endeavored to come up with our Detroit food pyramid. It comes with no health promises (and should probably be stamped with a big, red Surgeon General's warning), but it will help you compose a daily diet of Detroit, healthful and otherwise.
Coney Dogs: Detroit's diners, known throughout the region as "Coney Islands," aren't that much different from diners far and wide. They serve your usual greasy spoon fare, including burgers, fries and hash browns (no "home fries" here!), but the singularly famous confection they serve is the Coney Island hot dog, or "coney dog." It's an all-beef frank in a steamed bun, nestled beneath a mound of beef chili, showered with diced onions and given a topping of yellow mustard. As regional dogs go, the coney dog doesn't get much national respect. That honor goes to Chicago dogs, Philly Po Boys, New York franks, Southwestern Sonorans and Hawaiian "puka dogs." With the national media increasingly training its sights on Detroit in recent years, that may be changing. In 2012, Painted Turtle published a book by Katherine Yung and Joe Grimm called Coney Detroit, all about the coney dog and its history as a humble component of our local culinary heritage. You can get them almost anywhere, with large local chains such as National Coney Island dotting the map. But the burning question is downtown, where coney-hounds argue over which historic joint is better, American Coney Island (open since 1917) or Lafayette Coney Island (founded in 1924). Gird your stomach and take the taste test.
Detroit deep-dish pizza: Not as deep and gooey as Chicago-style deep dish, and squared off instead of round, Detroit deep dish is a metro Detroit tradition. Local lore says the creation was born at Buddy's Pizza in the 1940s, when the former speakeasy was looking for a dish that would bring in more customers. How successful was it? The place is still there, on Conant in an otherwise disinvested area. It became so popular, in fact, that Buddy's inspired a second generation of Detroit-style pizza joints, each slinging their own versions of the fabled classic. You can now get it at Cloverleaf in Eastpointe, Ypsilanti's Tower Inn Café and at Loui's in Hazel Park, where you can dine on it amid hundreds of empty Chianti bottles, amid waitresses who might still call you "hon."
Better Made Chips: Among its many fabled virtues, Detroit has been known as the potato chip capital of the world — though we're not sure by what measure, production or consumption. The city still hosts a number of potato chip brands, but they're all distant runners-up compared to Better Made. Magician, comedian, author and potato chip expert Penn Jillette, writing for Maxim magazine, declared Better Made among the best chips in the country, writing "These are American chips exactly as they should be: not too crunchy, a little bit mushy. You can get a lot in your mouth at once. They also don't have any ridges or added flavor … just salt and cotton-fat goodness." They come in regular, barbecue, salt and vinegar, and more, but an even guiltier pleasure awaits: the "Rainbow" chips, cooked to a darker hue and slightly sweeter. Better Made churns out a whole lot of other bagged snacks, including cheese corn, popcorn and cheese doodles, but when you drive by the factory on Gratiot Avenue in Detroit, it's potato chips you smell wafting into your car. Now that's pure Detroit.
Faygo: Also on Gratiot Avenue is the Faygo Beverage company. Started by the Feigenson brothers, the flavors mimicked the cake frostings they also sold. The soda business took off, and Faygo has become a multimillion-dollar family business, one synonymous with Detroit picnics and the good old days. It's also become synonymous with something else: the Insane Clown Posse. The local rap duo has turned Faygo into a countercultural sacrament, baptizing crowds in the sticky sweet soda pop — tapping an international market for the 2-liter bottles of Redpop or Rock and Rye so ubiquitous in local stores. Strangely, the Feigensons and ICP are at cross purposes, the hip-hop group evangelizing for the Juggalo lifestyle, and the Faygo folks hoping to appeal to another kind of "family" demographic altogether. "We wish they would do a limited-edition Faygo pop run with us," Violent J once told Metro Times. "But whoever's in charge now wants to steer clear of Insane Clown Posse. They consider themselves a family product. I guess they don't make it to throw at each other."
Boston Cooler: Named not for Boston itself, but for the historic Boston Edison district in Detroit, this soda float is another hometown innovation. You drop two scoops of vanilla ice cream into a tall glass and top it off with a generous pour of ginger ale, then attack it with a spoon and straw. You could make this treat with any old brand of ginger ale, but it was traditionally made with Vernors Ginger Ale. Created in 1866 at James Vernor's Detroit pharmacy, it's regarded as the oldest soft drink brand in the United States. According to lore, when he returned from service in the Civil War, Vernor discovered some syrup he'd accidentally left aging in a barrel was spectacular enough to sell. Sadly, the Vernors of today is a pale imitation of what it once was: a super-effervescent beverage that could induce a sneeze during that first drink from the can. For the ice cream, a classic Detroit brand, such as Stroh's, will help score points for authenticity.
The Hummer: This sweet, rum-based boat drink consists of rum, Kahlúa, vanilla ice cream and a few ice cubes turned into something special in a blender. It was invented in 1968 at Bayview Yacht Club by bartender Jerome Adams. As an indicator of the drink's success, he's still there making them. "I had tried all different things. I used rum, I used vodka, I used scotch. I used everything. But the best taste was with rum, Kahlúa and ice cream. So, one night, I had a little, small blender then, and it was big enough to make maybe three or four of these drinks." As it happened, some of the yacht club's bigwigs were coming in and sampled the drinks, then ordered more. "They say, 'Well, Jesus Christ, these are pretty good! … What you call it?' I say, 'Well, it doesn't have a name." So one of the guys says, 'You know what? After two of these damn things, kinda makes you wanna hum.' So that's how we got the name 'the Hummer.' … And I just started pushing it across the bar." Thanks to our intrepid local boating and sailing crowd, Bayview members were soon walking into bars and clubs all over the world asking for a Hummer. And, in those pre-Internet days, the flummoxed bartender would have to place a long-distance phone call to Detroit to get the recipe. Now, Bayview keeps two huge blenders ready in the kitchen for large parties, or to take out to regattas, and Adams often travels to Toronto, Mackinac and Florida to personally mix his fabled classic drink.