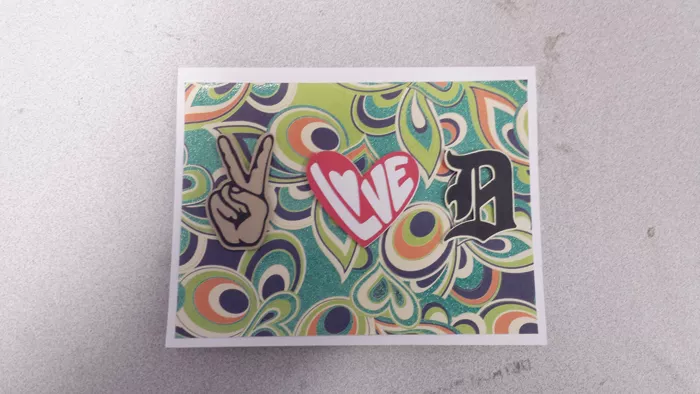 Brian Russell is an unusual soul. The Detroit cop has taken part in more than a few drug raids and was even in Desert Storm. The man has put his life on the line for his country and his city, so maybe it isn't too surprising that he has taken up an extra-curricular activity that is inarguably more sedate — making greetings cards.
The Crafty Cop, as he is called, creates cards that are dedicated to Detroit. His Christmas cards, for example, are adorned with the Old English D or a cassette marked "Detroit Rock City." He's keen to point out that these are men's cards, for manly men. "I was working on the raid crew and we'd just had our daughter — I think she was a year old," Russell says. "For Christmas one year, I had this big box of stuff I'd saved and I started looking at stuff online. I made her a scrapbook for Christmas one year. It went over from there. I started doing cards, and getting ideas for cards. To be honest, I find it relaxing going through pictures and stuff like that."
Russell has been a Detroit police officer for 18 years. "I'm still active," he says. "I worked at the 9th Precinct, which is now Eastern District. I worked there for five years, and then I worked narcotics. I've been close to 12 years in narcotics. I worked on the raid crew for almost 10 years. This job working inside came along and, with a couple of kids, I've been off the street for about three years. It works out for me. Having kids, you don't want to be running around in the night."
Unsurprisingly, he gets guff from his colleagues due to his artsy sideline. "Trust me, I get hassled about it from people at work," he says. "I've done enough manly things in my life to justify me settling down and doing this. I was in Desert Storm, and I've done over 2,000 drug raids. I can justify myself that way — that's the way I look at it. I've done Mother's Day cards, birthday cards, wedding cards and stuff like that. The Mother's Day ones are kinda girly, but I try to do manly looking cards."
For more information, see facebook.com/craftycop.