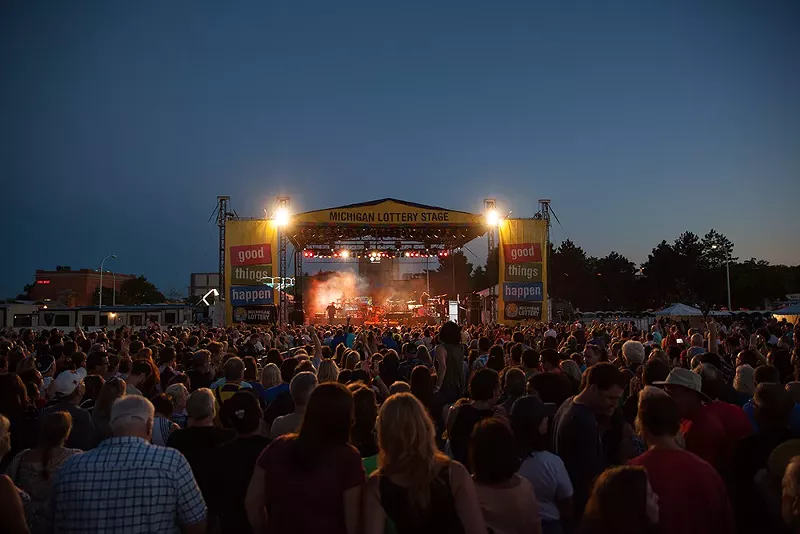 Arts, Beats, & Eats
Aug. 31-Sept. 3; Royal Oak; artsbeatseats.com; Admission is $3-$7.
Good things come in threes. Such is true of the Arts, Beats, & Eats festival, which includes, you guessed it, a Labor-Day weekend feast for the senses.
Moved from Pontiac in 2010, AB&E is now in its 21st iteration and will go big by hosting 200-plus music acts across eight stages. Eddie Money and Awolnation top the bill along with rockers Everclear, Gin Blossoms, and longtime quirky piano man Ben Folds. They will all take to the Michigan Lottery National Stage along with Matt Nathanson, country boy Chris Janson, and Motown's own, the Spinners.
Boasting more than 40 restaurant vendors and 19 beer stations, the eats portion of the festival spans American favorites thanks to the likes of Sweetwater Tavern and Dave's BBQ, Asian fare from Peking House, a taste of Mexico via Big Mike's Mexican Grill, and sweet treats provided by Achatz Pies and Treat Dreams.
Other new additions include a silent disco to the roster of sonic attractions. Arts, Beats, & Eats will also continue its longstanding tradition of giving back to the community by hosting a food drive in support of Gleaners Community Food Bank of Southeastern Michigan.