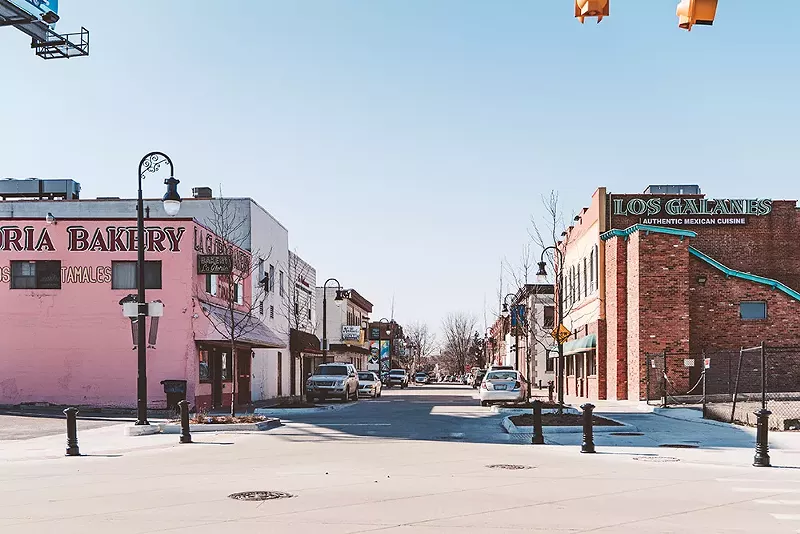 Downtown Detroit gets all the headlines when it comes to talking about the Motor City's comeback, and while downtown has indeed drastically changed — we remember the days of the 2006 Super Bowl, when they had to fill the storefronts with art to make it look like it wasn't a total ghost town — other parts of the metro region have transformed too. Here are some to look out for.
Royal Oak
It's been out with the old and in with the new in Royal Oak. While a number of longtime restaurants have closed their doors in recent years, even more have opened up: though Cantina Diablos closed, there's now Condado Tacos, and though Bean & Leaf Cafe is kaput, there's now Proving Grounds Coffee. Other developments see Royal Oak looking up — literally. The city's skyline has grown, thanks to projects like the Royal Oak Civic Center Development, which includes a new six-story Henry Ford outpatient center and a $63 million project that includes a new city hall, a new police station, and a 581-spot parking structure, while the former city hall will become a downtown park. There's also a new Hyatt Place Hotel, and in the south part of town is the the Griffin, a forthcoming project that will have lofts and retail.
Pontiac
Pontiac has changed in ways both large and small. On the larger end of the spectrum are massive developments like the M-1 Concourse, a high-end race track and luxury garage on GM's former proving grounds, and the former Strand Theatre, which was recently restored as the Flagstar Strand. A forthcoming Pontiac Transportation Museum is slated to open later this year. As far as small businesses go, there's the Alleycat Cafe coffee shop, opened by the owners of downtown Detroit's 1515 Broadway, and Exferimentation Brewing Company, a laboratory-themed brewery with classic video game consoles at the tables. For the past two years, the Pontiac Arts Crawl has been held in May to show off the new activity.
Mexicantown
The City of Detroit is using $80 million in bond funding to improve neighborhood and commercial corridors across the city to help show that the city's redevelopment isn't just limited to downtown. The projects include adding bike lanes and pedestrian walkways, as well as plants and new signage. In Mexicantown in Southwest Detroit, the main drag recently got a $5.4-million facelift that uses a curbless design, with dark bricks serving as a parking lane and light bricks forming wider sidewalks. The result is a wide-open feel that makes the restaurant and shopping hub feel more like a plaza.
The Avenue of Fashion
Last year, businesses along Livernois' historic Avenue of Fashion felt a squeeze as construction began on its $17-million streetscape redesign, among the largest of Detroit's redevelopment projects. That's a shame, because the neighborhood has the highest concentration of Black-owned businesses in the city, including neighborhood fave Kuzzo's Chicken and Waffles, which took the opportunity to close to focus on renovations, and newcomer Table No. 2, a new white-linen restaurant that opened just weeks before construction began. The good news is that construction recently wrapped up, eliminating a controversial median that been a point of contention for 13 years, with businesses as well as police and fire departments voicing concerns because motorists had to drive too far to do a Michigan U-turn. But the project wasn't just utilitarian; the facelift brings resurfaced roads, wide tree-lined sidewalks, dedicated bike lanes, and plaques dedicated to the avenue's historic businesses in the neighborhood. Other forthcoming developments include an $8.3-million project that will transform the former B. Siegel department store into commercial space and 10 residential apartments and a second Motor City Brewing Works outpost.
Spirit of Detroit Plaza
We have to admit, we weren't originally fans of the idea to close off the intersection of two of Detroit's major thoroughfares right in the middle of downtown — we kept forgetting that we couldn't turn onto Woodward Avenue while driving down Jefferson. However, just because we're the Motor City doesn't mean we shouldn't be walkable, too. Combined with Campus Martius Park and the Woodward Avenue Esplanade, downtown Detroit's Spirit of Detroit plaza rounds out a pedestrian-friendly urban core with art installations, seating, and food trucks, creating a scenic pathway to the riverfront access at Hart Plaza. It seems that plenty of others agreed: City Council voted to keep the intersection closed, and pledged nearly $800,000 in renovations, including playground equipment, landscaping, a drinking fountain, and other amenities. It's the kind of place a big-city downtown ought to have, and we apologize for complaining about it.
Grand River
Grand River is getting a new streetscape on a 2.8-mile stretch from the M-39 Service Drive to Berg Road, with improved on-street parking, pedestrian islands, mid-block crossings, landscaping, new signalized intersections, and bus islands.
Riopelle
Eastern Market's Riopelle Street is getting a stunning makeover that includes a similar plaza-like curbless design concept as Mexicantown, extended sidewalks, and landscaping. The project extends from Division Street to the Fisher Service Drive.
Joseph Campau
Joseph Campau's construction improves the commercial corridor between Jefferson Avenue and the Riverfront, with road resurfacing, bike lanes, improved lighting, landscaping, and a connection to the Detroit Riverwalk.
Conant
The Conant streetscape project extends from Davison to Carpenter, including new sidewalks, lighting, landscaping, street resurfacing, and signage.
Grand Parklet
The Grand Parklet streetscape project is planned for the corner of Puritan, Plainview, and Grand River avenues, including a park, new sidewalks, lighting, landscaping, and a funky concrete design.
Stay on top of Detroit news and views. Sign up for our weekly issue newsletter delivered each Wednesday.