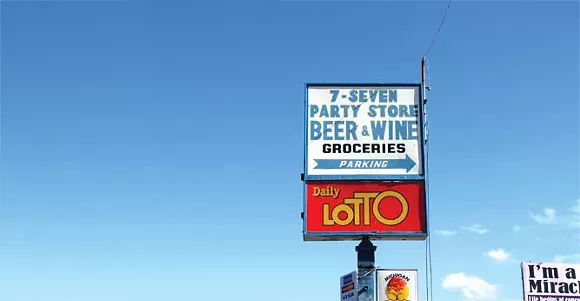 Detroit: Everybody thinks they know it, but even lifelong residents have a hard time truly understanding its nuances. It's a hotbed of class, race, and tough economics, a city of extremes. And yet it has this hilarious tendency toward brittleness, toward exploding in a person's grill. It's a place where cynics upbraid people for their negativity. It's a city of know-it-alls who simply can't stand people who think they know it all.
In short, it's a great demolition derby of ideas. If you're new to the city, then it's best to fasten your safety belt and proceed with caution. Just to help you avoid those first few fender benders, here are some of those things a newcomer might think, but probably shouldn't say, answered with a slap and a Z-snap, Detroit-style.
"Where is South Detroit? Like in that song by Journey?"
Detroit has many sides: west side, east side, a fading lower east side. There's northwest Detroit, Southwest Detroit, and north Detroit. There even used to be a city called East Detroit (now "Eastpointe"). But there is no such thing as "South Detroit." In a 2012 interview, "Don't Stop Believin'" songwriter Steve Perry admitted to simply going with what sounded best to him when writing that line about a city boy born there: "I ran the phonetics of east, west, and north, but nothing sounded as good or emotionally true to me as South Detroit." There is, of course, a city just south of Detroit: Windsor, Canada.
"I hear the city is all better now. Isn't it?"
It depends on where you are. If you're in "the bubble" — one of the several square miles around downtown — yes, increased investment and development have given the streets an added vibrancy, as people with money in their pockets patronize trendy eateries, bars, and health clubs. But if you live in "the neighborhoods," chances are things are just getting worse. According to a recent study by Michigan State University and Wayne State University scholars, the pain and misery in Detroit's neighborhoods is actually getting more acute.
"I heard everybody left the city after the riots."
The assumption that the city was hunky dory until the "civil disturbance" of 1967 "scared the whites out of the city" has been soundly disproved on many levels. People of means began leaving the city in large numbers after World War II, thanks to the G.I. Bill, federally insured mortgages, freeway-building, suburban shopping centers, and industrial decentralization. These trends were already well-established by the mid-1960s. In fact, what many call "the rebellion" was at least partly a response of mostly black Detroiters galvanized by the ongoing disinvestment in the city. Anyway, which riot you talking about? In addition to 1967, riots rocked Detroit in 1943 and 1863. Take your pick.
"I want to see Eight Mile!"
We're betting you don't. After that Eminem movie came out in 2002, lots of people seemed to assume that it was a notorious, infamous locale. Actually, Eight Mile is a divider, not a destination; it marks the boundary between the mostly black and poor city and the mostly white, largely affluent suburbs of Oakland and Macomb counties. If you were in the city and told a driver you wanted to hit Eight Mile Road, they'd figure you wanted to get out of town, not explore it. The thoroughfare is home, however, to many of the "gentlemen's clubs" that appeal to city residents and suburbanites alike. (So maybe you do want to see Eight Mile after all. Just sayin'.)
"I hear Detroit is like a clean slate, ready for new settlement."
Oh, shut up. Detroit is still home to 600,000-plus people, and is still denser than, say, Dallas or Houston. And all those people get kind of rankled to hear that their city is a tabula rasa, ready for anybody to come in and draw their designs on it, especially when they use insensitive terms that smack of colonialism. Instead, think of Detroit as a place with an existing people, an established way of life, and a culture ready to teach the outsider a lesson or two. Don't come with a chip on your shoulder ready to "put Detroit on the map." It's been on the map since 1701, Jack.
"Where is the train to the airport?"
There is no train to the airport. In fact, Detroit is probably the largest U.S. metropolitan area without a rail link to the airport. Welcome to the Motor City.
"Where are the taxicabs?"
Oh, there are taxis. They do exist. But whether it's due to the rise of app-based ride services or the spread-out nature of the city, it seems almost impossible to find one when you need a ride somewhere.
"How far apart are People Mover stops?"
That's a good one. The People Mover, downtown's monorail service, was originally designed to be the hub of a true mass transit system. The system never materialized, and so we're left with a three-mile loop. We guarantee that almost every stop on that loop is within walking distance of every other stop. Might as well hoof it.
"Where's the beach? I'd love to take a swim."
Thanks to Detroit's industrial boom, the riverfront was given over to industry and railroads long ago. Though much of the industry is gone, and despite the fact that the RiverWalk is transforming the old waterfront into an appealing promenade, much of downtown's shoreline is seawall and concrete, not beach. Outside of the riverfront's parks, still-intact industry, contaminated land, and the occasional old fort or Coast Guard station, it is mostly private homes on the water. There is a swimming beach on Belle Isle, but in good weather, it's packed. What do Detroiters do when they want a good sandy beach that's not jam-packed? Unless they're among the 1 in 3 Detroiters who don't own a car, they drive out to one of the region's Metro Parks.
"I hear that the night before Halloween half the city burns down."
Back in the 1980s, a fair amount of kids all over metro Detroit would spend the night before Halloween up to no good. Known as "Devil's Night," it was an occasion for soaping windows, egging houses, and festooning trees with toilet paper. In the city proper, however, it became a firestorm of arson. The blazes peaked in 1984, with more than 800 fires in one night. Since then, Detroiters have organized neighborhood patrols to tamp down on the arson, and the community effort is known as "Angel's Night."
"Why do you want to go to the 'party store'? You need some balloons or funny hats or something?"
If you've never heard it before, the phrase "party store" can conjure images of colorful bunting and bright balloons. But when we say "party store," we mean a shop with all the makings for a party, as in beer, spirits, wine, chips, smokes, and "pop" (not soda).