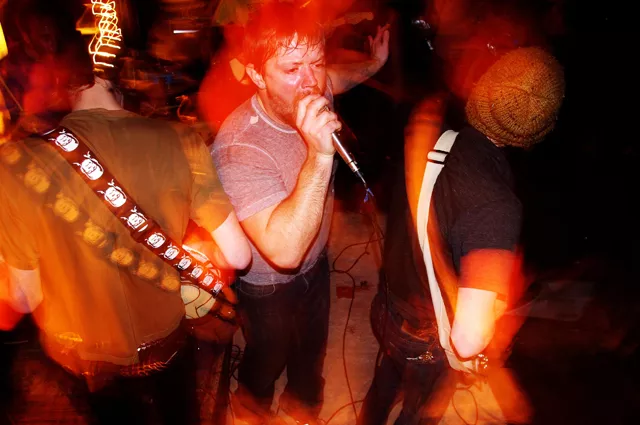 Bars of Gold's next show is Nov. 23 at Small's Bar in Hamtramck. Final mixing and mastering on Wheels begins soon after for an expected winter release.
Marc Paffi's not aware of how loud he's screaming, how high he's jumping — maybe not even where he'll land. 
The Bars of Gold lead singer charges into musical melees, grasping mic-stands like spears. He's prodded by the propulsive drums of best friend Brandon Moss, the soulful bass grooves of Nick Jones, and the buzz-saw guitar of Ben Audette and Scotty Iulianelli.
Paffi's knees are still scabbed from his Halloween hell-raising at Theatre Bizarre because, well, the spirit took him, mid-song last week and sliding across the stage just felt like the right thing to do. (Never mind that it was a makeshift structure of flimsy plywood.) Music, for this former frontman of well-remembered raucous indie-rockers Bear vs. Shark, has no place for minor details. 
"I think it's just a complete lack of really giving a shit, to be honest," Paffi says, chuckling heartily in his raspy baritone. The guy's gonna slide into splinters if he wants to, so you know he's gonna answer straight from his gut. 
He says, "It's not like we're swaggering onto stages, standoffish with a 'we don't give a shit' attitude. No, it's something more. We give a great shit about writing songs, arranging them and how things go. There's structure to our chaos." 
Some Bars of Gold songs feel like a rock 'n' roll interpretation of trying to keep your footing aboard the topsy-turvy deck of a sailboat in a squall. Still, these guys set up sturdy, uncanny grooves, wicked hooks and anthemic choruses. But it's still loose: You'll likely loose the downbeat or the singer might spasm-kick his stand away and sing-shout the rest of the song off-mic, or the guitarists might improvise a new solo or two. So there's almost (almost) a jazz-like sensibility at work.
"Hah ... I dunno, the word 'jazz' and us ... probably sounds really weird, but ..." 
Each member in this five-way friendship hails from the Milford-Highland area. Moss and Paffi, particularly, share almost two decades as friends (including, formatively, their playing and touring-together in Bear vs. Shark through the early 2000s). 
Moss, with Jones, Audette and Iulianelli, spent '06 through '09 playing as an instrumental band called Wildcatting (a big bluster of fuzz, meticulous yet monstrous, and even more gloriously unwieldy than BoG's trips). Paffi swears they initially jammed together with no intention to start a new band. Frequently, though, "Let's just see what happens" quickly turns into "Hey ... we've got enough songs to play a full live set..." And Bars of Gold was born in March '09. 
"But it was just 'fun,'" Paffi says. "For me and for them, trying something new musically. And that's what it is: 'Not giving a shit' sounds simplistic. It's just, we just go up there and it's an absolute good time for us. Give a shit about how the song sounds but not about what you're doing."
Hitting up venues out of high school, seeing virulent post-hardcore, math-rock and straight-up noise-acts in the late '90s communicated to Paffi, early on, that "... you can't just stand there," especially as the singer. "You move and you move more and you reach a level when you can just go beyond ... it... that, that's the not giving the shit part." 
It's heartening to hear, actually, just how much this band gives a shit: about each other and about their new album (tentatively titled Wheels and tentatively coming out "ASAP."). When Moss moved to Washington, D.C., for work and family in late '09 they lost "the heartbeat of the band," Paffi says. But each had agreed long ago that there was absolutely no replacement policy in BoG, either these five components fuse or the whole operation shuts down. 
It was Moss, really, says Paffi, even from 500 miles away, who held the band together. "Such a powerful force. He works his ass off so much because he loves music and he loves this city." Paffi's both perplexed, yet glad for Moss' dedicated work ethic: "I expect him to drop dead at any point, actually."
Economic fates aligned last winter, though, when Moss, with his wife and 6-year-old-son, returned to Detroit. BoG then beelined for Chris Koltay's High Bias Studios and the recorded results will be released soon. And if it seems — on face value — ludicrous to compare their fervent psyche-rock sound to jazz of all things, it's intriguing, then, to hear Paffi suggest one newer jam might sound like "Motown."
Not that they're getting mellow or anything. Sowing a kind of chaos is still what this band is about.
"If we can't do that," Paffi says, "then I wouldn't be able to play. That's my retirement, when the doctor says, 'You can't scream like you scream or jump off of shit and land on your knees anymore.' I don't think I could adjust to that, I really don't." 
Jeff Milo writes about local music. Send comments to [email protected].