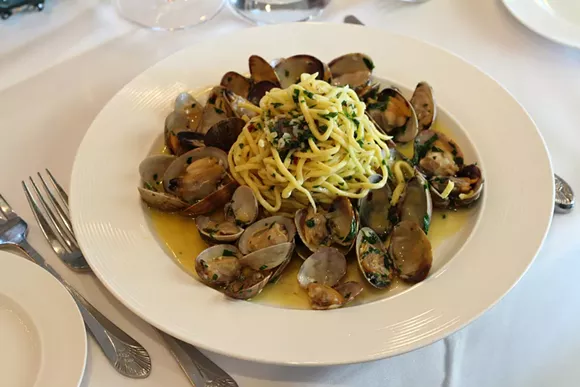 In metro Detroit's dining scene, there's perhaps no food as misunderstood as Italian. Most customers think of Italian food as "spaghetti and meatballs," or such "Italianese" derangements as "steak Gorgonzola Alfredo" dreamed up by some corporate chain. More accurately called "Italian-American," this fusion fare is relentlessly "kicked up" for the next generation — always "zestier" and more "robusto," with more red meat and extra cheese and endless breadsticks.
Our original Italian immigrants probably had something to do with pulling the cuisine out of shape. After settling comfortably in America, they were eager to show off their newfound prosperity. The big Sunday meal would feature more meat, more fowl, and larger portions than back in the Old World. (The rest of the week, however, would involve decidedly humbler meals.)
Some of the changes are probably due to Italian chefs cooking for American diners, who've tended to think of "good food" as steaks and chops, whereas the Italian table would favor seafood and maybe veal. It's only natural some kitchens changed their tune to please customers.
Complicating matters further, there really is no single, authentic "Italian food." Many different cuisines, each authentic, have grown up the boot-shaped peninsula, expressing the local sensibilities of the individual kingdoms that were united into what we call "Italy" about 150 years ago.
But what gets lost in the shuffle is central to those cuisines: fresh ingredients, a mania for making things in-house, preparations that stress flavor, and an almost peasant simplicity.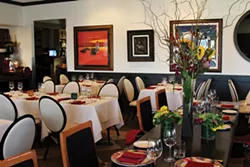 In a way, it makes sense. American diners have been trained to judge a meal by how rich it looks. The food service industry simply installs a large piece of protein on the center of the plate and pours on the food-service trimmings until it looks like a filling meal. But that's not the Italian way.
Amin Mahmoud of Dearborn's Roman Holiday knows exactly what I'm talking about. He works for a restaurant where the classics reign supreme, one that uses time-honored recipes from the day the place opened 52 years ago.
"I understand where you're coming from," he says, making reference to the corporate chains where American food is loaded in from trucks out back and comes to the table disguised as Italian.
"All our ingredients are fresh," he says. "Our soups and sauces are made in-house. I got a soup kettle do my soups and sauces in there, I have big stockpots. We make everything in-house: lasagna, meat sauce, even to the cheese for the pizza, we shred it and mix it. We make our own dough, our own bread, our own gnocchi. You've pretty much got to make this stuff, so everything is in-house fresh."
"We make our pasta in house. We sell it." Mahmoud adds with a laugh, "We tell people not to store it in the refrigerator. It will go moldy. That's because we don't put any preservatives in our food."
Fresh, yes, but also simple. Sometimes deceptively so. Sure, they serve those loaded-up minestrone soups you could almost eat with a fork, but the pastina is a tribute to simplicity. It's just like my grandmother's, a humble peasant soup, with a rich, flavorful broth, star-shaped little bits of chewy pasta, and small pieces of chicken, carrot, onion, or celery, some small enough to stand in for a garnish. It's the kind of soup Americans seem almost predisposed to misunderstand. In fact, during a meal at the restaurant, my all-American co-diner was so unimpressed with it he passed it on to me, and I'm glad he did: All of a sudden I was back in Grandma's kitchen.
Speaking of "Mama Rita," who still prepares some of the food at Roman Village, Mahmoud says, "She's from the north, Perugia, and what she was taught is to mince. It's not American. Americans want to see big carrots and all the vegetables. Her method of Italian is you want the flavor."
"That's where it comes from," he adds. "Even our marinara sauce and meat sauce, the veggies are chopped up fine. That's our protocol. But it's not everybody else's." At other places, he says, "The vegetables are bigger for visuals, but the taste is not there."
And then there are those thick, goopy sauces. I recall one chain restaurant's fettuccine Alfredo was so "hearty" that part of it spent the night in a doggie bag only to solidify. It was a project to get it unglued and into a microwave the next day. Of course, it should tell you something that the dish itself, fettuccine Alfredo, was invented by a Roman chef to appeal to American tourists.
But it has become difficult to persuade American diners used to store-bought thick sauces that the real thing is much lighter.
Mahmoud tells us, "I get the customer complaining that they see a little water on the plate. It's not water from the pasta. It's tomato juice. The sauce gets a little runny after it sits for a minute. But trying to explain that to an American customer can be difficult."
They're used to jars of thick sauce that stand up on a plate. "But the Italians, believe it or not, often don't serve pasta on a plate. They serve it in a bowl because their sauce is like tomato juice."
One good example of that is the linguine del mar, in which seafood swims in a bowl full of sauce. As the scallops and bits of fish flake apart, what doesn't end up on the fork enlivens the tomato sauce.
One thing you won't often find a lot of at Roman Village is a big hunk of red meat on a plate. Though Mahmoud says they try the occasional veal or lamb chop, the restaurant's main priority isn't steaks. Even with their veal osso bucco, it's less about the meat and more about the flavor. "It's the shank, and it's served over polenta. That's for absorbing the juices. So you get to taste the bone marrow and all that."
At Southfield's Bacco Restaurant, they put a fine-dining spin on the peasant food. Sure, they have some prime cuts of dry-aged Wagyu beef on the menu to appeal to big-shot steak-eaters in town for conventions, and they'll serve Midwestern classics like burgers or whitefish on the lunch menu, but they stay close to the Mediterranean classics.
Bacco's chef Anthony Lombardo says, "I come from an Italian family where everybody's Italian, from the grandparents down, in an Italian community in Sterling Heights." He's in a position to know the real thing.
Asked about what's happened to the cuisine, Lombardo concedes that some of the changes in Italian food went through coming to North America were unavoidable. "There weren't the same ingredients," he says. "It's hard to translate those flavors from Italy.
In fact, one of the main dishes most Americans think of as Italian is spaghetti and meatballs. But it was invented in the United States, a result of mostly southern Italian immigrants using what was available. What was available was spaghetti, normally an appetizer, ground beef, a rarity back home, and canned tomatoes.
Lombardo places some of the blame on what he calls "red sauce places."
"They're not 'terrible' per se. They do what they do, but it's like this: When they make 'penne Bolognese,' they just cook the penne, put it in the bowl, dump the Bolognese sauce on top, and serve it — as opposed to letting the pasta cook in the sauce a little bit and letting it suck in some of that flavor."
In some cases, native-born American diners may be put off by what's authentic.
"In general," Lombardo says, "seafood in Michigan isn't taken to. And in a lot of the seafood restaurants in Italy, you'd just get a whole fish on your plate. ... A lot of Italian chefs love cooking 'off' cuts like a nice ragu with lamb neck, or offal — kidneys, liver, tripe, stuff like that — and that's harder to sell. That's the kind of cooking that happens in every countryside place in Italy. ... And you can't really do that here."
But when it comes to such derangements as taking a hunk of meat from a food service and surrounding it with a moat of overcooked pasta in a goopy sauce, Lombardo's verdict is brief.
"That's gross," he says.
But if so much Italian food is of such poor quality, why is there so much of it?
"There's a thing about Italian food," he says. "Why there are so many chains? It's because pasta is profitable: It's a low-food-cost item.
"If you're not doing it right, if you're just buying dry pasta and making a cheap sauce, you can call it whatever you want: you know, spaghetti alla Genovese, or bucatini alla Verona, and make it sound authentic, but it could just be dry noodles and some garbage sauce. And guess what? It costs 45 cents to make and you can charge $15 for it. That's why there's so many different chains doing that."
The kitchen at Bacco, of course, doesn't cut corners.
"The way we do it here?" Lombardo says. "We use the most expensive eggs we can get our hands on. We use expensive imported Italian-milled flour. We make everything in-house. It's not exactly cheap pasta, you know?"
To Lombardo, one of the most troubling inauthenticities isn't what's in the pasta, but what goes on it. He points out that Bacco uses only Parmigiano-Reggiano, "the king of cheeses, a very well-made aged cow's milk cheese from Parma. So, in America, everybody just says 'Parmesan.'"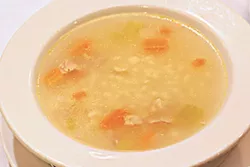 But the real cheese topping at Bacco isn't "Parmesan" — it's real Parmigiano-Reggiano. What's the difference?
"Because it's a cheese that's DOP," Lombardo tells us. "That's for denominazione di origine protetta. It's protected by the Italian government, so the process, the cows, everything has to be a certain way. In America, Kraft created this cheese called Parmesan. But when you come to Bacco, our servers will offer you Parmigiano — they're not going to offer you Parmesan. They don't use the word 'Parmesan' because it's a made-up word for a made-up cheese," he says, adding with a laugh, "one that tastes like plastic."
Myths and misunderstandings abound when it comes to Italian food, Lombardo says. One of the most stubborn misapprehensions about the cuisine, he says, concerns "Italian wedding soup."
"In Italy, it's always been called zuppa di matrimonio, which basically just means marriage, or wedding. But what it refers to is that it's a soup that has meat and vegetables. It's about the 'marriage' of meat and vegetables in a soup. You're not going to see that at an actual wedding in Italy."
"But now, you go to a banquet hall in suburban Italian America and they'll serve it at weddings," he says, laughing about it. "It's so weird."
And what all good Italian restaurants will offer is wine and spirits — not endless refills of soda shot out of a pop gun.
"There's not a lot of soda in Italy," Lombardo says. "And alcohol, especially digestivos like Grappa or Limoncello, these are high-alcohol beverages, and what they do is when that alcohol gets in your system, it raises your heart rate and helps you digest."
Mahmoud agrees. "Wine enhances the flavor, relaxes the digestion," he says. "When you drink Coca Cola, the carbonation doesn't make your stomach feel good."
In general, though, Lombardo doesn't have a hard time getting American diners to switch gears and appreciate Italian food for what it is.
"The people who come here know who we are," he says. "For the most part, people want to eat what we do at Bacco."
But if diners want to have a taste of that Mediterranean simplicity, in which a tight ensemble of fresh ingredients carries the day, a meal that's authentic and looks disarmingly simple, Lombardo recommends the spaghetti and clams, one of the dinner menu's primi dishes. It's essentially pasta with clams, fish stock, garlic, olive oil, parsley, and white wine.
"It's super simple," Lombardo says, "but we use a very good fish fumet that we make every single day with halibut bones, and we use Manila clams, which are a West Coast clam with a beautiful, briny nectar to them. And good olive oil, fresh garlic, and just a rich, house-made spaghetti. A little white wine. No butter. No cream."
"That's a dish you can take from the menu of a coastal restaurant in Italy and put right here," Lombardo says proudly.
"And it's a dish that guests love." n