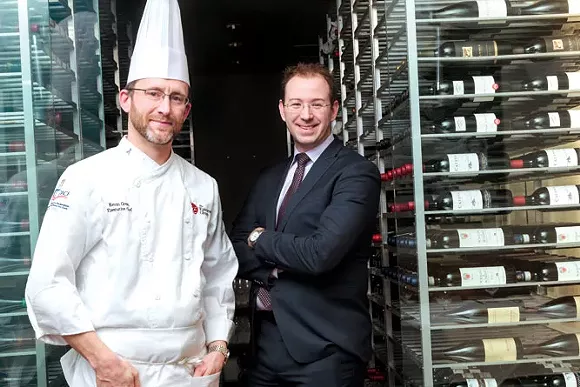 Long before he served as head chef at the iconic Coach Insignia restaurant in downtown Detroit's Renaissance Center, chef Kevin Green got his culinary start in the suburbs. Growing up in Livonia, Green says he developed a passion for cooking by helping his grandparents in the kitchen. "Helping them out, doing odds and ends, washing dishes, whatever it was, I just developed a passion for cooking," he says. That passion turned into a career that started in earnest by studying culinary arts at Schoolcraft College in Livonia, working as a dishwasher at Hudson's at the Westland Mall, and eventually working up the ranks, including a stint at Rocky's of Northville.
During his eight years at Coach Insignia, Green transformed the restaurant from a traditional steakhouse, incorporating local and contemporary flavors into the menu. "It's been a great experience," he says. "I've seen this restaurant through the turbulent times with the recession, and then I've seen the rebirth of it. We made a name for ourselves."
But now, Green is bringing his fine-dining experience back to the burbs. Green will now head up the forthcoming Nomad Grill, the first-floor restaurant that will be part of the new multimillion-dollar renovation of the 16-story, 202-room former Holiday Inn in Southfield.
Green describes his new menu as a contemporary take comfort food — "solid flavors, bold flavors, not too hoity-toity," he says. "It's a hotel, so we're going to have a lot of business travelers. I wanted to just do simple, rustic comfort food. Everybody likes meatloaf, everybody likes a good steak. It's not going to be a white tablecloth, stuffy feel. It's going to be a meat-and-potatoes kind of restaurant, with a focus on quality."
"I couldn't be more proud of what we have accomplished — evolving Coach from a destination restaurant with a view into being regarded as one of the area's elite dining experiences." says Eric Djordjevic, president of the Epicurean Group in Detroit, which owns or manages Novi Chophouse, Green Space Café in Ferndale, Plaza Deli in Southfield, and Soul Café in West Bloomfield Township. "We are proud of our amazing chef and his team to put forth the best meals in the city."
And Green isn't the only talent from Coach Insignia who is heading to the new restaurant. Djordjevic says he has offered jobs for all Coach Insignia employees.
"We are truly a family-oriented company. All of our kids were raised in this restaurant and with each other," Green says. "We're a big small company. It's family."