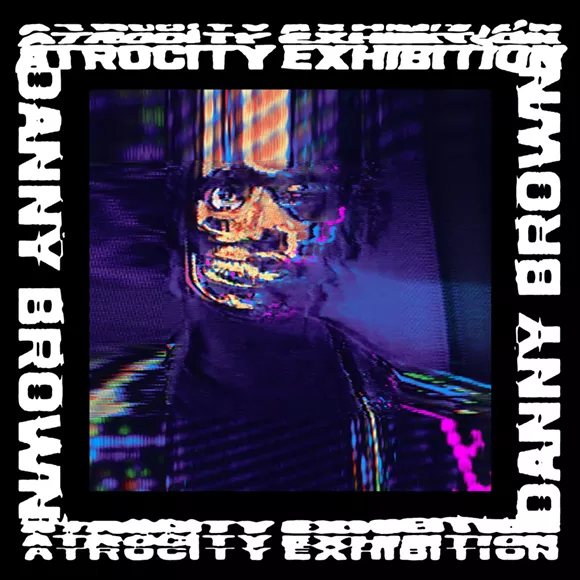 In addition to the one book and apparel choice that will make for superb gifts we've divvied up various genres and formats into three ways each to give your music-loving friends and family the best Christmas ever. Be sure to visit your local retailers to acquire these goods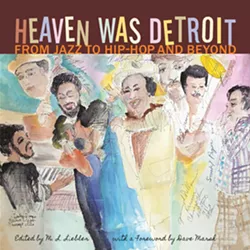 Heaven Was Detroit: From Jazz to Hip Hop and Beyond, edited by M.L. Liebler (Turtle Press)
A large format collection that nearly clocks in at 500 pages, Heaven Was Detroit: From Jazz to Hip Hop and Beyond is our number one gift idea for the Detroit music fan. We're still exploring this voluminous work. It's authoritative, well-illustrated, and features some of the best experts on our area's music history offering both expansive overviews and diving into micro-histories.
Edited and compiled over a number of years by acclaimed local writer, professor and activist M.L. Leibler, among the contributors are Greil Marcus, Marsha Battle Philpot, John Sinclair, Jaan Uhelszki, Dave Marsh, Aaron Anderson, Susan Whitall, Leni Sinclair, Michael Hurtt, Gary Graff, Lester Bangs, and Danny Dollrod.
There are a few blind spots (gospel), but those just highlight the difficulty of weaving such a dense and epic tapestry as this. Divvied up into nine major chapters, the encyclopedic work starts with the early days of jazz and blues then moves on up to our infamous current export of techno. From the bold sounds of the Tribe's free jazz scene to the olden times kings of Hamtramck hillbilly; from how Eminem really got started to the only Alice Cooper feature you ever need to read — not to mention the story behind Motown's Black Forum label — this is as close to essential as you're going to get when it comes to the breadth of our music history.
Hot jazz and soul by Aaron Anderson
Dennis Coffey, Hot Coffey in the D: Burnin' at Morey Baker's Showplace Lounge (Resonance)
It's hard to get more Detroit than this. Resonance Records is releasing a previously unissued live recording by the Dennis Coffey Trio live at Baker's from 1968. On this fuzzed-up soul jazz outing Coffey is backed by none other than Lyman Woodard on organ and Melvin Davis on drums. We suggest you buy two, a gift to yourself and a gift for someone you love. The limited vinyl is released on Nov. 25, while the CD version comes out Jan. 13th.
Dr. Prof. Leonard King Orchestra, This Time and Again Forward (Uuquipleu)
You can just about lay this CD on anyone, an honest and fun large band offering from Detroit's own Leonard King that breaks the confines of jazz, mixing salsa, funk, old school rhythm & blues with a variety of rhythms and melodies, this release is pure "People Music".
Thornetta Davis, Honest Woman (Sweet Mama Music)
The queen of Detroit Blues has graced us with a new release in 2016. With 12 new songs from Thornetta and one poem by her sister Felicia, along with musical guests that include Luis Resto, Dave McMurray, Rayse Biggs, and the late Marcus Belgrave, this is the gift for those on your list who love the blues or are in desperate need for some.
Electronic treats by Rai Skotarczyk
Kids, music is the gift that keeps on giving, especially if your cousin from Crown Heights just started DJing and needs some tunes to practice with. We got you; here are three essential Detroit releases to add to your gift list this year. —
Jay Daniels, Broken Knowz (Technicolour)
Jay Daniels was a classic before he even touched a turntable. The 20-something's new LP Broken Knowz was just released via Ninja Waves Technicolour imprint. It's minimal, sophisticated, raw techno — the quintessential Detroit sound.
Valley Hush, Valley Hush (The Record Machine)
For those who love electronic, but err on the side of an experimental pop sound, Valley Hush's recent self-titled album won't disappoint. Lianna Vanicelli's sonically therapeutic vocals along with Alex Kaye's chillwave beats are an undeniable "best gift ever." Find it digitally (iTunes or Spotify) or through their label, The Record Machine.
Golf Clap, 20 Free Downloads (Soundcloud)
If you're totally broke this year (Hi!), Golf Clap just released 20 Free Downloads on their Soundcloud page. It's a package of free music to commemorate reaching 20,000 Facebook likes. This gem is a back catalog of bliss, house rompers and titillating red room beats that will bring a little grime, glitter, and jazz to the holiday season. Visit soundcloud.com/golfclapdet for the download.

Reheated wax by Aaron Anderson
More proof that there has always been something interesting and influential going on in Detroit.
Fred 'Sonic' Smith, Sonic's Rendezvous (Orchidé)
Got a guitar player on your list? Someone totally dedicated to Detroit rock 'n' roll? Well, they're gonna love you if you get them this CD. Unreleased solo acoustic home demos, studio recordings, and isolated live guitar tracks by MC5 guitarist Fred "Sonic" Smith. Pure genius from one the most influential guitar players ever.
TJ, Time Is Wasting (BBE/180 Proof)
The unreleased demo recordings from the '70s found in the Strata Records vault by someone simply known as "TJ". Stripped down and sincere soul that will leave you wanting more on this 10".
Spahn Ranch, Back to the Wood (Dais)
A brand new compilation LP of killer tracks by Detroit post-punk/shoegaze/goth pioneers. A most unusual sound from the most unusual of times, Detroit in the '80s.
Tabs out by Sam Hooker
A trio of essential cassette releases from 2016.
Tyler Hicks, Guitar Solo (Irrational Tentent)
You might remember Tyler Hick's guitar playing in 2015's most missed group Thanks USA or his recent appearances at Trinosophes and Ditto Ditto, but this tape sounds closer to his non-guitar work as part of local electro-abstraction duo Creode. Strange but never abrasive loops take left turn after left turn with only subtle hints that the instrument producing these sounds is actually a guitar. Released on Matt Conzett's consistently excellent deep underground tape label Irrational Tentent.
Lyrans, Float Lines (self-released)
There is a lot of material on this artfully packaged 90 minute cassette, their first release as a group. Live recordings from multiple gigs cover a lot of sonic territory, hints of new age and kosmische but still firmly rooted in Detroit's tradition of future focused electronic music. On this tape Lyrans are David Shettler, J.Rowe, and David Hurley.
The Vitas, Ginkgo (self-released)
The Vitas' debut tape features nine songs backed with their first gig in a classic demo style. The songs are short and sparse but sharp and entirely memorable, a nice change from the buzz and blur of many recent punk demos. The Vitas are Maia Asshaq, Claire Cirocco, Shelley Salant and Megan Stockton.
Long live the underground by Aaron Anderson
Know someone who is hipper than hip? Try these LPs out. They might take a little extra work to find but you will be thanked repeatedly and earn some cool points.
Chatoyant, Psychic Hieroglyphs (Detroit Cosmic Sounds)
Cosmic avant jazz rock, authentic, impressive, and spacey.
Westurbur & Rowe, 2015 (Northern Ashram)
A lot of people are trying to master this sound but only W&R do. Mellow, progressive, and mind expanding.
Diamond Hens, Diamond Hens (self released)
Twisted and arty, this is not for the faint of heart (or ear). Nothing sounds quite like it, great for basement dwellers and MM card holders.
Detroit hip-hop by Kahn Santori Davison
Detroit hip-hop had such a great year that it was hard to narrow it down to only three gift, but this triple-pack will not disappoint.
Danny Brown, Atrocity Exhibition (Warp)
When Metro Times interviewed Danny Brown two Novembers ago, he wondered what it would be like to make a, "big budget album, to sample whatever he wanted." Fast track to Atrocity Exhibition and Danny's team shelved out 70 grand on samples (not super big-budget but not chump change either) that fuels Brown's finest creative achievement to date. For the most part, we still get the manic depressing, pill-popping, paranoid ass Danny. You know, the one that raps like he's been studying Pink Floyd and Andre 3000 all his life and was the unknown member of Odd Future. Atrocity Exhibition gives us all of that and more. "Really Doe" and "When It Rain" are easily the two tracks you'll never get tired of listening too.
Nolan the Ninja, he(art) (Left of Center)
It seems the legend of Nolan the Ninja grows with every 16 bars he drops. He lit up the mic when Sway stopped by over the summer and the cats over at "Dead End Hip-Hop" showed him a ton of love. His newest project, he(art) is arguably his best work to date. The rawness is there, the boom-bap beats are there, and Nolan's signature "roar" on the mic is a mainstay. Check out track 14, "Real Shit" featuring Finale (another local legend).
Mic Write, Onus Chain (self-released)
When you're an emcee that has three literary awards (Locke, Knight and Kresge) under your belt, you're easily in the conversation of one of the best lyricists in town. Check his project Onus Chain, it's a little bit of Public Enemy, a little bit of Dead Prez, a little bit of Big L, and whole lot of Detroit. I guarantee you won't listen to track 2, "The Rapture" without saying "Did he just say that" at least ten times.

Wear it proudlyby Mike McGonigal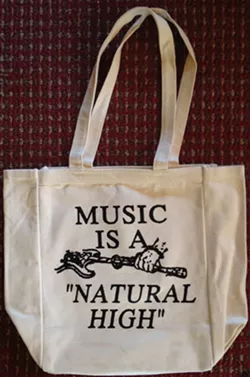 Music is a Natural High tote and shirt (Fag Tapes)
Musician Heath Moerland (Tyvek/ Sick Llama) is also a visual artist and entrepreneur. Begun in 2005, his label Fag Tapes has over 400 releases plus a handful of t-shirts and other items. The label's biggest seller are their t-shirts (and now tote bags) which read "Music is a natural high." "Handcuffed to the neck of a guitar, you are a prisoner to music," Moerland says, referring to the image at the center of the shirt. "Everywhere is the same, and everywhere is different. But Michigan has something shining about it. It's my home planet away from home." the shorts can be purchased at many local record stores and boutiques, and always at fagtapes.bigcartel.com.