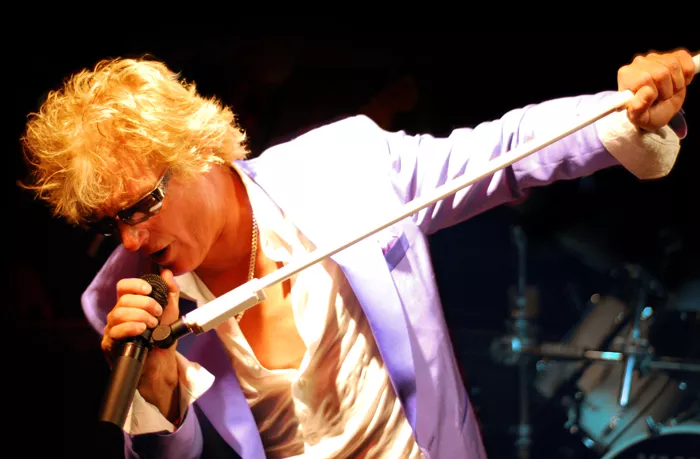 The Mega 80's
Sometimes, we all want to go out and hear what we know. Enter the Mega 80's. These folks know that, and so they regularly give the patrons of the Magic Bag in Ferndale (as well as a bunch of other local venues) a healthy dose of nostalgia courtesy of the hits of Frankie Goes to Hollywood, Duran Duran, Michael Jackson and Devo, plus Poison and Mötley Crüe. It's a party. Just dance.
Danny D
Danny D (pictured above) looks like Rod Stewart and he carries himself like Rod Stewart. Hell, somewhere deep in his mind he might actually think he is Rod Stewart. Fair play, though, the man has a great voice and he puts on one helluva show, guaranteeing that, whenever you see him, "tonight's the night."
War Machine
Since '98, War Machine has been Detroit's premier Kiss tribute band. There probably isn't much competition, but still, the band has a right to be proud. The makeup looks authentic, the outfits not too shabby, and the show is popular with Kiss fans. Let's face it, the real Kiss is losing original members at an alarming rate, so what's the difference anyway?
The Detroit Doors
Even though the singer of the Detroit Doors looks more like Ian Hunter of Mott the Hoople than Jim Morrison, the guys do a fairly true impersonation of their heroes, and can be seen in bars and restaurants all over the region.
Rockstar
Oh, you really have to see these guys. Rockstar plays all of the hair metal hits that you remember, and a whole ton that you don't. Twisted Sister, Bon Jovi, Quiet Riot, AC/DC — hell, if you ask nicely they might pull out an old White Lion or Faster Pussycat tune. It's like you're stuck in a time warp with Tommy Lee, and he's holding you in. Much fun to be had.