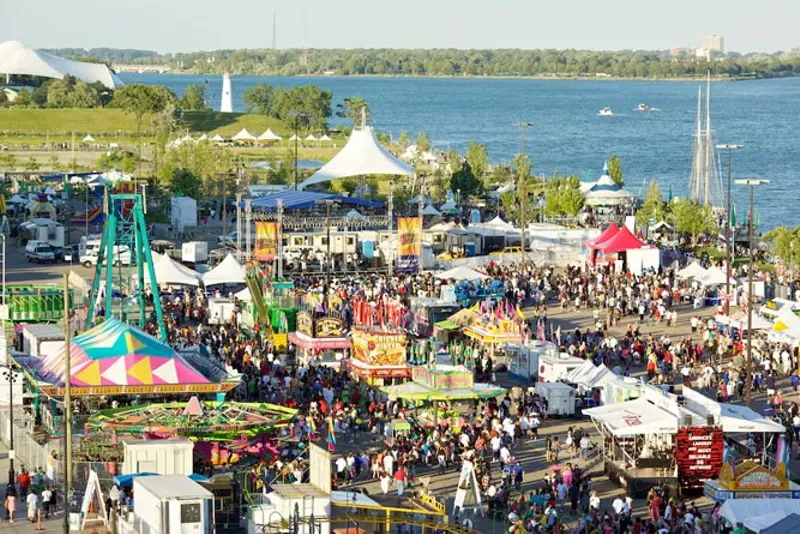 No summer weekend in Michigan is complete without attending an outdoor festival, especially if there's a beer tent. On the schedule this summer, you'll find festivals celebrating everything from bologna to polka music, from books to art.
National Cereal Festival
Friday, 6/9 - Saturday, 6/10
Downtown Battle Creek
Known as the birthplace of cereal, Battle Creek honors that special history by holding this yearly summer event featuring the world's largest breakfast table, inflatables, cooking demonstrations, and a cereal run.
World's Longest Breakfast Table runs from 8 a.m. to noon; Downtown Battle Creek; 269-962-2181; www.bcfestivals.com/cerealfest; free entry.
Ya'ssoo Greek Festival of Ann Arbor
Friday, 6/9 - Sunday, 6/11
St. Nicholas Greek Orthodox Church
Learn more about Greek culture, the church, food, music, and traditional dances at this annual summer festival — you also have a chance to win a trip to Greece.
Runs from 11 a.m. to midnight on Friday and Saturday, noon to 6 p.m. on Sunday; 3109 Scio Church Rd., Ann Arbor; 734-332-8200 annarborgreekfestival.org; free entry Friday and Saturday before 4 p.m., tickets are $3, Sunday tickets are $2.
Art, Animals, and Awakenings Festival
Saturday, 6/10
Dearborn Historical Museum
Expect dogs, psychics, jazz, and more all on the lush front lawn of the historic McFadden-Ross House.
Runs from noon to 6 p.m.; 915 Brady St., Dearborn; 313-336-3289 artsanimalsandawakenings.org; free entry.
The Vintage Market: Down on the Farm
Saturday, 6/10 - Sunday, 6/11
Monroe County Fairgrounds
This grassroots festival had humble beginnings in a small lot in Trenton just a few short years ago but has grown to attract over 300 vintage and vintage-inspired vendors, live music, a glamping village, and other whimsical elements.
Market opens at 10 a.m. Saturday and Sunday; 3775 S. Custer Rd., Monroe; 734-344-1079; entry is $5 for adults and children 12 and younger are free.
CraftCom Festival
Friday, 6/16 - Saturday, 6/17
Downtown Clawson
The inaugural festival is taking over Clawson and is bound to be a great time. Fans of comic books and all things nerdy will want to hit up this two-day fest that features comic books, cosplay, and lots of brews from Black Lotus Brewery.
Runs from 5 p.m. to 10 p.m. on Friday, June 16 and 11 a.m. to 11 p.m. on Saturday, June 17; downtown Clawson; free entry.
Cedar Polka Fest
Thursday, 6/22 - Sunday, 6/25
Downtown Cedar
Celebrate the great cultural tradition of polka music at this cultural celebration founded in 1975.
All day; 3215 Sullivan St., Cedar; 231-228-3378; cedarpolkafest.com; free entry.
Michigan Challenge Balloonfest
Friday, 6/23 - Sunday, 6/25
Howell High School
This festival's got skydiving, carnival rides, balloon launches, fireworks, and an amazing balloon glow show.
Runs from 4 p.m. on Friday to 8 p.m. on Sunday; 1200 W. Grand River Ave., Howell; 517-546-3920 michiganchallenge.com; Daily festival passes are $15, weekend passes are $25, and advanced purchase weekend passes are $20.
St. Isidore Strawberry Festival
Friday, 6/23 - Sunday, 6/25
St. Isidore Church
Find strawberry desserts, raffles, a children's game tent, a talent show, and outdoor fun at this annual fruit festival.
All day; 18201 23 Mile Rd., Macomb Township; 586-286-1700; stisidore.church/connect/strawberry-festival; recommended donation.
River Days
Friday, 6/23 - Sunday, 6/25
Detroit Riverfront
Celebrate the beauty of the Detroit Riverwalk with jet-ski tours, riverboat tours, live music, food from local vendors, and more.
Starts Friday at 11 a.m.; Detroit Riverfront; riverdays.com; entry is free Friday from 11 a.m. to 5 p.m. and tickets are $3 before 3 p.m. and $5 after 3 p.m. on Saturday.
Hell-O Summer Fest
Saturday, 6/24 - Sunday, 6/25
Hell
Does Oct. 31 feel like a lifetime from now? Head to the Michigan city of Hell for a summer celebration of all things spooky.
Opens at 10 a.m.; 4045 Patterson Lake Rd., Hell, free entry.
Michigan Elvisfest
Friday, 7/7 - Saturday, 7/8
Riverside Park
Founded in 2000, Elvisfest takes place in Ypsilanti's historic Depot Town and is the largest Elvis tribute in the country. There will be a classic car show, food, beer, raffles, and, of course, plenty of Elvis impersonators.
Runs from 5 p.m. to midnight on Friday, noon to midnight on Saturday; 5 W. Cross St., Ypsilanti; mielvisfest.com; Friday tickets are $20, Saturday tickets are $30, and discounted tickets can be purchased online.


Wyandotte Street Art Fair
Wednesday, 7/12 - Saturday, 7/15
Downtown Wyandotte
This huge summer festival stretches the entirety of downtown Wyandotte with tendrils furling out onto side streets and back lots. Many local artisans and crafters are featured here, selling a little something for everyone. You'll find local food vendors grilling up hearty sandwiches, stages of live music, and a kids zone with plenty of things to bounce on.
Runs 10 a.m. to 9 p.m.; Downtown Wyandotte; wyandottestreetartfair.org; free entry.
Pig and Whiskey
Friday, 7/14 - Sunday, 7/16
Downtown Ferndale
Summer and barbecues are synonymous in America and this festival celebrates both. There will be plenty of tender smoked meats from local vendors, live music, beer, and some opportunities to shop from a choice selection of metro Detroit crafters.
Friday 6 p.m. to midnight, Saturday 11 a.m. to midnight, Sunday 11 a.m. to 11 p.m.; E. Troy St., Ferndale; pigandwhiskeyferndale.com; free entry.
Detroit Kite Festival
Sunday, July 16
Belle Isle Cricket Field
Never heard of the Detroit Kite Festival before? Don't sweat it. The inaugural event will kick off this July after winning the first-ever Belle Isle Soup dinner last year. The nonprofit behind the festival has worked to ensure it's free while offering on-site kite making demonstrations and other kite-related activities.
Runs 10 a.m. to 4 pm.; 1 Casino Way, Detroit; detroitkitefestival.org; free.
The Detroit Bookfest
Sunday, 7/16
Eastern Market, Shed 5
This first-ever festival will feature rare and used books, plus music, food, and beer.
Runs from 10 a.m. to 4 p.m.; 2934 Russell St., Detroit; detroitbookfest.com; free entry.
National Baby Food Festival
Wednesday, 7/19 - Saturday, 7/22
Downtown Fremont
A bit of a misnomer, this festival has less to do with pureed peas and more to do with family-friendly entertainment like an arts and crafts show, a parade, various markets, and carnival rides.
Starts at noon on Wednesday.; Downtown Fremont; 231-924-0770 babyfoodfestival.com; free entry.
Ann Arbor Art Festival
Thursday, 7/20 - Sunday, 7/23
Downtown Ann Arbor
Check out the amazing sidewalk sales, great food, and street performers at this enormous and award-winning annual street fair.
Runs 10 a.m. to 9 p.m. Thursday and Friday, noon to 6 p.m. Saturday; Downtown Ann Arbor; 734-995-7281; visitannarbor.org/artfair; free entry.
Robo-Con 2017
Saturday, 7/22
Lapeer Center for Innovation
This festival of robotics and STEM learning was started by a local FIRST robotics team in 2014 in order to share their love for robotics with others. Experience the thrill of robotics by driving robots, taking them apart and building them again, trying out virtual reality, and competing on a full-sized field with a real competition bot.
Runs from 10 a.m. to 4 p.m.; 170 Millville Rd., Lapeer; mirobocon.com; free entry.
Yale Bologna Festival
Friday, 7/28 - Sunday, 7/30
Downtown Yale
The small town of Yale loves bologna so much they celebrate it every year during the three-day festival. People from all over Michigan come to see who will be crowned the next King and Queen of Bologna and enjoy events like outhouse races, street dance, fireworks, and a parade.
Starts at 10 a.m.; Yale; 810-387-9253 yalechamber.com; free entry.

Michigan Shakespeare Festival
Saturday, 7/28 - Sunday, 8/13
Village Theatre
Two Shakespearean classics — The Taming of the Shrew and The Tragedy of Julius Caesar — and a Anton Chekhov's The Seagull will be performed for three weeks during this professional theater festival.
Showtimes vary; michiganshakespearefestival.com/calendar; single show tickets are $40.
Howell Melon Festival
Friday, 8/18 - Sunday, 8/20
Downtown Howell
This three-day festival pays homage to Howell's agricultural heritage and celebrates their Howell Melon, a delicious cantaloupe only grown there. There will be a Melon Run, Doc May's Memorial Bike Ride, a car show, live entertainment, and more.
Starts at 6 p.m. Friday, and 9 a.m. on Saturday and Sunday; 200 E. Grand River Ave., Howell; 517-546-0693; howellmelonfestival.com; free entry.
Arts, Beats, and Eats
Friday, 9/1 - Monday, 9/4
Downtown Royal Oak
Nosh on food from local restaurants, food trucks, and other purveyors, shop at booths by local vendors, and enjoy live performances by both local and national artists at this annual Labor Day event.
Runs 11 a.m. to 11 p.m. Friday through Sunday and 11 a.m. to 9:30 p.m. Monday; Downtown Royal Oak; 248-541-7550; artsbeatseats.com; entry is free Friday 11 a.m. to 5 p.m.; tickets are $3 before 3 p.m. and $5 after 3 p.m.
DIY Street Fair
Friday, 9/22 - Sunday, 9/24
Downtown Ferndale
Shop local vendors, sample treats from local food trucks, and enjoy live music at this late summer festival in downtown Ferndale.
Runs 6 p.m. to midnight Friday, 11 a.m. to midnight Saturday, and 11 a.m. to 11 p.m. Sunday; E. Troy St., Ferndale; diystreetfair.com; entry is free.