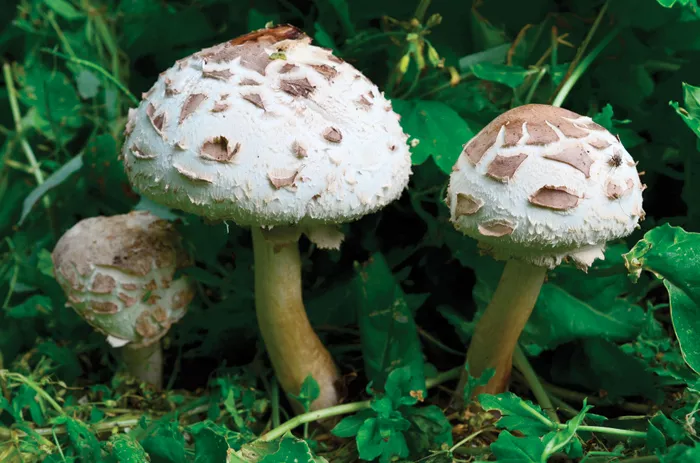 The Humungus Fungus Fest
Not to be confused with those other magical mushrooms, the Armillaria Bulbosa (aka "Humungus Fungus" — not pictured) is perhaps the world's oldest — and largest — living organism. Spanning 38 acres in the U.P., it's thought to be as much as 10,000 years old and weigh 100 tons. The good people of Crystal Falls celebrate it with an annual "Humungus Fungus Fest" the second weekend of August. Check it out, and partake in the "Fungus Fudge" and "Fungus Burgers." Fun fungus for all! But only expect the little edible "honey mushroom" shoots to be above ground. The rest of the gargantuan fungus is underground, and not visible to tourists.
Cheeseburger Fest
The Cheeseburger Fest of Caseville is perhaps the most delicious part of Aug. 8-17, and also a bit closer to Detroit than the Fungus. In addition to burgers, there are also 10 days of music, including Contemporary Christian, Oldies, and Jimmy Buffett tribute bands.
Elvisfest
If you're planning on Cheeseburger Fest, why not hit up Elvis Fest first? Ypsilanti turns into an Elvis mecca closer than Graceland July 11-12. Elvisfest boasts the "largest tribute concert in North America" with so many impersonators (er, tribute artists), the King himself could show up and blend right in.
Wellington Farm, USA … where it's always 1932!
Does the decadence of mushrooms, cheeseburgers, and Elvis turn you off? Do you prefer the more rustic, traditional ways to a good time? Does the idea of living like it's 1932 and you're suffering through the Great Depression get you excited? Then Wellington Farm is for you! You can have your wedding, family reunion, school trip, company picnic, or, heck, just go for the interactive displays, livestock barn, grist mill, and broom shop. Located south of Grayling, if you plan on heading there, they prefer you call ahead at 989-348-5187. Nothing like a bit of forewarning via modern technology before you head back to the time of lack.
Cereal Festival, Featuring the World's Longest Breakfast Table
If the idea of living like it's 1932 is a bit scary and you like the idea of having plenty to eat, head to Battle Creek on June 14 for the "World's Longest Breakfast Table" (breakfast served 8 a.m.-10 a.m.). Get there the day before to enjoy the "Cereal City Grand Cereal Parade."
Stump Fence Capital of the World
If you go cruising around the middle part of the state, enjoying rolling hills and long open roads, you might find yourself in Trufant, Stump Fence Capital of the World. "What's a stump fence?" you might ask. Well, back in the day, Michigan was filled with big friggin' trees. After they were cut down and sent to the sawmill, the stumps had to be pulled up. The good folks of Trufant turned said stumps into fences. It's a resourceful, interesting way of rocking what the good Lord left in what was to become your cornfield. Today, it's worth a drive-by to see. Or check out the Labor Day Trufant Jubilee, once known as the Stump Festival. There'll be a "Stump Chasers 5k" run, and past Jubilees have included the Stump King and Queen, horseshoe tournaments, and frog jumping contests. It might just be the weirdest, most wholesome way to end your summer.