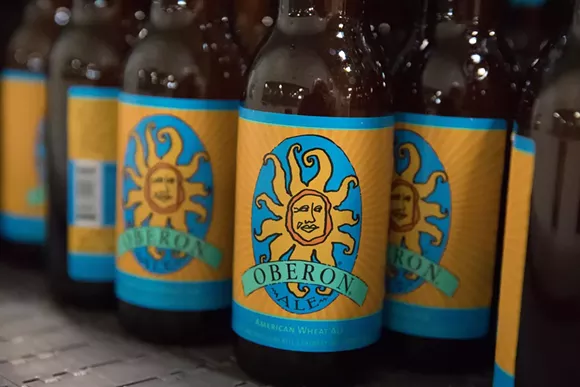 Oberon - Bell's
ABV: 5.8%
There isn't a summer beer made in Michigan that embodies the taste of summer better than Oberon does. For one, you can only buy it during the spring and summer months, but it's that delicious wheat beer with a hint of orange that makes you always want to have another. And of course, there's something about that shining sun logo that just screams summer.
Blushing Monk - Founder's
ABV: 9.2%
Described as a dessert beer, Blushing Monk by Founder's in Grand Rapids is brewed with lots of raspberries to give it a fresh and natural flavor. The taste lies on the sweet side, but with a ABV of 9.2 percent, one is enough.
M-43 - Old Nation Brewing
ABV: 6.8%
One of the few IPAs on the list. Old Nation Brewing's M-83 has the perfect level of hops to make it a great beer to drink in the summer.
Whitsun - Arcadia
ABV: 6.0%
If you're not a fan of the Bell's Oberon, then Whitsun by Arcadia might be your next best.
Blood Orange Pale Ale - Roak
ABV: 6.5%
While we may be partial to an orange-flavored beer like Oberon or Whitsun, Roak Brewing in Royal Oak turns it up with this delicious Blood Orange Pale Ale. The blood orange is unexpected, but hits all the right notes when you taste it. It's also got a pretty decent ABV.
Jolene - Axle Brewing
ABV: 4.5%
Honestly, the best part of drinking this beer is that you mentally hear Dolly Parton crooning "Jolene" in the back of your head while you're taking a swig. And if you don't hear Dolly, then you're drinking it wrong. Thank you Axle Brewing for giving us this beer.
Rochester Raspberry Radler - Rochester Mills
ABV: 4.2%
If you're not a huge beer drinker, then this may be the one you'll want to try this summer. Rochester Mills Brewing Company's Raspberry Radler. This shandy is perfect for the summer because it basically tastes like a cool glass of raspberry lemonade, except it will get you drunk.
Smells Like a Safety Meeting - Dark Horse Brewing Co
ABV: 8.5%
Other than having the best name for a beer ever, Smells Like a Safety Meeting is an American Double/Imperial IPA that will knock you off your socks. This is a very aromatic beer, loaded with a ton of hops that Dark Horse Brewing Co. describes as "dank." If you are a fan of hops, then you won't want to pass up this brew.
Strawberry Short's Cake - Short's
ABV: 5.0%
Strawberry Short's Cake is obviously a fruity beer that tastes just like a strawberry shortcake, and probably half the calories.
Porch Appeal - Gonzo's Biggdogg Brewing
ABV: 5.3%
This low-key brewery and taproom in Kalamazoo doesn't have the name recognition like the taproom down the street (Bell's, duh), but they make just as good of a beer. This wheat beer is infused with the slightest hint of peach to give it some fruity flavor.
Oval Beach Blonde - Saugatuck Brewing
ABV: 5.0%
Saugatuck Brewing hit the nail on the head when they brewed up the popular Oval Beach Blonde. This is as simple and classic as a blonde beer needs to be — light, aromatic, and a rich flavor. For those who want to dabble in the craft beer world, this is the perfect beer to try out.
The Tonic — Blake's Hard Ciders
ABV: 6.5%
Honestly, any of Blake's ciders are worth a try this summer — they have a fantastic assortment of traditional ciders to fruity ones, but The Tonic is different from anything they have done before. Only available from April to July, The Tonic is brewed with ginger root and cucumber to give a refreshing and crisp cider.
Soft Parade - Short's
ABV: 7.5%
One of our favorites from the brewery in Belaire, Soft Parade is made with a variety of fruits, but fortunately isn't too sweet like some fruit beers can be. Soft Parade does have a pretty high ABV, so just drink a few because they tend to sneak up on you.