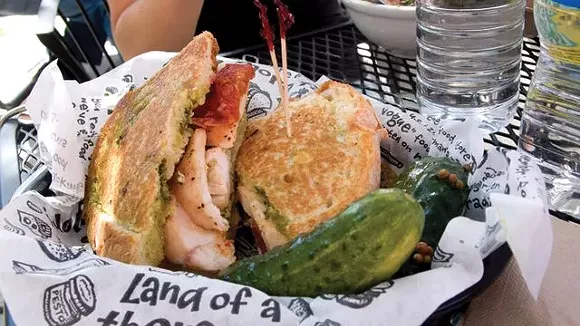 Michigan restaurants have experienced major inroads in getting the state recognition as a vital food destination. It has to do in part with the Mitten's embrace of farm-to-table sourcing methods and the grit natives have in their blood to experiment with what they've got — a trait that dates back to Michigan's place as a manufacturing hub. We've loved it forever, but national media outlets are finally taking notice, introducing several homegrown chefs and restaurants to a wider audience. We say it's about time. Here are a few such places that, if you haven't already put on your radar, you should.
The Root Restaurant & Bar
340 Town Center Blvd., White Lake
therootrestaurant.com

The Root has been praised by just about everyone in town — from the Detroit Free Press to The Detroit News to most of the local network TV affiliates — for chef James Rigato's approach to utilizing locally sourced farmers and brewers to stock his kitchen. Last year his skills were put to the test when he was tapped to compete in Bravo's Top Chef.
Zingerman's Delicatessan

422 Detroit St., Ann Arbor
zingermansdeli.com

Zingerman's, known for its made-to-order sandwich menu, premium ingredients like free-range chicken, and farmhouse cheeses, is a Michigan institution and regular stopping point for the likes of celebrity chef Mario Batali and President Barack Obama. This year the Ann Arbor landmark, which is always expanding its services, was nominated for best sandwich spot from The Munchies: People's Choice Food Awards, an online contest run by the Travel Channel's Bizarre Foods host Andrew Zimmern.
Union Woodshop
18 S. Main St., Clarkston
unionwoodshop.com

The slow-smoked ribs here are enough to attract the Food Network's Diners, Drive-Ins, and Dives' Guy
Fieri, who profiled the spot, along with fan Kid Rock.
Slows Bar BQ
2138 Michigan Ave., Detroit
slowsbarbq.com

Phil Cooley, the owner of this Corktown barbecue joint, is regularly dubbed as one of the guys who helped revitalize the neighborhood into the dining destination it is today, as evidenced by stories in The New York Times and elsewhere. It also serves as the modern turning point in the Detroit barbecue scene that launched the cuisine to the forefront of the city's culinary scene.
American and Lafayette Coney Islands
114 and 118 W. Lafayette Blvd., Detroit
americanconeyisland.com

The generations-old rivalry between American and Lafayette Coney Island in downtown has attracted fans the country over, including Eater, The Today Show, and the Travel Channel's Man v. Food.
Bavarian Inn
713 S. Main St., Frankenmuth
bavarianinn.com

Why go to Germany when you have a taste of Bavaria in your home state? This place in European-themed Frankenmuth became famous for its all-you-can-eat fried chicken and German beers. One of the country's oldest eateries, it was recently named one of the most iconic restaurants by viral listicle site Thrillist.
Lawry's Pasty Shop
2164 Hwy. 41 W., Marquette
2381 US-41, Ishpeming
lawryspasties.com

Looking for the quintessential pasty shop in the U.P.? The New York Times has called the Yooper dish served here a sure-fire hit.
Mani Osteria and Bar, Ann Arbor

341 E. Liberty St., Ann Arbor
maniosteria.com

This Italian restaurant attracts guests like celebrity chefs Bobby Flay and Mario Batali. Maybe it's because of owner Adam Baru's eclectic menu offerings, which range between traditional fare and more inventive dishes.
The Cooks' House

115 Wellington St., Traverse City
thecookshouse.net

In case you haven't noticed, Batali is a big fan of Michigan restaurants. That's because his wife went to school here and they bought a home in Michigan, where they regularly vacation. A Batali favorite in T.C., according to Bon Appetit, is the Cooks' House, which focuses on all local, regional dishes, especially walleye, whitefish, roasted rabbit, and Michigan hops.
Rock City Eatery

11411 Joseph Campau St.
Hamtramck
rockcityeatery.com

This punk rock joint made a huge splash in the area when it opened in 2013. Then proprietor Nikita Sanches and fiancée Jessica Imbronone took that momentum and competed in CNBC's Restaurant Startup, introducing America to RCE's irresistible pies.
Roast

1128 Washington Blvd., Detroit
roastdetroit.com

Self-proclaimed carnivore and ubiquitous Food Network celebrity chef Michael Symon stood out when he took a gamble on opening Roast in the Westin Book Cadillac in 2008. But his bet that not only Detroiters, but also visitors from all over the country, would appreciate his meat-focused menu paid off, and it is now one of the crown jewels of the city.
Old Tavern Inn

61088 Indian Lake Rd., Niles


Opened in 1835, this bar is the state's oldest businesses, and it received much-deserved rep on the national scene when Thrillist celebrated it as one of the oldest watering holes in the country.
Domino's, Little Caesar's, Jet's

Various locations
dominos.com
littlecaesars.com
jetspizza.com

We will lump these three pizza chains together and say Michigan is responsible for putting the fast-food pizza genre on the map. Domino's, headquartered in Ann Arbor, introduced us to the 30-minutes-or-less pizza delivery. Detroit's Little Caesars gave us the oft-imitated $5 Hot-N-Ready concept. And Jet's, headquartered in Sterling Heights, gave Americans a rendition of the Detroit square pizza, with its crispy, cheesy corners.
Trattoria Stella

1200 W. 11th St., Traverse City
stellatc.com

Trattoria Stella's focus on Italian cuisine and its wine cellar inside a former insane asylum landed it a Wine Spectator's award of excellence, and Bon Appetit highlighted it as a sophisticated dining destination. Those nods certainly helped reaffirm Traverse City's place on the foodie map. n