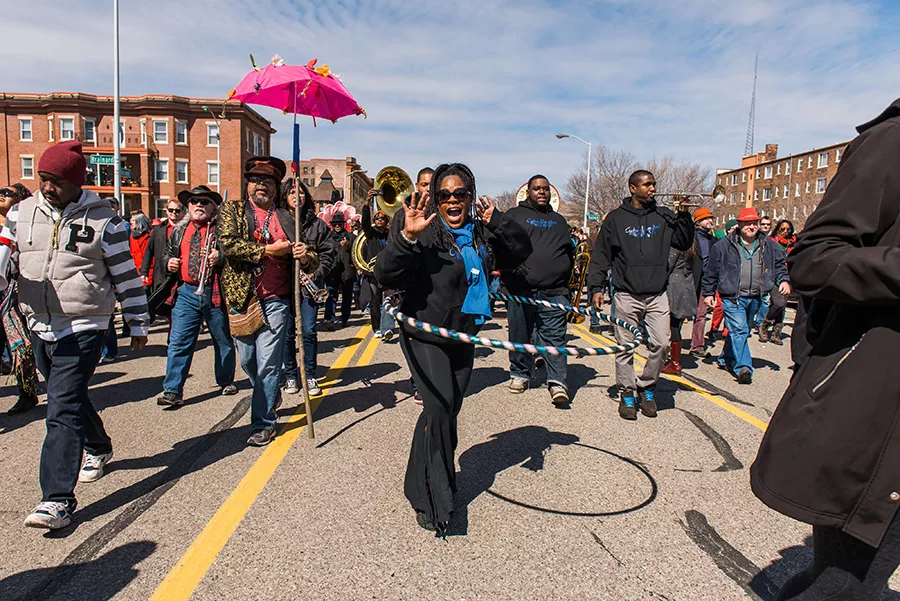 Consider your calendar filled — here are metro Detroit's must-do annual events.
January
North American
International Auto Show
2019 TBA; Detroit;
naias.com
Glitz, glam, and the latest industry auto offerings, Detroit's annual auto show always draws a huge crowd and puts the pedal to the metal.
Meridian Motown Winter Blast

2019 TBA; Detroit;
winterblast.com
Originally devised as a backdrop to help populate downtown Detroit during Super Bowl XL in 2005, the Meridian Motown Winter Blast has now grown into a strong annual tradition featuring live music, a snow slide, and all of the s'mores.
Ann Arbor Folk Festival
2019 TBA; Ann Arbor;
theark.com
Folk yeah! For 42 years the Ann Arbor Folk Festival has showcased some of the most influential folk acts of our time, and of course, has shined a spotlight on up-and-coming strummers.
February
The Dirty Show
2019 TBA; Detroit;
dirtydetroit.com
Jerry Vile's international erotic art show features burlesque performances, the Cinerotic Film Festival, and a bevy of titillating paintings, photos, sculptures, and other odes to erotica.
Cupid's Undie Run
2019 TBA; Detroit;
cupids.org
The only time of year that running around in your underwear won't get you arrested. The Cupid Undie Run is both a charitable event and a cheeky one.
March
Hamtramck Music Festival
2019 TBA; Hamtramck;
hamtramckmusicfest.com
Dozens of Detroit-area bands, DJs, and solo artists take over Hamtramck's bars and nightclubs for a three-day showcase that's likely the largest local music festival in Michigan.
Motor City Tattoo Expo
2019 TBA; Detroit;
themotorcitytattooexpo.com
Got ink? The Motor City Tattoo Expo is not your typical gun show. This event draws tattoo aficionados from all over, featuring seminars, vendors, live music, and, yeah — tattoos.


Autorama
2019 TBA; Detroit;
autorama.com
Since 1953, the grit, grease, and muscle of Autorama has been known as America's greatest hot rod show. The event offers a glimpse at custom rides, celebrity guests, car tips, demonstrations, rockabilly, and pinup girls.


61st Annual Detroit
St. Patrick's Parade
March 10; Detroit;
detroitstpatricksparade.com
We're seeing green! Corktown's long-standing annual celebration of its Irish heritage continues with a parade, traditional music, beer, and shamrocks galore.
Marche du Nain Rouge
March 25 from noon to 3 p.m.; Detroit;
marchedunainrouge.com
It's only fitting that a city as unique as Detroit would host such a devilish event. Marche du Nain Rouge, though the new tradition on the block, is a blend of Mardis Gras and mythology as the city rallies together to banish the dreaded Red Dwarf.
Ann Arbor Film Fest
March 20-25; Ann Arbor;
aafilmfest.org
Calling all cinephiles! Now in its 56th year, the Ann Arbor Film Fest is the must-see event for lovers of independent and experimental film.
April
Ann Arbor Hash Bash
April 7 at high noon; Ann Arbor;
hashbash.com
Held each year on the first Saturday of April, the Ann Arbor Hash Bash is a toking good time. The herbal celebration preempts 4/20 festivities with this annual blown-out blowout of all things marijuana-related.
FoolMoon and FestiFools
April 6 and 8; Ann Arbor;
wonderfoolproductions.org
On FoolMoon, the streets of Ann Arbor are invaded with illuminated costumes and contraptions. On the sister event, FestiFools, a "flash mob" army of papier-mache puppets takes to the streets for one kooky celebration.
May
East Lansing Art Festival
May 19-20; East Lansing;
elartfest.com
It's an art thing, baby. Since its inception in 1964, The East Lansing Art Festival has morphed into a community undertaking that offers hundreds of artists, performers, and craftspeople the chance to show off their work to thousands of art-hungry visitors.
Stratford Festival
May-October; Ontario, Canada;
stratfordfestival.ca
OK, so it's not in Michigan but thanks to our neighbors to the North-ish for putting on dozens of plays each year with an emphasis on Shakespeare. The Stratford Festival is North America's largest repertory theater company.
Movement Music Festival
May 26-28; Detroit;
movement.us
It's all the rave! Lovingly referred to as "Techno Christmas," the Movement Electronic Music Festival draws fans and DJ's from all over the world. Considering Detroit is the undisputed capital of electronic music, there's only one place you should be Memorial Day weekend.
Cinetopia International Film Festival
May 31-June 10; Ann Arbor, Detroit;
cinetopiafestival.org
Cinetopia honors the rich heritage of cinematic culture and Michigan's proud legacy of outstanding cinema artists through special film events, panels, and presentations.
June
Ferndale Pride
June 2; Ferndale;
ferndalepride.com
Hoist up those rainbow flags, Ferndale Pride is taking over. The event is the ultimate celebration of our local gay, lesbian, bisexual, and transgender communities.
Hoedown
June 1; Clarkston;
wycd.cbslocal.com
Hey, y'all. Brush off your cowboy boots and brush up on your two-step, the annual Hoedown returns. Full of country-fied entertainment and vendors galore, the Hoedown ropes in thousands of bumpkins.
Detroit Chevrolet Belle Isle Grand Prix
June 1-3; Detroit;
detroitgp.com
If fast is your speed then the Detroit Chevrolet Belle Isle Grand Prix is right up your track. Detroit's Belle Isle is transformed into a world-class IndyCar racing event.
Motor City Pride
June 9-10; Detroit;
motorcitypride.org
Let your pride flag fly! As Michigan's largest pride event, Motor City Pride turns up with an average of 40,000 participants to celebrate the LGBTQ community with a blowout like no other.
Ann Arbor Summer Festival
2018 TBA; Ann Arbor;
a2sf.org
Ann Arbor's massive festival practically takes up all summer with 22 nights and more than 150 events, featuring music, art, film, and more.
Electric Forest
June 21-24 and June 28-July 1; Rothbury;
electricforestfestival.com
Once again, a psychedelic neon hippie commune is erected in rural Michigan featuring electronic music, jam bands, and a literal electric forest for all of your tripping needs.


Summer Solstice Jazz Fest
June 22-23; East Lansing;
eljazzfest.com
Returning for its 22nd year, the Summer Solstice Jazz fest features hours of top-notch jazz performances and includes youth and community education programming.
GM River Days
June 22-24; Detroit;
riverdays.com
The Detroit riverfront comes alive with music, special events, food, and plenty for the kids. It's also a great way to see how the city's RiverWalk has transformed the waterfront over the last 15 years.
July
Michigan Elvisfest
July 6-7; Ypsilanti;
mielvisfest.org
If you can't help falling in love with "The King," Elvisfest is for you. Celebrate the hunk of burnin' love with some of the country's best Elvis impersonators.

Wyandotte Street Art Fair
July 11-14; Wyandotte;
wyandottestreetartfair.org
It's all going down — Downriver that is. The walkable art-filled event annually enlivens the heart of Wyandotte.
Pig and Whiskey
July 13-15; Ferndale;
pigandwhiskeyferndale.com
Name a more iconic duo. Pig and Whiskey offers up some of the area's best barbecue joints paired with whiskey, beer, and a music lineup that is sure to keep you roasted.
Motor City Steam Con
July 13-15; Romulus;
motorcitysteamcon.com
Put a clock on it. The Con serves up the ultimate steampunk experience.
Concert of Colors
July 14-17; Detroit;
concertofcolors.com
A cultural kaleidoscope, Detroit's annual diversity festival enters its 25th year and features world music, ethnic cuisine, and more.
Ann Arbor Art Fair
July 19-22; Ann Arbor;
artfair.org
Stroll the streets of downtown Ann Arbor to browse a dizzying display of contemporary fine arts and crafts in one of the country's top-ranked art fairs.
Michigan Summer Beer Festival
July 27-28; Ypsilanti;
mibeer.com
Crack a cold one. (In fact, grab us one.) Escape the summer heat with a celebration Michigan's best local brews.
August
Renaissance Festival
Aug 18-Sept. 30; Holly;
michrenfest.com
Huzzah! Rejoice as medieval worlds once again clash with fantasy realms for the ultimate throwback reverie. Costumes, jousting, and turkey drumsticks shall be plentiful.
The Woodward Dream Cruise
Aug. 18; various;
woodwarddreamcruise.com
The best damn traffic jam, the Woodward Dream Cruise combines classic cars and the cruisers that love them at this annual parade down metro Detroit's main drag.
Hydrofest
Aug. 25-26; Detroit;
detroitboatraces.com
More than 100 years strong, the
APBA Gold Cup
is the oldest active motorsports trophy, featuring high-speed hydroplanes on the Detroit River.
Michigan State Fair
Aug. 30-Sept. 3; Novi;
michiganstatefairllc.com
Nothing can stop the 160-year-old family-friendly state tradition. The Michigan State Fair may have been canceled in 2012, but it immediately rose from the dead with all the family-friendly fun you've come to expect.
Detroit International Jazz Festival
Aug. 31-Sept. 3; Detroit;
detroitjazzfest.com
Spanning several city blocks downtown, Detroit's International Jazz Festival honors the art form with an incredible lineup, fireworks, jam sessions, and more.
Arts, Beats & Eats
Aug. 31-Sept. 3; Royal Oak;
artsbeatseats.com
Good things come in threes. Such is true of the Arts, Beats & Eats festival. Local artists, national music acts, and the best restaurants come together for a tasty experience.
September
Dally in the Alley
Sept. 8; Detroit;
dallyinthealley.com
Celebrate the spirit of the Cass Corridor as a historic block is cordoned off to make way for multiple stages, vendors, artists, and libations.
Art & Apples Festival
Sept. 7-9; Rochester;
pccart.org
The city of Rochester transforms the 30-acre Rochester Park into one of the nation's top fine-art fairs with over 290 exhibiting artists from across the country.
DIY Street Fair
Sept. 21-23; Ferndale;
diystreetfair.com
You can do-it-yourself without doing it alone thanks to the DIY Street Fair in Ferndale. Live music, food, and vendor booths hawking all manner of art.
Funky Ferndale Art Fair
Sept. 21-23; Ferndale;
funkyferndaleartfair.com
Keep it funky and head to everyone's favorite Ferndale stretch of fun when Nine Mile Road becomes immersed with metro Detroit's eclectic art scene.
October
Theatre Bizarre
2018 TBA; Detroit;
theatrebizarre.com
The freaks come out at night — well, technically they come out for two weekends every October as the Masonic Temple is transformed into a wicked wonderland, and the "Greatest Masquerade on Earth" commences just in time for All Hallows' Eve.
Detroit Fall Beer Festival
Oct. 26-27; Detroit;
mibeer.com/detroit-fall-festival
Head over to Eastern Market to sample the finest craft brews the Great Lakes State has to offer.
November
Youmacon
Nov. 1-4; Detroit;
youmacon.com
Metro Detroit's annual anime convention seems to grow every year, featuring guest speakers, cosplay costume contests, concerts, live gaming, live art, dealers, vendors, and even such "live-action gaming" versions of Mario Party and Donkey Kong.
Detroit's Thanksgiving Day Parade
Nov. 22; Detroit;
theparade.org
As one of the country's largest and most spectacular parades, Detroit's Thanksgiving Day Parade lures hundreds of thousands of spectators along historic Woodward Avenue to take in the larger-than-life sights.
December
Detroit Urban Craft Fair
2018 TBA; Detroit;
detroiturbancraftfair.com
This well-established craft fair is absolutely enormous and, arguably, the best of the bunch based on its sheer size. It usually takes place at Detroit's Masonic Temple for two days in early December.
Noel Night
2018 TBA; Detroit;
noelnight.org
All is calm, all is bright. Welcome to Detroit's beloved Noel Night. Catch carolers, ice sculptors, horse-drawn carriages, all while checking your list (and checking it twice,) because, yeah, the shopping is out of this world.
Motor City New Year's Eve Drop
Dec. 31, Detroit;
motorcitynye.com
It's the final countdown — of the year, that is! Celebrate New Year's Eve Detroit-style with the dropping of a giant illuminated "D" and a party you will want to remember but probably won't (thanks a lot, champagne).