Winter, objectively, sucks, but it doesn't have to be boring. Part of getting through the coldest, grayest months of the year is knowing how to make the most of them. Mark your calendars with these events, which will help you plot your course to spring.
Michigan Central Station Winter Festival
Jan. 18-27
Ford Motor Co. is celebrating its recent acquisition of the old Michigan Central Station with a winter festival set to coincide with the North American International Auto Show.
Organizers say to expect a 3D-light show projected onto the historic building's facade, live painting, ice carving, fire pits and s'mores, and food trucks. History buffs, take note: The company will also display artifacts that have been scrapped, stolen, or otherwise removed from the long-abandoned train station, which have been coming out of the woodwork in recent months — including the once grand train station's historic clock that was anonymously given to the company after it purchased the building.
From 5:30-10 p.m. on Fridays, Saturdays and Sunday Jan. 20, 5:30-9 p.m. all other days; Michigan Central Station, 2001 15th St., Detroit; mcsfest.com; Admission is free.
Fire & Ice Festival
Jan. 18-20
This annual family-friendly event features outdoor activities like dog sledding, ice skating, snowshoeing, and cross country skiing. There will also be ice sculptures, food trucks, and fireworks.
Event is 5-9 p.m. Friday, 10 a.m.-9 p.m. Saturday, 9 a.m.-5 p.m. Sunday; downtown Rochester; 248-656-0060; downtownrochestermi.com; Admission is free.
Quicken Loans Winter Blast Weekends
Weekends, Jan. 19–21, Jan. 25–27, Feb. 8–10, and Feb. 15–17
Downtown Detroit's annual winter fest, entering its 14th year, is now spread over four weekends, up from its previous incarnation as a three-day event. More good news: This year's event is also now free to attend. Expect the festival's typical wintry activities, like ice skating, ice sculptures, marshmallow roasting, Winter Slides, and a "Polar Plunge" to benefit the Special Olympics. As in past years, there will also be food trucks, a zip line, and live music. Headliners this year include "Queen of the Blues" Thornetta Davis at 7:30 p.m. on Sunday, Jan. 20 and The Voice finalist Laith Al Saadi at 9:30 p.m. on Saturday, Jan. 26. Other fun facts: The slide is free this year from Feb. 8-10, and ice skating will be free Jan. 19–21 and Feb. 15–17.
Schedule varies, see website for full details; Campus Martius Park, Detroit; 248-541-7550; winterblast.com; Admission is free.
North American International Auto Show
Jan. 19-27
Now that the international automotive media swarm is gone, Detroit's annual auto show opens to the public. This is one of the last years the long-running industry expo will be held in the winter; organizers are reportedly considering switching NAIAS to a warmer weather event.
Doors open at 9 a.m. daily; Cobo Center, 1 Washington Blvd., Detroit; naias.com; For tickets call 248-283-5173; tickets are $14 for adults, seniors 65 and older are $7, and children 12 to 7 are $7, and children 6 and younger are free.
Zehnder's Snowfest
Jan. 23-28
The family-friendly festival will host the World Class Double & Single Block Snow Sculpting Championships and the State of Michigan Snow Sculpting Championships, a 100-block ice carving exhibition, a petting zoo, fireworks, and children's activities. But, let's be honest, the whole thing is just an excuse to polish off a four-course chicken dinner.
Schedule varies, see website for full details; Zehnder's, 730 S. Main St., Frankenmuth; 844-207-7309; Free.
Ann Arbor Folk Festival
Jan. 25-26
Now in its 42nd year, the annual festival, a fundraiser for Ann Arbor's storied music venue, the Ark, brings both newer and well-established acts to University of Michigan's Hill Auditorium. The lineup this year includes acts like Brandi Carlile, Rufus Wainwright, Pokey LaFarge, Gregory Alan Isakov, and more.
Doors open at 6:30 p.m.; Hill Auditorium, 825 N. University Ave., Ann Arbor; 734-761-1800; theark.org; 734-761-1800; Tickets start at $42.50 for one day, or $75 for both nights.
Dirty Show
Feb. 8-16
Detroit's annual international erotic art show has come a long way since it was first held in the offices of publisher Jerry Vile's former Orbit magazine. In recent years, the festival has became a month-long bash that fills the Russell Industrial Center with erotic artwork in every medium, burlesque shows, spanking booths, bondage rope demonstrations, go-go dancers, an erotic film fest, and more unspeakable things than your dirty little minds could ever possibly imagine. This year's guest artist is Detroit pop artist Glenn Barr; there is also a headlining burlesque performance from Danielle Colby, best known for her work on the History Channel's American Pickers.
Schedule varies, see website for full details; Russell Industrial Center, 1600 Clay St., Detroit; dirtydetroit.com; tickets start at $30.
Astronomicon
Feb. 8-10
The brainchild of horrorcore rappers Twiztid — labelmates on Insane Clown Posse's Psychopathic Records — pop culture convention Astronomicon returns for its second year. Along with the photo opportunities with pop celebrities, panels, and Q&A sessions, Astronomicon will include many Michigan vendors. Special guests this year include Linda Blair (Regan from The Exorcist), wrestler Jake the Snake Roberts from WWE, Butch Patrick (Eddie Munster from The Munsters), and more.
From 4:30-10 p.m. Friday, 11 a.m.-7 p.m. Saturday. 11 a.m.-5 p.m.; Wyndham Garden, 34911 Van Dyke Ave., Sterling Heights; Tickets start at $65.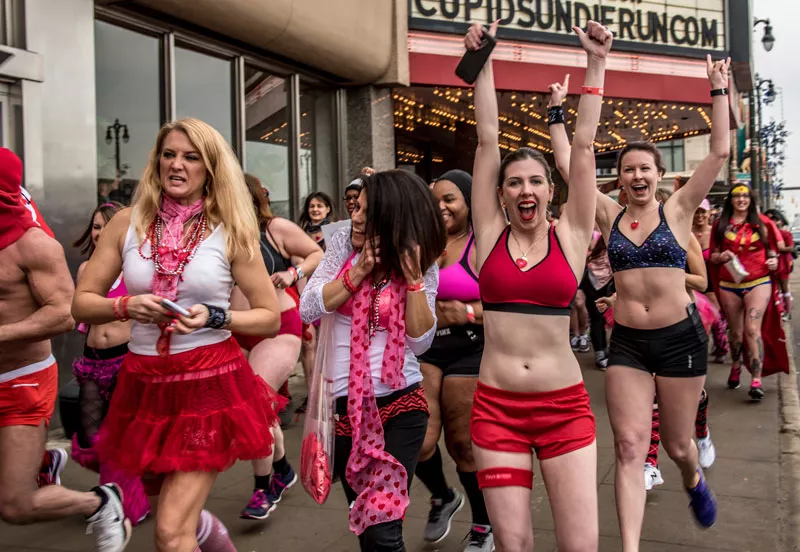 Cupid's Undie Run
Feb. 9
Get naked for a good cause: this annual event sees Detroiters strip down to their skivvies for a mile-long run to raise money for research on neurofibromatosis, a rare genetic tumor disorder that affects 1 in 3,000 births. Runners take off from The Fillmore, do a lap through the cold downtown, and then head back to The Fillmore for an underwear party.
Noon-4 p.m.; The Fillmore, 2115 Woodward Ave., Detroit; cupids.org; Registration is $40 advance, $45 Feb. 2, $50 day of event.
Autorama
March 1-3
Since 1953, Autorama celebrates the best of hot rods and custom cars. As in past years, custom builders compete for the coveted Don Ridler Memorial Trophy. Other happenings include a pin-up beauty contest, a "Dancing With the Cars" sock hop, live music, a Toy-a-Rama collectibles exhibition, and more. Even if you're not a gearhead, you can't deny these are beautiful machines.
Doors open at noon on Friday, March 1, 9 a.m. on Saturday, March 2, and 10 a.m. in Sunday, March 3; Cobo Center; 1 Washington Blvd., Detroit; 313-877-8777; autorama.com; Tickets are $21.
Polar Plunge
March 2
Another reason to get naked for a noble cause. In this case, you can say you took a plunge into the Detroit River in the middle of winter, which is probably one of the most Michigan things someone could possibly do. An "After Splash Bash" will be held at the Belle Isle Boat House immediately after. The Plunge, one of many held around the state, helps raise funds for more than 27,000 athletes who participate in Special Olympics Michigan.
Registration starts at 9:30 a.m., plunge is at 11:30 am.; Belle Isle Boat House, E. Picnic Way., Detroit; firstgiving.com; Donations welcome.
Paczki Run
March 2
We're so lucky to have so many Polish people here in metro Detroit, who brought the beloved paczek and a decidedly sweet take on the "Fat Tuesday" celebration, the day of feast that comes before Lent. Before you indulge, you can hit Tour de Troit's annual Paczki Run 5K to do something that might help assuage some of the guilt from the following Tuesday's festivities. As usual, everyone who finishes the race gets a paczek and a beer — you deserve it.
Starts at 10 a.m.; Hamtramck; See tour-de-troit.org/paczkirun for registration information and more details.
Paczki Day
March 5
This is it — the big day. Across metro Detroit, you'll be able to find plenty of places hawking those fattening paczki, but Small's Bar in Hamtramck is ground zero for the celebration. The celebration includes the booze-infused "paczki bomb," Polish food, and music from acts like the Polka Floyd Show (Pink Floyd meets polka), Eastside Elvis & the Motor City Mafia, and Party Zeppelin, a Led Zeppelin, Heart, and Blondie tribute.
Starts at 10 a.m.-2 a.m.; 10339 Conant St., Hamtramck; 313-873-1117; smallsbardetroit.com; Admission is free.
Hamtramck Music Festival
March 7-9
This three-day festival packs the best local bands into a walkable footprint of Hamtramck's bars. Plus, it's for a good cause; festival proceeds go to Ben's Encore, a nonprofit that provides instruments, music lessons, and scholarships to inspired young musicians and underserved school music programs.
Full schedule, lineup, and ticket prices to be announced; See hamtramckmusicfestival.com for more details.
St. Patrick's Day Parade
March 10
For more than 60 years, Corktown's annual celebration of its Irish heritage continues with a parade, booze a-plenty, traditional music, and, of course, lots of shamrocks.
Parade starts at 12:30 p.m. Sunday, March 10, and runs along Michigan Avenue between Sixth and 14th streets, Detroit; 313-475-4675; detroitstpatricksparade.com; Admission is free.
Marche du Nain Rouge
March 24
You did it. You made it through the winter. Now it's time to ring in the spring with a uniquely Detroit celebration. In the past decade, Detroit boosters have revived the old folktale of the Nain Rouge, or the "Red Dwarf" — a mischievous imp that, as legend has it, cursed city founder Antoine Cadillac and his city, even appearing at other times during its history as a harbinger of doom. In the modern interpretation of the tale, revelers chase out the Nain by donning costumes in a celebration that has been described as a Motor City Mardis Gras. It's an anything-goes fest: There is even a pro-Nain faction that believes the little guy is being unfairly scapegoated, and protests every year. No matter: Whether you fear the "Red Devil" or "Support the Short," everyone tends to get pretty drunk either way.
Starts at noon at Traffic Jam & Snug, 511 W. Canfield St., Detroit; marchedunainrouge.com; Admission is free.
Stay on top of Detroit news and views. Sign up for our weekly issue newsletter delivered each Wednesday.