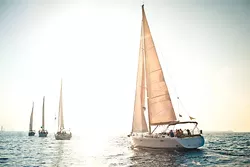 Great Lakes Sailing, Michigan State University: If it seems frivolous, consider how well this would complement a lit student writing a thesis on, say, Melville. No doubt that spending 13 of 28 hours on a boat instead of in a classroom is an added bonus (but bringing some Dramamine might be a good idea)
Aliens, University of Michigan: Don't expect to receive a cut-and-dried answer regarding the existence of aliens after this astronomy course. But in the event that they do make contact, you might have a leg up on the rest of the humans. Expect to discuss the ongoing search for extra-terrestrial life, the possibility of interstellar communication, and the potential for intelligent civilizations to exist outside our star system (as to whether they exist inside it ...).
Outsiders and Deviants, Wayne State University: No, this isn't a class for boning up on being left out. Instead, this class critically examines behavioral characteristics that at times have been considered deviant, including mental illness, drug addiction, abortion and prostitution.
Rent and the Bohemian Life, Albion College: This course examines the struggle of starving artists, with a focus on the award-winning musical Rent and its predecessor, the opera La Bohème. Modern issues including sexuality, poverty and discrimination are discussed, but don't expect practical advice: I guess they figure you already know about ramen noodles.
Games, Gambling and Coincidences, University of Michigan: Remember, the house always rules, and this course isn't going to help you break the bank at MotorCity. (That said, knowledge of discrete probability and finite Markov chains definitely won't hurt your chances.)
Bowling, Michigan State University: Before writing this one off as an elective cliché, remember that "competence in ball selection" and ability to "demonstrate proper bowling etiquette" will at least give you some practical skills. The rest is all strikes and gutters.
Hooking Up: The "Evolution" of Sexuality and Dating, Albion College: You might consider the "hook up culture" of today to be a recent phenomenon, but a deeper look at this shallow mentality can show that it's been a long time in the making. This course aims to explore understandings of sexuality, love and marriage across time. But be sure to watch for the clueless student who didn't read the course synopsis or subtitle and thinks it's a how-to class.
Rocket Science, University of Michigan: This introductory course focuses on space exploration and the future of human presence in space, and the mathematics studied is at the algebra and trig level. The course name might be somewhat deceiving, but no one else will have to know when you brag about having completed this course of study.
Introduction to Peace and Conflict Studies, Wayne State University: Fortunately, this course is out to teach you more than just how to resolve roommate arguments. Expect a survey of peace and conflict in its broadest sense, from "biology and conflict among animals" to "disputes involving the individual, the family, region, nation and global or international community."
Psychology of Social Behavior, Wayne State University: Social pressure isn't always bad, but in this academic setting, social attitudes, values and motivation are analyzed in terms of the influence of group behavior on the individual in this psychology course. Would it be unfair if the professor graded this one on the curve?