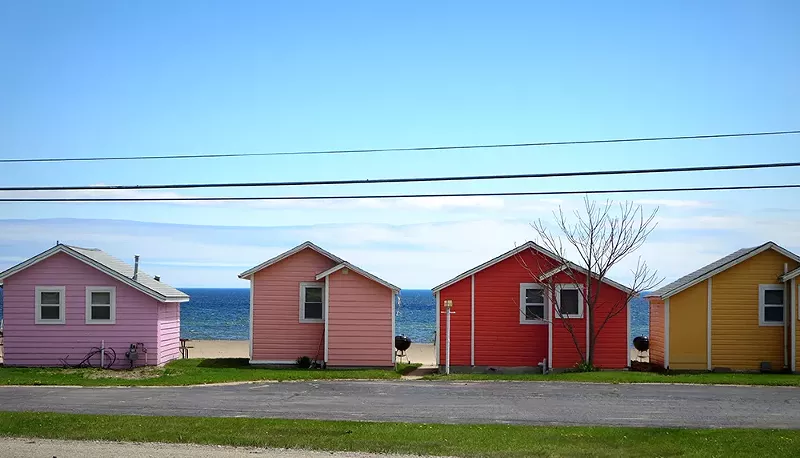 You can enjoy an exotic vacation right here in Michigan. When it comes to resorts that are quirky, charming, or luxurious, these are some of the state's top spots.
Bavarian Inn Lodge
713 S. Main St., Frankenmuth; 855-652-7200; bavarianinn.com
This lodge feels like you've traveled to a quaint German village, with Old World architecture, horse-drawn carriages, and German food and beers aplenty, including schnitzel, sauerbraten, and golden chicken, a favorite. The lodge also boasts an indoor waterpark, and there are more than 40 shops and boutiques as well.
Boyne Mountain Resort
1 Boyne Mountain Rd., Boyne Falls; 855-688-7024; boyne.com
In the winter, Noyne is one of Michigan's best ski resorts. But there's summer fun to be had, too, including horseback riding, ziplining, Michigan's largest indoor water park, and two golf courses.
Crystal Mountain Resort and Spa
12500 Crystal Mountain Dr., Thompsonville; 855-995-5146; crystalmountain.com
Amenities include the Park at Water's Edge, an aquatic playground; a climbing wall; mountain biking; outdoor laser tag; paintball; golf and disc golf. Lodging includes multi-bedroom cottages, condos, or bungalows.
Double JJ Resort
5900 S. Water Rd., Rothbury; 231-894-4444; doublejj.com
When this property isn't hosting the ever-popular Electric Forest music festival in the summer, Double JJ Resort is known as a family-friendly four-seasons getaway where you can explore the woods on horseback, play a round of golf, enjoy the waterpark, snow tubing, cross country skiing, and horse-drawn sleigh rides. Lodging options include luxury suites, cabins, hotel rooms, and camping.
The El Moore
624 West Alexandrine St., Detroit; 313-924-4374; elmoore.com
Located in the heart of Midtown, the El Moore offers "sustainable urban lodging" right in the Motor City. The 1898-era castle-like building originally housed upscale flats, but was reinvented as a residential apartment building with unique lodging with an eye for being green, including using solar power and reclaimed materials from Detroit.
Garland Lodge and Resort
4700 North Red Oak Rd., Lewiston; 877-442-7526; garlandusa.com
This resort offers rustic lodging, scenic environs, golf course, rainbow trout fishing, cross-country skiing, and more. Lodging includes hotels, cottages, and villas with grills, decks, and fireplaces.
Grand Hotel
286 Grand Ave., Mackinac Island; 906-847-3331; grandhotel.com
This opulent hotel might be Michigan's premiere lodging experience, with the world's longest porch, afternoon tea, uniquely decorated rooms, a pool, a sauna, sprawling gardens, lawn games including croquet and bocce ball, and a top-notch dining hall. See why Dita Von Teese is a fan.
Grand Traverse Resort and Spa
100 Grand Traverse Village Blvd., Acme; 231-534-6000; grandtraverseresort.com
Proximity to the wine country, beaches, and wooded trails make this one of Michigan's top resorts. The resort also boasts three restaurants and two bars with killer views.
Greektown Casino
555 East Lafayette Blvd., Detroit; 313-223-2999; greektowncasino.com
Expected to be rebranded as Jack Detroit Casino-Hotel, part of the rebranding of this hotel includes the new Monroe Market cafeteria-style food court, which features seven restaurants. The casino's buffet and table games have earned kudos in recent Metro Times Best of Detroit reader polls.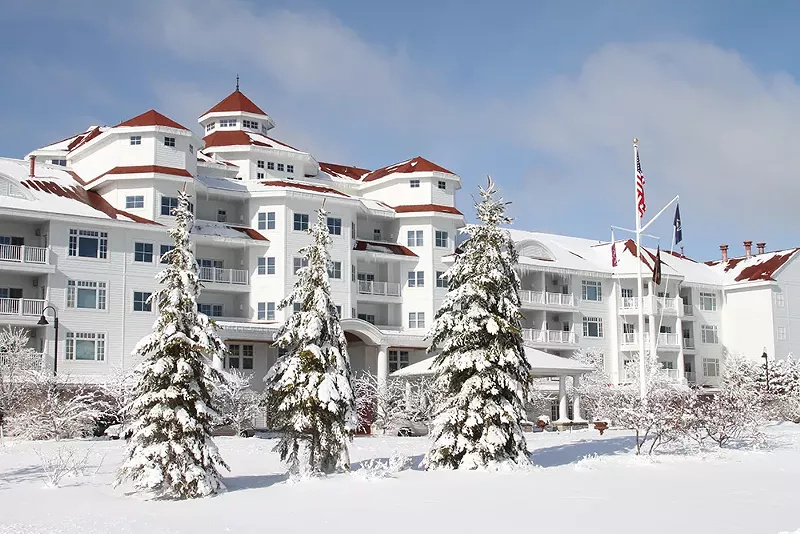 The Inn at Bay Harbor
3600 Village Harbor Dr., Bay Harbor; 855-811-4402; innatbayharbor.com
Surrounded by Little Traverse Bay, the Inn at Bay Harbor offers amenities like Vintage Chophouse and Wine Bar, winery tours, golf, beaches, and more. Lodging includes hotel rooms, suites, and cottages.
Little Yellow Cottages
114 Union St., Port Austin; 989-402-4813; littleyellowcottages.com
This block a six small cottages are a great way to stay in Port Austin. The cottages have either one or two rooms and can accommodate up to six guests, located just a walk away from the beach. Each cottage has a screened-in porch, a living room, a TV, a full kitchen, and bathroom, a fire pit, outdoor grills, and a picnic table and chairs.
Mai Tiki Resort
3322 US-23, Au Sable Charter Twp.; 989-739-9971; maitikiresort.com
Located just outside of Oscoda, these pastel-colored cottages offer private beaches, close proximity to Lake Huron and the Au Sable River, a volleyball court, and, as their name suggests, a tiki bar.
Marina Grand Resort
600 West Water St., New Buffalo; 877-945-8600; marinagrandresort.com
Every room in this resort has waterfront views. Nearby amenities include wine tasting tours, hiking at Warren Dunes State Park, lakeside dining, and a rooftop bar.
MGM Grand Detroit
MGM Grand Detroit, 1777 Third Ave., Detroit; 877-888-2121; mgmgranddetroit.com
MGM Grand Detroit has more than just gaming — there's also great restaurants like TAP, a sexy nightclub called V, AXIS, a brand-new music venue that's open to the gaming floor, a swanky hotel, and an even swankier luxury spa.
Mission Point Resort
One Lakeshore Dr., Mackinac Island; 231-331-3419; missionpoint.com
Treat yourself: The Lakeside Spa and Salon offers hot stone massages, facials, and steam rooms. The resort also has tennis and bocce ball courts, a pool and hot tub, and an 18-hole putting green.
MotorCity Casino Hotel
2901 Grand River Ave.; 866-782-9622; motorcitycasino.com
MotorCity Casino Hotel is a safe bet for reasons practical (with its unique "retro future" architecture and flashing LED light show, you can't miss it), convenient (the casino boasts a variety of gaming and dining options, and the hotel has a spa), and hip (catch the reference on Drake's latest record, Scary Hours).
Rippling River Resort
4321 M-553, Marquette; 906-273-2259; ripplingriverresort.com
Located off of the Carp River, this resort offer more than 37 acres of natural beauty, with camping sites, luxury log cabins, mountain biking, hiking trails, and more.
Soaring Eagle Casino & Resort
6800 Soaring Eagle Blvd., Mount Pleasant; 888-732-4537; soaringeaglecasino.com
Amenities include luxury suites with fireplaces and jacuzzis, an on-site spa for your appointment, a golf course, an indoor waterpark, climbing wall, water slides, and lazy river. The casino features table games, slots, bingo, and poker, and evenings provide entertainment including music and comedy.
Sojourn Lakeside Resort
2332 E Dixon Lake Rd., Gaylord; 989-370-7873; sojournlakesideresort.com
This wooded, lakeside resort located on the shore of Dixon Lake has more than 500 feet of lakefront, 32 acres of wooded grounds, a private beach, 20 guest rooms, and more.
The Townsend Hotel
100 Townsend St., Birmingham; 248-642-7900; townsendhotel.com
Birmingham's high-end dining, retail options, and walkability have helped make the Townsend a favorite for Michigan's visiting actors, athletes, entertainers, and executives for more than 25 years.
From our 2018 Made in Michigan issue.