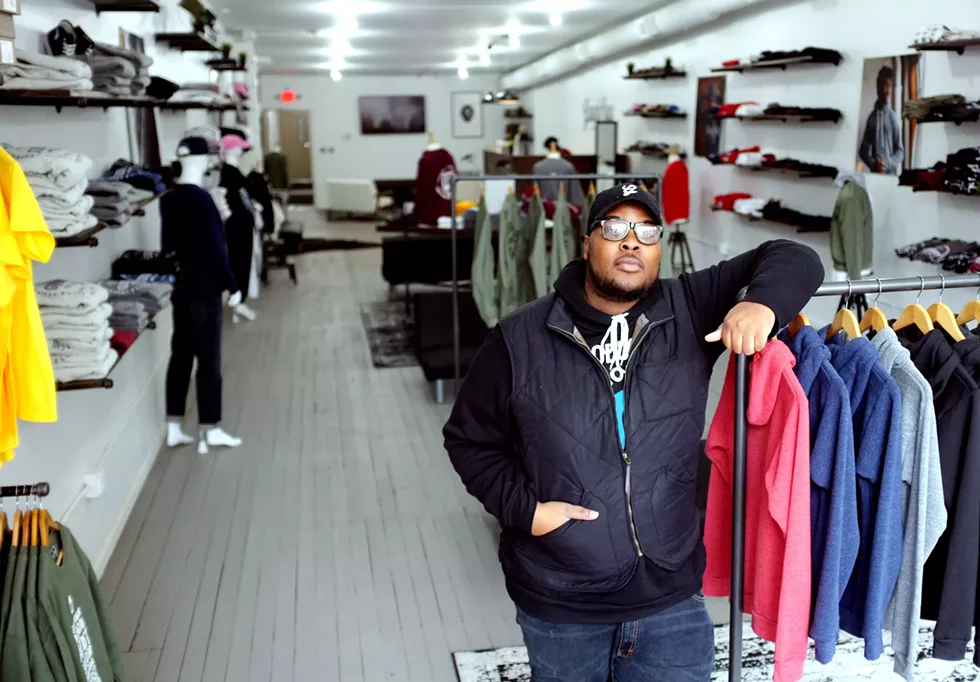 In 2014, Oaklin Mixon was working in The Flint Crepe Co., a small restaurant that, at the time, may have symbolized whatever it was that was happening in downtown Flint — revitalization? Rebirth? Hipsterization?
It was tough to say. Over the past 10 years or so downtown Flint had gone from a boarded-up ghost town to a place where you could get dinner, expensive coffee... and suddenly even something as fancy as a turmeric veggie crepe.
Inspired by what was already happening, Mixon had bigger plans than flipping crepes. He wanted to open his own business, a clothing company, and he wanted to open it in Flint.
Mixon was born in Niagara Falls, New York, and later moved to Detroit to be with family before he entered the foster system and came to Flint as a teenager.
"I fell in love with Flint," Mixon says. "And so I figured with my creative ability and the skills that I have, why not invest in a place that needs it, versus going to a bigger city. ... I wanted to actually pioneer another avenue of business here."
Mixon is a big man who practically leaks positivity, and he'd learned a good deal about business at the crepe shop. But if anyone told him he was crazy to open a clothing store it would have been easy to believe them. Flint hadn't been much of a shopping destination since around the '60s or early '70s, when nearby malls were built and the shopping district that was downtown began to wither. Later, when General Motors began hemorrhaging jobs, things continued to slide downhill downtown and elsewhere.
Now, standing in his second-floor clothing shop, Mixon remains as positive as ever. GoodBoy Clothing now employs 10 people, and is part of what might be the next step for Flint's development. Sure, people might eat lunch downtown or go for a cup of coffee — but would they come for more?
It looks like that answer is yes.
There have, in fact, always been things to do in Flint. Longstanding institutions like the Flint Institute of Arts, the Sloan Museum, and Longway Planetarium, which make up much of the Flint Cultural Center campus just outside of downtown, have been there for years. There were brave businesses like The Lunch Studio that opened in 2001, and bars like the Torch Bar & Grill and Churchill's Food & Spirits weathered the economic hurricane that devastated much of Flint. But they were the exception, rather than the rule, and have long known the stigma that comes with being in a place that has been called the U.S. Murder Capital or the city where the water was infamously poisoned with lead.
The stigma that surrounds Flint isn't unearned — the city still struggles from too few police officers, crime, blight, poverty, and a host of other issues, including the ongoing Flint water crisis. In terms of the downtown area, however, and some tendrils that are beginning to reach beyond, things are happening.
"Come visit downtown. You'll be pleasantly surprised," says Tim Herman, the CEO of the Flint & Genesee Chamber of Commerce. "If you want a personal tour, give me a call. It's 810-600-1411."
Herman is also the president of the Uptown Reinvestment Corporation, a nonprofit that started in 2002 with the idea of revitalizing downtown Flint.
Since its inception, Uptown has ushered in the move of the Flint Farmers Market to downtown; the Wade Trim building, which houses a local TV station as well as loft apartments; a pediatric center for the nearby Hurley Medical Center; Michigan State University's College of Human Medicine, which took over the former Flint Journal building (the Journal moved into a smaller, more modern space on Saginaw Street); and put in several loft spaces. Herman estimates that around 1,300-1,500 people now live downtown.
Uptown also donated the 340,000 square-foot Riverfront Residence Hall to the University of Michigan-Flint, located downtown. The building houses students and is also home to the university's School of Management.
Jennifer Johnson moved to Flint about three years ago, leaving her job as a professor at Brown University to work in the downtown Flint Michigan State University office.
She interviewed for jobs coast to coast, and almost kept her prestigious Ivy League job. But she chose Flint, and said she has no regrets.
"I love that Flint is passionate, it's engaged, it's committed," she says.
Working as a clinical psychologist with at-risk populations (she's secured millions in research funding, garnering her colleagues and herself international attention) while having a downtown office gives Johnson a unique perspective. She's no stranger to Flint's woes, but has also seen areas where there's progress, whether that's in terms of the development near her office, or the kind of work she, her colleagues, and various community members are doing out in struggling neighborhoods.
When she was having talks with MSU about a potential job, she said members from various community groups were present from the beginning.
"To have that sort of investment and ownership from the community is incredible," she says.
Another one of the bigger players downtown is Skypoint Ventures, an organization started by Phil Hagerman, who owns the Flint-based Diplomat Pharmacy, and his wife, Jocelyn. Skypoint has bought and renovated two downtown buildings, putting in office space, a deli, a coffee shop, and other spaces.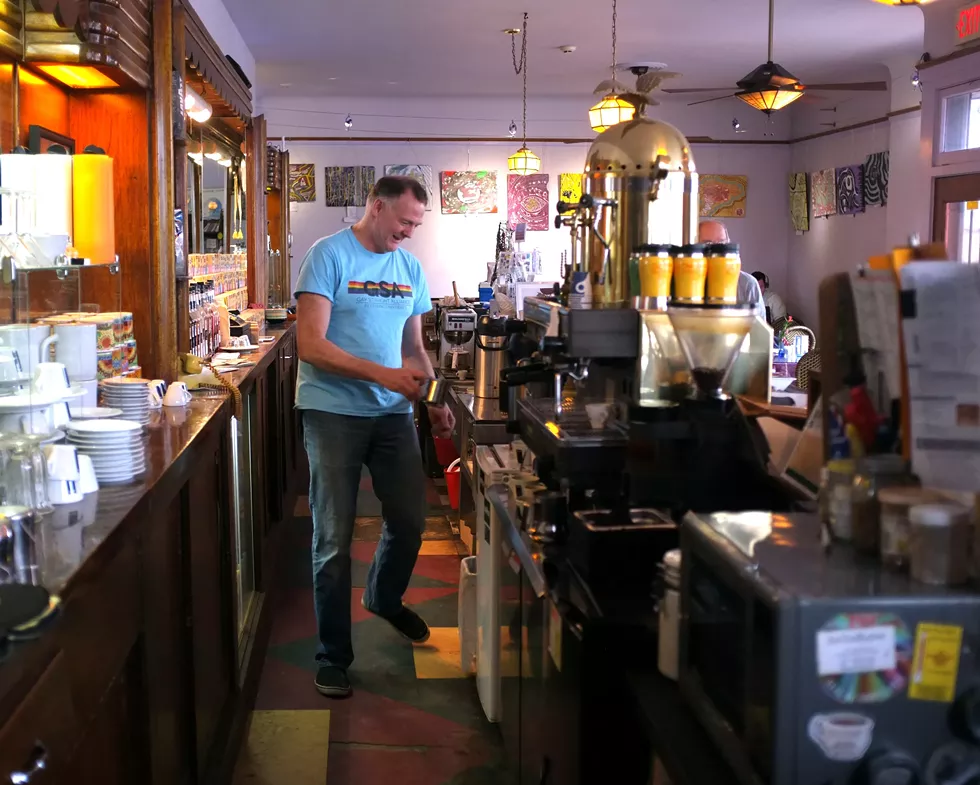 One of the more exciting recent developments, Herman says, is the reopening of Flint's Capitol Theatre, another project that's being spearheaded by Uptown.
The Capitol, sitting in the center of downtown, just a block off Saginaw, had been shuttered for about 20 years. Easily identifiable by its architecture (done by John Eberson, an architect known for designing movie houses) the building seats 1,600 and is across the street from a handful of restaurants that could be benefitting from shows as early as this summer.
Uptown oversaw the renovation but handed management over to the Whiting Auditorium, which sits a short distance away on the Flint Cultural Center campus. Jarret Haynes, executive director of The Whiting, said he's looking forward to watching the two theaters complement each other. The Whiting, he says, is better for Broadway shows and other big productions, while the Capitol, with its horseshoe-style seating, is better for more intimate shows, like comedians or productions with smaller sets or fewer people involved.
"The Capitol feels like an intimate vaudeville house, which is what it started as," Haynes says.
Downtown Flint, it should be noted, is not big. It's perhaps a dozen blocks long, and practically two-dimensional. When the Flint Farmers Market relocated to the downtown area, it wasn't just seen as a giant boon to downtown business, but a way to get people walking beyond the main drag of Saginaw Street. The market is two blocks away.
But that appears to be changing as well. One of the other big players in Flint's recent developments is Kettering University, which is about a mile and a half drive down University Avenue (changed from Third Avenue by the city council in 2008 in an effort to promote Flint's college town identity) from downtown.
Since Kettering's president, Robert McMahon, took up his position in 2011 he's made one of the university's goals to get more involved in the community. It's the kind of thing that sounds like a nice PR line, but Kettering has put its money where its mouth is, buying and renovating an 11,000-seat stadium along University Avenue, as well as properties on a formerly blighted corner that used to be a hotspot of drug dealing and prostitution. Now it's home to a Jimmy John's and a Little Caesars.
"It's inspirational," says Ken Van Wagoner, owner of The Good Beans Café in Flint's Carriage Town, a historic district that sits between downtown and Kettering. He opened his café 17 years ago — not a time when there was much to do downtown, let alone in Carriage Town, which is still dotted with vacant homes. Van Wagoner says he remembers when the house across the street used to be a place where drugs were sold and prostitutes came and went. Now the property, and others in the area, have been rehabbed into beautiful homes. The former fire station down the street, once abandoned, is now a brewery.
He says he's not sure if the new developments have necessarily resulted in more cups of coffee sold, but these days he sees more and more new faces. He has nothing against downtown. He just liked the idea of opening up a business that was a destination, rather than a convenience.
"I wanted to be worth the find when you found us," he says.
Perhaps that's something people will soon be saying about Flint.