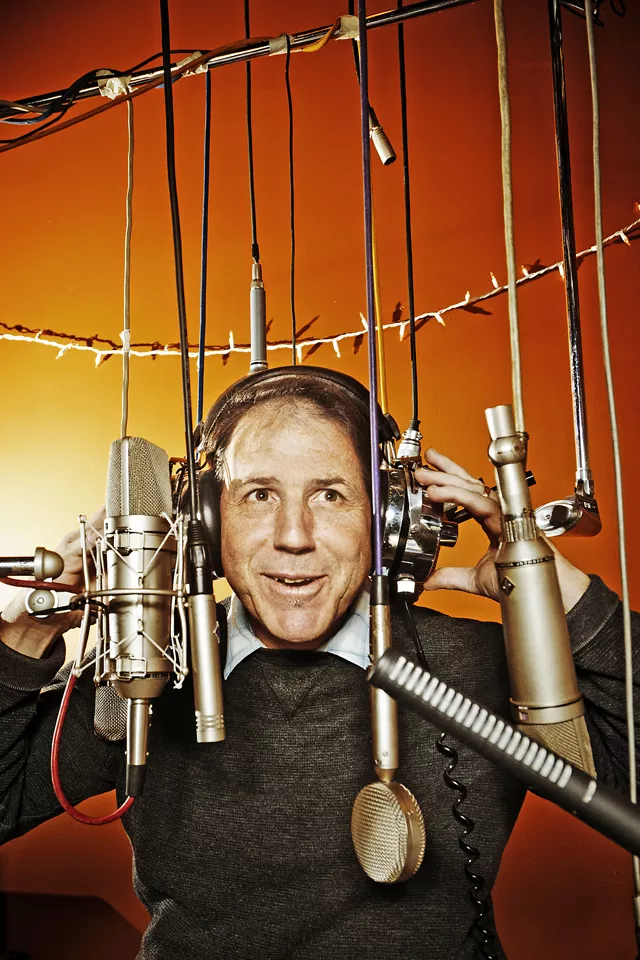 How to sum up the job of the record producer? An expert on audio engineering, a songwriting consultant, a cheerleader, a group psychologist, a referee, a procurer of instruments, a background singer, a studio musician, a studio janitor ... Basically, a producer is the guy or gal who does what's necessary to take a band's sound and make it sound good on a recording. But they often have to be so much more. It's almost like being a parent; you want to be chummy and have fun in a team dynamic, but when shit goes down the producer has to be on hand to defuse it.
Two producers who know exactly what is required of them are Dave Feeny of Tempermill Studios in Ferndale, and Howling Diablos man Tino Gross of Funky D Records. Between those guys (plus Jim Diamond, Al Sutton at Rust Belt and a couple of others), some of the hottest records made in recent months have been recorded under their guidance. The Kickstand Band's Puppy Love? That was Feeny. The Ruiners' Shake Rattle & Moan? That was Gross.
Both men have also spent a considerable amount of time in bands themselves. Gross and his Diablos are an impressive live act with an enviable following, while Feeny has been a member of Goober & the Peas, Blanche, the Hysteric Narcotics, the Orange Roughies, American Mars and more. Feeny believes that the fact that he has been on both sides of the desk gives him unique insight. 
"I know what it's like to be in a band," he says. "Playing for pizza and beer, and trying to make a connection with an audience. I know what that energy feels like and how awesome that is. ... When things are really going well, I feel like I'm the fifth Beatle, really helping the band. My favorite records that I've done, I've felt that way, and I was treated like a member of the band. I just want to be a part of the team."
Gross agrees. "When you're a musician, you're presented with the problems of music and how to make things sound good," he says. "Part of the producing thing is becoming a problem solver. More than being a musician, it's about being a music fan. They're maybe not obsessed with their own instrument and the role that's playing. It should be a big picture kind of view."
Both men have a similar approach when it comes to preparing to record a band. Ultimately, it all comes down to comfort, and a little research. "I'll ask for demos ahead of time," Feeny says. "I'll listen to a song and I'll look for moments that get me. Then I'll try to make that happen more often. I've disassembled bands and put them back together, and other times it's just about getting out of the way and letting it happen."
"I try to make people feel comfortable," Gross adds. "A producer's job is to create a space where magic can happen. The less uptight everything feels, the better. It shouldn't be like going to the dentist's office. It's about hanging out, having a good time and making dreams come true."
That sounds great in theory, but Feeny admits that sessions can occasionally go awry. "I've had bands literally fight in the studio," he says. "Bands have broken up. One singer came in and we were just getting ready to record, he walks out, goes into the bathroom and walks in wearing a tennis dress, in drag. He told me that he got it half price at the Beverly Hills Tennis & Racket Club. Whatever head space he wanted to get into, he got into it. It was a little awkward but great. Another guy was holding a bandmate on the wall by the throat. It looked like it might get ugly, so all I could think about was, 'What is the most expensive thing I own to put my body in front of?' It cooled off, but in the moment it was unbelievable. Typically, bands have saved up money to come to the studio and they're looking forward to it."
"There's always that day where everything's going in the wrong direction," Gross continues. "That's the day when you're trying to do something new that you don't have a handle on, and you're getting the evil eye from someone. It's usually some diva staring at you like you're a moron. That can get weird."
Feeny's production résumé spans contemporary Detroit rock, as he's worked with such bands as the Cold Wave, Old Empire, LaSalle, the Friendly Foes, Chris Richards & the Subtractions and Those Transatlantics. He's been busy recently too. "I just did a record with Crime & the City Solution," he says. "I just mixed a record with the Kickstand Band too. Good musicians and good singers. I just finished the Duende! record. I'll be doing a new record in November with Dean Fertita. His project is called Hello=Fire, and I did a bunch of his last record. He's in the Dead Weather and is now a member of Queens of the Stone Age."
Meanwhile, Gross has barely had time to sleep of late. "I really like the way the Ruiners record came out," he says. "Plus the Horse Came Trio, the last Howling Diablos record, and a Sean Forbes track called 'Bob Dylan was the First Rapper.' He used some of Dylan's lyrics from 'Subterranean Homesick Blues,' and Joel Martin, who manages Sean, got hold of Bob Dylan and Bob gave us a three-way co-write, which is unheard of. If I die tomorrow, I'm good. There's a new band I'm about to work with called Awesome Jarvis & the Whales. They're real young and it's got a good Detroit vibe to it. I've been recording Bixy Lutz and they're phenomenal."
To conclude, Gross offers some advice to any bands perhaps preparing to go into the studio for the first time. "Don't be afraid to try some new shit," he says. "Don't resist change. Don't go in there to do a museum piece — do something that's living. That'll translate out of the speakers better than something you've playing 60 trillion times."
Wise words indeed.
Brett Callwood writes about music for Metro Times. Send comments to [email protected]