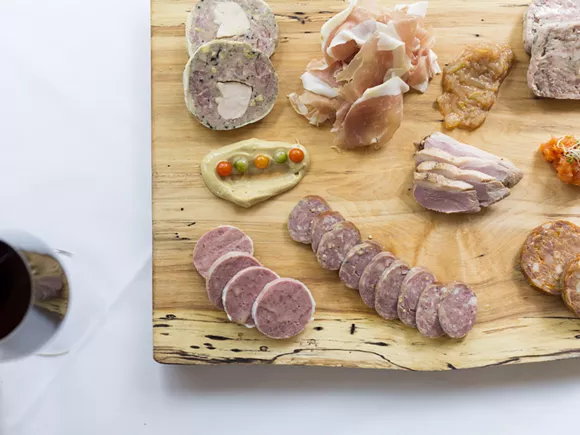 One of the best movie lines of all time comes from Woody Allen's 1973 Sleeper. Health-food fanatic Miles Monroe (he eats a lot of seaweed) dies and wakes up 200 years in the future. When he tells the scientists about his diet, the white-coats ask wonderingly, "Had they no hot fudge sundaes?" Turns out, in the 22nd century, that's the healthy food.
In real life, nutrition advice has metamorphized faster. After decades of telling us not to eat cholesterol-laden foods — meat, eggs, dairy — the government's Office of Disease Prevention and Health Promotion has changed its tune. Its latest dietary guidelines no longer warn against cholesterol, because evidence shows no relationship between the amount of cholesterol you eat and the cholesterol found in your blood. The body makes most of its own cholesterol — which happens to be vital for various functions — and if you eat less, it will just make more.
Likewise, the International Journal of Cardiology and the Journal of Nutrition both now say that all saturated fat isn't such a big deal. They've published studies showing either no increase in cardiovascular disease among people who ate a lot of cheese, or lower risk.
Is it time to come back to the guilt-free eating of our childhoods? Some chefs never went away. Stephen Bryant, a manager at four-year-old Mercury Burger & Bar, says the Corktown favorite has always "fed the inner child." Despite the relentless admonitions from the guardians of our health, since 2012 business has almost doubled for a place that serves "the classics you had as a kid" — burgers, cheeseburgers, shakes and fries.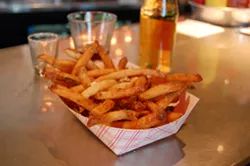 Those fries are cooked in lard. "It makes it hard for vegetarians," Bryant allows. "They won't find anything here."
Best are the garlic fries: As they come out of the lard, they're tossed in garlic oil (more fat) and a house blend of Italian seasoning; fresh garlic is sprinkled on top.
If that's not enough animal fat for you, the ice cream in Mercury's shakes, from Guernsey Farms Dairy, is 14 percent butterfat.
Joe Kinville, director of quality assurance at Guernsey in Northville, says that when it comes to ice cream, customer demand has always been constant for its premium flavors. Milk sales will flip between skim and "homo," he says, depending on what's in the media about clogged arteries. But the family-owned company's ice cream formula hasn't changed: "We wanted to stay true to the ice cream we've produced since 1950," Kinville says.
"When I started in this business," he adds, "there was a saying that had been around for a while: 'Fat's where it's at.'"
Chef Paul Grosz, of Cuisine in New Center and the Stand Gastro Bistro in Birmingham, was trained in France, and he agrees. "Europe has eaten like this forever," he pointed out. Scientists have long pondered the "French paradox," the fact that the French don't get much coronary heart disease despite their high-fat diet.
Grosz says that although his restaurant is clearly labeled "French," in the 1990s customers would often ask him for nonfat or low-fat meals. But today he's using more saturated fats than ever. His burgers used to be 5 to 20 percent fat; this year they're 25 to 28 percent. His charcuterie board, laden with sausages, salami, prosciutto, duck terrine, chicken galantine and paté, is setting records — and "most of those items are 30 percent or more fat. People don't mind as much now," he says.
More than not minding, they love his duck confit, in which the bird is cooked covered in cups and cups of duck fat. Grosz uses that same fat to make sweet potato fries and regular (French) fries, as well as ponzu-marinated shrimp. "It's the way I was trained to cook," he says, "and the public is allowing me to cook like that again."
Another eatery where the French-trained proprietors don't compromise on fat is Le Petit Prince bakery in Birmingham, founded in 1979. Co-owner Yvette Didierjean says the shop goes through 72 pounds of butter in a week — much more during the holidays — in its croissants, pain chocolat, and more.
Yes, she's had requests for low-fat pastries, she says with a sigh: "They don't want fat, or they don't want carbs, or they don't want flour." She describes a conversation among customers in which one woman warned another, "They use so much butter." An eavesdropping man chimed in: "I'd rather die of a heart attack — at least it's fast — than with cancer from margarine and shortening, and have it take a long time. And I'm a doctor."
Of course today, as noted, the docs have given us the go-ahead on butter and are asking for a ban on the trans fats found in margarine. (To our knowledge, no one in authority has ever blamed trans fat for cancer.)
Asked why we human beings like fat so much, Didierjean becomes slightly rhapsodic as she describes her daily breakfast: "I like butter very cold on warm bread," she says, "so you can feel it melt slowly in the mouth, so you can still feel a piece of it there ...
"It makes you happy."
Despite those customers who persist in asking for fat-free or gluten-free in a French pastry shop, her biggest sellers are all buttery: napoleons (layers of puff pastry with rum egg custard), almond cookies with chocolate, and croissants with almond paste.
Customers who ask to throw out tradition in the name of health have never been an issue at Taqueria El Rey in Southwest Detroit. Even now that a lot of customers are gringos thanks to social media, the question just doesn't come up.
Eliseo (Cheo) Fuentes, son of owner Eliseo (Chico) Fuentes, says every El Rey recipe is made in the style of Jalisco, the home state of a majority of Southwest Detroit's Mexican immigrants. Many dishes are cooked in oil, but refried beans and carnitas are fried in lard. And carnitas and pork al pastor (marinated) are the two items customers want most.
Cheese is nowhere to be found anywhere near any of the El Rey tacos. When the server asks whether you want cilantro and onion, say yes. The $1.50 taco comes with two little tortillas, of course, to help hold the generous mound of tender yet lightly crisp shreds of meat, which is redolent of pork twice over, from its own self and from the lard it's imbued with.
Try not to eat too fast. Think tradition. Think how guilt-free this meal has been declared by those who know (till they change their minds).
Guilt and food have never been good bedfellows. "Guilty pleasures"? Why not just pleasures? As you enjoy your superfatted treats, dear diners, do bear in mind one caveat: no scientist has yet to proclaim that calories don't count. n