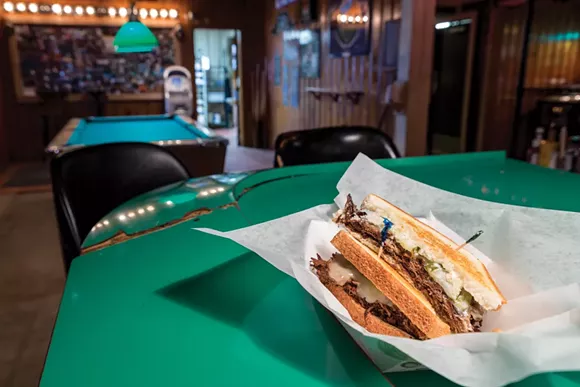 The night has grown late. Maybe you watched too much of that Law & Order marathon, or flipped channels until football was all done, or maybe you just put off making something to eat because you didn't really want to. Regardless, the clock's just past 10, and most of those normal places you'd eat have closed their kitchens, or are just about to — and you're determined not to be that prick that shows up at five minutes to close and orders appetizers so they can think about dinner — and so it's time to get creative. Grab the phone. Call that cute waitress you used to know, or the bartender who gave you his number to hang out some time, or the cook who you met at that art show, and ask them where they're going to grab a bite after work. The industry people always know who can cook them food for a change, and do it at 1 a.m. when they're finally ready to eat.
Odds are it's going to be a local watering hole with few windows, and fewer frills. A venerable and emblematic establishment: the dive bar. Their kitchen might not exceed a griddle and fryer appended to the bar itself, but the best among them serve a decent-or-better menu all day and night. Or at least until 15 minutes till close — 1:45 a.m. every night — which is the rule at Ye Olde Saloon in Royal Oak, home to what we were introduced to as an "absolutely slappin'" brisket sandwich. It meets whatever that evocative yet cryptic description attempts to convey: two slices of Texas toast, grilled; brisket, brined, braised, and chopped; pickles, horseradish sauce, cheese. It's perfect with your beer, whether you prefer something on the Stroh's end or tilt toward Michigan craft brews. There's that great mix of deep beef flavor with the sharpness of the pickles and horseradish, and the texture of the crunchy Texas toast contrasted with the creamy cheese and sauce. It all makes for a damn satisfying sandwich, and certainly an excellent late night meal. And a side ... no, a basket of tots. Not too long ago, that chef from those successful bars down the way came over and restructured the menu a bit. It hasn't suffered, and the bar continues much as it ever was, but now there's a salad.
There's a lot of good dive bars, though, so we're going to head to another joint: Mt. Chalet II, also in Royal Oak. There are more windows here, and it's a little brighter most of the time. The insider pick here is the mac and cheese, generally dressed up however you like it. It's on trend, here, with your choice of many additions of the animal or vegetable variety, to make your mac and cheese unique and special. It's even good plain, though, which is something that a lot of restaurants can struggle with, even the nicer places. Creamy, mild, yet well-developed cheese flavor, good noodles ... it makes you feel like mom might be cooking in back, though that might be the fact that we're drinking our third beer of the night. Either way, the rest of the food here is pretty good.
Burgers are a late-night staple everywhere, and here in the metro Detroit area we're blessed with a great variety:
Redcoat Tavern is popular with a lot of the cooks that we know, folks who appreciate quality beef and proper cooking temperature. The Piedmontese burger is where it's at, prepared with your choice of a vast array of additions, from cheeses to vegetables to sauces to breads. The beef is deeply flavorful, meriting gentle cooking to a medium-rare or rarer degree, and we prefer it heavily inflected by Detroit's topping style, with pickles, lots of yellow mustard, raw onions, and cheddar cheese. The briny pickles and sharp onions cut through the fatty goodness of the Piedmontese beef, allowing the mustard to bring heat instead of acid, and create a rounder and fuller burger experience. It's the flavor combination that's been proven again and again, from fast food to gourmet, and it's done in a superior manner. There's a lot of good food on the Redcoat menu, so bring your friends who don't like burgers confidently.
Has the night taken you downtown, where all the lights are bright? The Checker Bar serves a good late-night bar burger, griddled on a flat-top and done up how you like. It's a little greasy and a lot flavorful. Complemented by a cold lager it's a delightful after-midnight meal. Here we like the patty melt, though: softly sweet and sweetly soft caramelized onions and Swiss cheese come standard, and we're still partial to mustard here. It's a great sandwich because the crispy rye bread makes for a compact and efficient delivery device for burger goodness. Shoestring fries are an excellent accompaniment, salt and starch to cleanse and prime the palate.
Want something more sinful? Let's hit the Telway, home to sliders and fries and pop, the permanently popular and irresistible combination that has absorbed our booze, won us lovers, or soothed our broken hearts; it's the same burger that your parents ate here when they were dating, sipping on malted milkshakes. It's the same burger that you dream about, all soft bun and thin patty, disappearing with nary a chew. It's comfort food — and damn fine at satisfying the late night hunger classically and cheaply. This is the food that sustains us after we close our dive bar, or when the night has gotten so messy that it needs to be brought into focus with clean white walls and a sparkling diner environment. God, but they're the best thing in the universe at 4 a.m.
How about something more on the order of street food? After all, it's the hottest thing right now, and everyone loves tacos. Hot Taco, operating in the shadows of Foxtown, is a solid little joint that's doing a service to late-night tacos. No more does the bell need to ring out in your life, tolling the hours until your bean-burrito-related demise. Here at Hot Taco the menu is simple and the food is too: meat, seafood, vegetarian, or vegan; garnished with appropriate items (mostly cilantro and onions,) either in taco or burrito form. The marinated hot chicken tacos are very tasty, a nice spice and heat that works great against that befuddlement from an evening of drinking. The chorizo is less hot, and more well-seasoned, with good chili flavor. Top with some of the offered hot sauces, and wander on with your paper bag of happiness.
Let's talk about some serious late night eating, because maybe sometimes you're up all night. If it's after 2 a.m., that means almost every place we've already been is closed and won't feed us. Most places in Michigan, let alone the Detroit area, that means a coney or a diner of some kind. Here in Detroit, we do coneys right, we do them 24 hours a day, and we do them seven days a week. If you want a coney dog in Detroit, you need only drive a few minutes in any direction and you're likely to find somewhere to get one, whether it's passed through bulletproof glass or balanced carefully on an exhausted server's arm.
Duly's Place has remained nearly unchanged since its inception, with its long and narrow counter-service and cash-only policy, it has drawn praise from doctors to laborers, from Anthony Bourdain to your neighbor. It's the quintessential coney: small, focused, and fast, with no frills and less patience for jackassery. Like Lafayette downtown, you really get the feeling of what the coney started out as — a quick and easy lunch that a busy person could eat for a modest price. Since they're so easy to run, it's not a stretch for them to stay open all night and day, because you only ever need a few people to run the entire joint.
American Coney Island, on the other hand, is arguably the model for the modern-day coney chains of Leo's and National, whose outlets dot the metro-Detroit area like a constellation of late-night hospitality, catering to anyone and everyone who walks through their doors. Numerous tables and chairs and a broader menu make American more of a full-service restaurant... hell, they even serve salads there. (Try ordering that at Lafayette.) Leo's and National both take this further, with a more ambitious menu available all day, and locations scattered across the suburbs and city. Truly, eating late night meals at the coney is an art form, balancing fried goodness with soups and salads, or just fixing on breakfast foods and tearing into an order of hash browns at 3 a.m. (Two on one with fries, however, is the correct order.)
The coney doesn't judge. The coney accepts. That's why it's the persistently successful late night eatery in these parts. What Waffle House does for the south, the Coney Island does for the mitten.
When in Ann Arbor, finding good late-night food isn't so difficult as it can be in Detroit — but here's a thought. Pizza House is open till 4 a.m., and their deep-dish pizzas satisfy any kind of munchies that you might have worked up. Eat something that's got that much bread, cheese, tomato, and love in it, and you're bound to feel better, especially if you've spent the night at the club across the street. Alternatively, you could enjoy watching that crowd from the comfort of a cushy booth Even sober and underage, there's a spot for you at Pizza House, a friendly server waiting to help you satisfy that late night hunger ... the one only pizza can resolve.
Bonus extra credit time: You're out on one of those late night endeavors that takes you far away from the comforting environs of Detroit, swapping out I-375 for I-475 ... sometimes, beauty and love take us to strange environs, and you find yourself in a familiar-yet-unfamiliar place: Flint. Don't worry, though, the Starlite Coney Island & Diner has you covered. Yes, it looks like it hasn't been updated since it was opened, just maintained rather well, and that's the better part of the charm. It's a menu of solid renditions of classic coney fare, except with something to keep in mind: This is Flint, after all, so the coney dogs are topped with a drier sauce than down here in Detroit, though the flavors are similar. It's worth a try. n