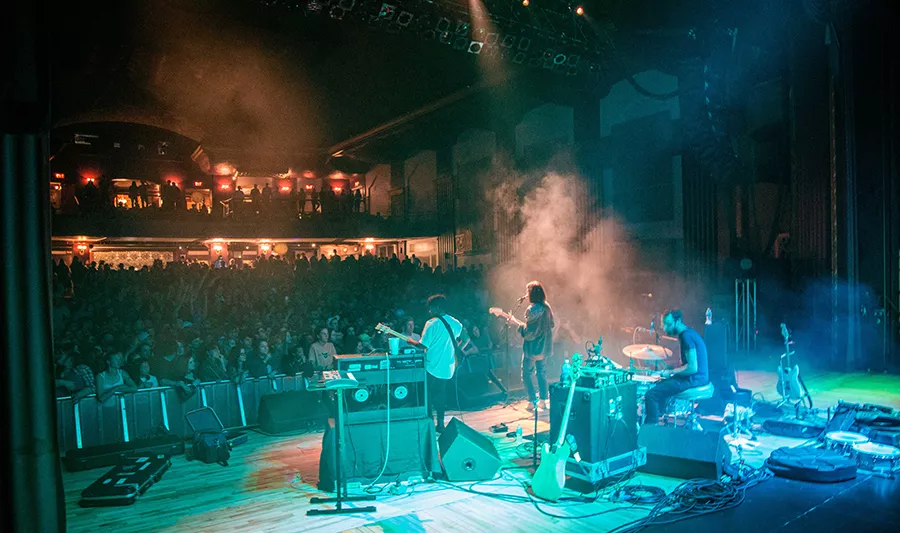 Remember when the Fillmore was called the State Theatre? Were you one of those lucky ducks who got to see the White Stripes at the Gold Dollar before they ever had a record out? If one thing is true of Detroit's live music scene it's that, well, we all have a sweet spot for a certain space. These Detroit music makers gave us the low-down on the best venues in metro Detroit and looked back on some of their favorite memories as player and participant.
Ghost Light
2314 Caniff, Hamtramck; 313-265-4948; facebook.com/ghostlighthamtramck

Ghost Light refers to itself as a "new bar with old soul" and we couldn't agree more. Approaching its one-year anniversary, Ghost Light has booked some of the city's most beloved local acts and has quickly earned a reputation for being hip without the attitude. This ever-changing space is supported by the Planet Ant complex and serves up music, theater, improv comedy, and film.
Zee Bricker of Tart: The vibes at Ghost Light are so good. It's warm and intimate yet totally unpretentious.
We held our EP release party there last August and it was killer. The room was packed and everyone was dancing. Having everyone in that space creates a party feel.
The coolest thing about Ghost Light is that they host a variety of not just music but theater, art, and comedy. You don't have to be pegged into any one hole there. Being in an environment like that encourages real performance and experimentation — there are no expectations.
I really loved the way Fallout Fest was hosted there. There were performances happening in Ghost Light, Ant Hall, and in a smaller back room, creating these three really awesome and different spaces. It was so much fun to bounce back and forth between environments.
The Loving Touch
22634 Woodward Ave., Ferndale; 248-820-5596; thelovingtouchferndale.com

Since 2008, the Loving Touch has given us all the feels. As a pool hall, booze haven, and one of the most intimate music venues in metro Detroit, the Loving Touch has served up some of the most memorable local shows in recent history.
Matthew Milia of Frontier Ruckus: Our shows at the Loving Touch have been really rewarding. Frontier Ruckus has always been admittedly more about suburban malaise than trying to represent any urban authenticity, and the Loving Touch is conveniently located on the borderline of those two worlds. So, you might have your old Catholic high school English teacher in the crowd next to someone you may have made bad decisions with once.
We've released two albums there to nice crowds. For our last album release, my mom brought lots of flowers that we put around the room and stage so I got to feel a little like Morrissey, and a little like I was back at my 6th grade talent show.
I saw Teenage Fanclub there, one of my all-time favorite bands, and sang along from the front row as they played enthusiastically to a pretty modest crowd considering how legendary I envision them to be.
PJ's Lager House
1254 Michigan Ave., Detroit; 313-961-4668; facebook.com/lagerhouse

Few Detroit venues have as much history as Corktown's own punk palace, PJ's Lager House. Having started out as a bakery in 1914, the speakeasy disguised itself as a furniture store during Prohibition and became a biergarten in 1965. Then came punk and the '90s. Now, PJ's Lager House is one of the Motor City's top rock 'n' roll havens, with an air of New Orleans badassery.
Craig Brown of The Craig Brown Band (and, like, a million others): Lager House is my favorite venue because it's one of the best little rooms in the country. The setup is perfect and throughout the years there really has been some magic in there. Good sound. Great staff. I've worked there for nine years but I've been playing there for 15. PJ is a great owner and really gives a shit about the music that comes through there. It's one of the only places in the country that pays the sound guy and door guy from bar sales. Bands get just about 100 percent of the door.
My favorite memory is probably one I don't remember, or every time I've played there.
PJ's Lager House hosts every genre under the sun. There was even a steampunk show there. God, was that dumb. Motherfuckers had clocks on their hats. Those people love gin.
The Blind Pig
208 S. First St., Ann Arbor; 734-996-8555; blindpigmusic.com

Nirvana played here. We repeat: Nirvana. Played. Here. Not only did they play at the Blind Pig in 1989, but during an MTV interview they later said that it was their favorite venue — ever. Nirvana aside, the Blind Pig is still the coolest place on campus.
Ben Collins of Minihorse: If you're a rock band in the Ypsilanti and Ann Arbor area, the Blind Pig is king. I grew up in Ann Arbor, so the folklore of the Pig hit me heavily in high school. It was the venue where the Smashing Pumpkins had played, and Sonic Youth, and Nirvana. I started going regularly right when I turned 18 and it was super loud and fun. Some of the workers were rude to me, but it just made the place seem cooler. Their booker, Jason, has been immensely supportive of my bands over the years, giving us opening spots well before they were deserved.
My favorite memory was maybe the time Lightning Love played a show after Stella, which was one of our favorite comedy things ever.
The Blind Pig seems to cater to any independent music, but it's probably most famous for rock shows.
One of my favorite shows was probably a Starling Electric show, maybe circa 2008. I also look back fondly at some of those '04 and '05 shows: Without Misty, Anchorage, the Hard Lessons, the Avatars, the Book was Better. Every BANG! was amazing too.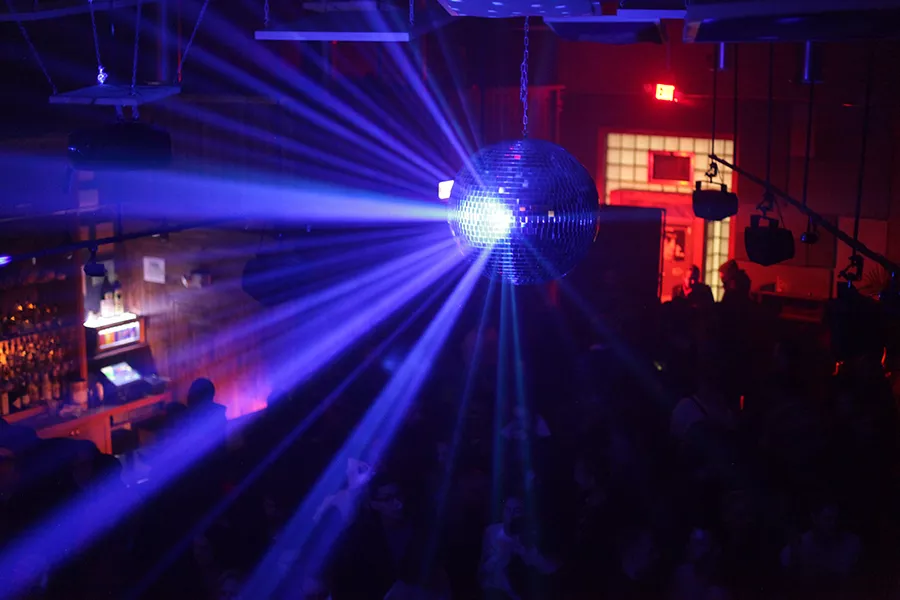 Marble Bar
1501 Holden St., Detroit; 313-338-3674; eventseeker.com

Off the beaten path, Marble Bar is a bit of a hidden gem to those not in the know. And for those in the know? Well, it's one of the most versatile performance spaces in the city. Though most notably renowned for its flow of top electronic acts, Marble Bar slays the booking game no matter the genre.
Kaylan Waterman of Vespre: When Marble Bar opened, I felt a decided shift in nightlife options in Detroit. From great local talent to touring bands I never thought I'd have the opportunity to see in Detroit, Marble fills the gap of the "mid-sized" venue. Living in the New Center and North End area, it's great to now have a venue nearby with events I'm interested in. Also, a giant, gorgeous, and continually evolving patio is a game changer for me.
My favorite memory from Marble would probably be from last summer when they hosted one of the Allied Media Conference afterparties. There were musical acts on the indoor stage, DJs on the outdoor stage, and food being served on the patio, giving the night a super relaxed and fun festival vibe.
This venue is aimed at all genres, but has a solid partnership with Paxahau, which brings a lot of electronic music events through. I have seen everything from soul and funk DJs to rock and R&B acts to monthly parties like Motor City Soul Stomp and Haute to Death.
Tops with Moon King was one of my favorite shows. I've loved Tops for a few years now, but had never heard Moon King (originally from Montreal, now based in Hamtramck) and they absolutely blew my mind.
Royal Oak Music Theatre
318 W. Fourth St., Royal Oak; 248-399-2980; royaloakmusictheatre.com

If you've been here, the likelihood that one of your favorite shows took place here is pretty high. Originally a film house built in 1928, the Royal Oak Music Theatre began hosting live entertainment in 1978. How a space can be both intimate and spacious is beyond us, but the Royal Oak Music Theatre manages to curate an experience to remember.
Stef Chura: I've only played here once, to open for Mac DeMarco, but it's definitely one of my favorite shows. It didn't really hit me until I was there how much history I have with the venue. I'd been going to see shows there from the time I was a teen. It was sentimental to play at the venue itself, but the crowd and Mac's fans are so high energy and positive. Lots of clapping along to songs. People screaming and throwing balloons. I signed hats. I was like "I am ruining your hat?"
For some reason I've only seen rock shows there. But I think it's pretty diverse.
I saw Sonic Youth there almost 10 years ago. Someone elbowed me in my boob so hard that it still hurts. I also saw Animal Collective there a similar amount of years ago, and it was kind of surreal.
El Club
4114 W. Vernor Hwy., Detroit; 313-279-7382; elclubdetroit.com

Located in the heart of Southwest Detroit, El Club went from zero to 60 in record time. Chalk it up to insanely diverse booking, a state of the art sound system, party-friendly patio, or its divine pizza offerings, El Club holds the key to many hearts.
Vanessa Reynolds of River Spirit: One of our favorite venues to perform is El Club. They always book some really amazing acts, and I appreciate having been able to watch people perform in such an intimate setting. They also have a photo booth.
A favorite memory at El Club is the time that we opened for Aldous Harding. It was really great to be able to hang with her in the green room and swap tattoo stories.
El Club doesn't seem to stick to a particular genre, but I've seen shows ranging from dub reggae, to hip-hop, to folk, and experimental electronic music.
A favorite show that we've seen at El Club was Kelela and Lafawndah. It was especially awesome because Ahya Simone opened Kelela's set with her amazing harp playing. I was invited by Ahya to hang out after the show. We danced, collectively serenaded Kelela with her song 'Rewind,' and we were all blessed with one last song after the DJ handed her the mic on the dance floor. It was such a special moment.
Trinosophes
1464 Gratiot Ave., Detroit; 313-737-6606; trinosophes.com

Though totally low-key and hyper-caffeinated, Trinosophes is not your typical coffee shop. This space can convert itself into an upscale art house or can fit the needs of top-billing acts, up and comers, as well as spoken word readings.

David Vaughn of Wasabi Dream: Wasabi Dream's record release. It was our first record and we recorded it ourselves. Our friends from Wildcatting came out of retirement to play the show, and my sister's band, Violets, opened.
The room sounds large, unforgiving. It's perfect. As a drummer, the room provides a lot of harsh versatility and dynamics. If you play quietly, your drums can sound massive. I would say the venue is best for bands who can keep a leash on their stage volume, regardless of genre.
My favorite show was the Dirty Three. It was the first big show at Trinosophes, and they hadn't played in Detroit in over 10 years. It was wild.
UFO Factory
2110 Trumbull Ave., Detroit
Cue Sarah McLachlan's "I Will Remember You," because UFO Factory is the city's most missed venue. The club was forced to close following a construction accident(?) last year when the construction crew of the $45 million Elton Park retail and housing development, you know, completely destroyed the UFO Factory's foundation. Though it's been a slow process, UFO will reopen. And while we await the repairs and the rebuild, let's remember just why UFO Factory is out of this world.
Fred Thomas of Failed Flowers, Hydropark, and Tyvek: UFO Factory is hands-down my home-base and the place I've played the most and spent the most time. Even living outside of the country between 2015-2017, I still managed to play and hang there constantly. I've known the founders since I was a kid and one of them officiated my wedding. It's one of the most community-minded and beautifully open establishments I've ever known.
Once I left the stage and played an entire song from the closet.
Genres are pretty open and shift, though detractors might say otherwise. I've seen plenty of experimental, punk, lonely songwriter, and electronic shows there.
Favorite show I've seen there is also hard to pin down, but there was a gig summer of 2016 on a Monday night — TAL Sounds and Matchess from Chicago and Dominic Coppola opening the show. There were maybe six people there but it was more incredible and connective than any sold out show I'd been to in ages. I don't feel like that exact energy could have happened anywhere else.