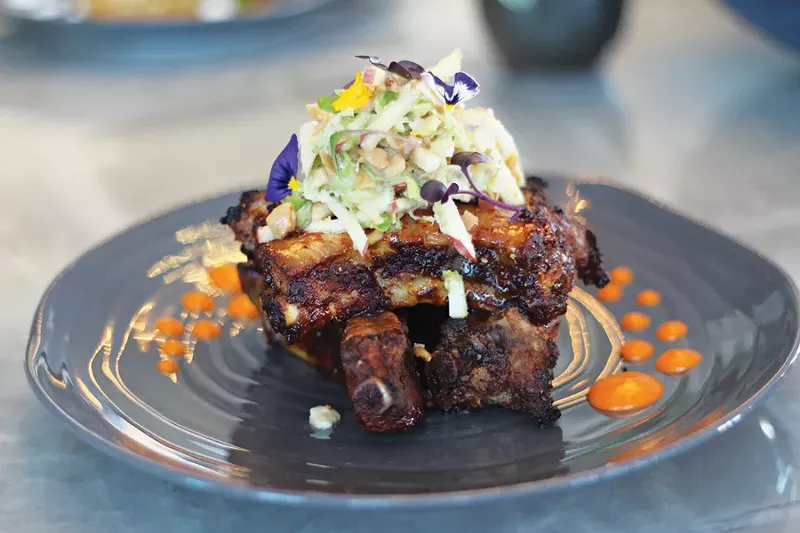 Sooner or later, everybody has that moment when they take a bite of a dish and have their socks absolutely knocked off. It's less common than you might think. Sure, it's never been easier to post a picture of tonight's dinner online and scream, "OMG," or "au jus sauce FTW!" But that deeply personal moment when you taste something that surprises you with how it mingles freshness, flavor, and flair proves elusive.
That's why we wanted to take a closer look at some of the dishes our restaurant critics, friends, and co-workers praised as standouts. What we found was a representative mix of upscale and casual, red meat and vegetarian, and city and suburban. We caught up with chefs or owners who were eager to discuss the significant work that goes into preparing each dish, and why it connects with diners.
Baby-Back Ribs, Parc
Our reviewer raved about the dry-rubbed, honey-glazed ribs at Detroit's Parc, calling them "crusty yet tender" with "just the right touch of sweet." In order to obtain that flavor and texture, the kitchen puts in a couple days of work on each piece of meat.
Jordan Hoffman, Parc's executive chef, tells us, "It's a couple-day process. They're seasoned, then dry-rubbed, then we slow-roast them, then we do them over the wood-fired grill, then they finish with the glaze, a little bit of Calabrian chile puree, and then the slaw on top. It's a time thing, and also sourcing a really, really fantastic rib."
It's all done in-house, with an attention to detail that means not only is the meat sourced as locally as possible, but even the combination of oak and hickory hardwoods.
"It's almost like curing your meat," Hoffman says. "That's why the flavor almost permeates throughout the ribs."
Bronzino Special, Assaggi
At Ferndale's Assaggi, the bronzino is a special, but it's also one they do all the time, which goes to show how popular it is with diners. Everything about the dish shows a little bit of extra thought and effort.
The fish itself is a Mediterranean sea bass, lately served at Assaggi in two fillets criss-crossing each other. The fish are prepared very simply, with olive oil, salt, and pepper. They are pan-seared and finished off in the oven. The crispy skin of the delicate fish is left on — the fillets are so tender they'd fall apart without it to hold them together.
Given Assaggi's seasonal leanings, the presentation rotates throughout the year. In early autumn, it may appear upon a bed of toasted fregola sarda, a ball-shaped Sardinian pasta made of semolina and water that resembles a jumbo-sized couscous. It may be enriched with chopped kale, butternut squash, even capers that mimic the shape of the pasta. And that's not to mention the toppings, which may include a citrus gremolata, and even heirloom tomatoes when they're in season.
Taken together, the bronzino is a dish full of so many complementary flavors that the random combinations on each forkful produce something new and pleasant with each bite. Add in a bit of gracious hospitality from the restaurant's George Gize and Josie Rotondo Knapp, and you can see why diners have kept Assaggi in business for almost 20 years.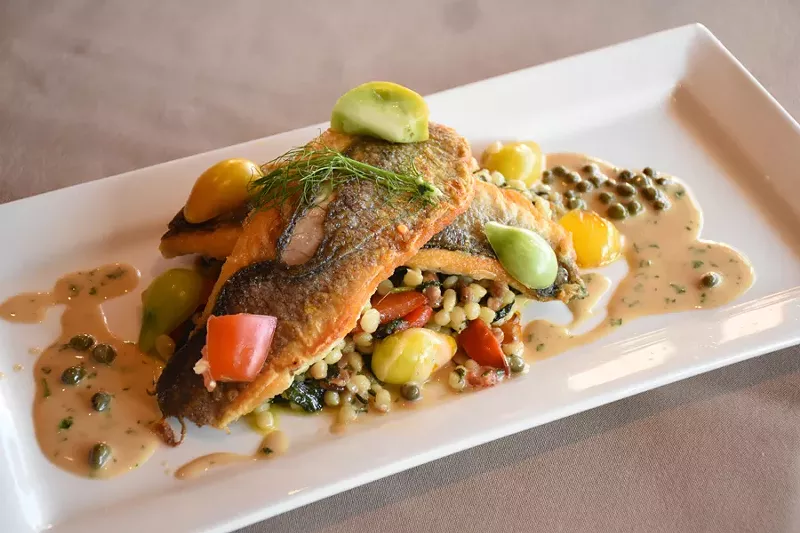 Berenjenas Fritas, La Feria
With its reclaimed-wood tables and exposed brick walls, Detroit's La Feria may at first seem to present too relaxed an environment for upscale fare, but owner Elias Khalil insists the small plates turned out by La Feria's kitchen are on par with anything that touches down on a white tablecloth. And his customers can't get enough of the berenjenas fritas, or fried eggplant.
The $6 dish, which Khalil says can be found in corner bars all over Spain, uses the normally bland vegetable to absorb flavors. With much laughter, Khalil tells us, "Weekly, people say, 'Oh, I hate eggplant! I don't eat any eggplant. But that – that's something else!'"
"We marinate the eggplant in beer, and then we batter them and fry them and then we drizzle them with honey and sea salt," Khalil says. "And so it's the honey and the sea salt that create that explosion of sensations in your mouth. People just love the interplay of the sweet and the salty, as well as the breaded nature of the dish. ... It's a fun tapa. It ends up being a dessert or a precursor to dessert here at the restaurant."
"It's a great option for vegetarians and for non die-hard vegan eaters," he says, "because, technically, the honey makes it non-vegan, but some people have some flexibility."
The Marrow Special, Conserva
Earlier this year, MT reviewer Jane Slaughter praised the dishes at Ferndale's Conserva that "strain the limits of creative deliciousness," but singled out the marrow special as "the most outrageous," describing how Conserva "roasted six-inch bones (think Flintstones) with wild royal trumpet mushrooms for a tapenade heaped on top."
Chef-owner Matthew Baldridge tells us, "We've been doing it a little different lately. We've been piping a potato soufflé across the top of the marrow, and roasting it together. So the potato gets really light and fluffy as it bakes and the marrow liquefies underneath. ... The addition of the potato soufflé really just kind of set the whole dish off."
The soufflé is made by folding stiff-peaked egg whites into a potato purée. After roasting, the dish presents a range of textures: a nice crunchy crust, then the airy potato, which becomes more savory toward the bottom where the marrow flavor is drawn up. It's a prelude to the feast of marrow ready to be scooped out of the pair of 6-inch beef femur bones.
But Baldridge then lacquers on another layer of flavor, topping the creations with either a wild mushroom tapenade or a gremolata.
The tapenade is made with finely chopped royal trumpet mushrooms cooked down with a little bit of garlic, enlivened with a bit of balsamic vinegar to add acidity and just a touch of sweetness.
"When you cook balsamic down, it gets rather sweet," Baldridge says. "So we try to keep it balanced so it's not going to be too sweet. You still get the earthiness from the mushrooms themselves, but with the acidity as well from the balsamic vinegar. It adds sort of a darker, deeper acidic flavor to it."
The gremolata is equal parts chopped fresh parsley, raw garlic, and lemon zest. Baldridge says, "It adds a really nice brightness to the dish, because the potato and the marrow are very rich, and it can be sort of cloying. The gremolata adds that acidity and then the fresh herb and the raw garlic to it, which brightens up the entire dish."
It's a delicate balancing act, the sort of thing Baldridge specializes in, creating dishes with many different textures, in which sweet, salty, acidic, and rich all play against one another.
Crab-Stuffed Atlantic Flounder, Joe Muer Seafood
Downtown's Joe Muer Seafood has a sprawling menu attuned to up-to-the-moment dining tastes, yet it still serves faithful renditions of about a half-dozen classics from the restaurant's early days. One of those dishes is the enormously popular crab-stuffed Atlantic flounder.
To call it one of those "more is more" dishes is to ignore its complexity. Anybody can pile a plate high with fish, but the quality and, yes, even subtlety of this dish showcase the Muer touch.
"We try to get it as close to what it was when the old Joe Muer's was on Gratiot," head chef Eric Ward says. "We use fresh Atlantic flounder. We get it in every day."
The fish is filleted, then one of the fillets is covered with the restaurant's crab mix. It's the same mix the kitchen uses to make the restaurant's well-known crab balls, another old-time specialty. Then it's topped with the other fillet, given a broil, and then served with a grainy mustard beurre blanc sauce.
That French sauce, made with white wine, butter, and mustard, gives the dish that extra kick. "It's got a little twanginess," Ward says, "a little acid bite to it."
But most diners will find joy in the way the light, flaky fish plays off against the crab stuffing, which is enriched with a bit of breading to bind it together. "It's definitely rich," Ward says, "but flounder is a really light, delicate fish."
Lamb Melt, Mabel Gray
In her favorable review of Hazel Park's Mabel Gray, MT reviewer Jane Slaughter zoomed in on the lamb melt as proof of chef James Rigato's deft hand. One night, Slaughter wrote, "it was topped with Rigato's version of pub cheese: aged cheddar churned with cream cheese, fresh horseradish, pickled peppers, and beer." Slaughter praised "the buttery warm tenderness of the Michigan lamb, topped with the cool cheese, the spicing of each just at the right heat level." On another occasion, "it came with marinated mushrooms, Swiss cheese, and a Russian dressing labeled 'kimchi,' all on house-made challah," also meeting with Slaughter's praise.
Though the menu at Mabel Gray is ever-changing, no dish is ever retired permanently. Rigato tells us the lamb melt appears on the menu several times a year. And it's worth waiting for, as the dish showcases Rigato's fondness for diner fare, as well as his talent at giving hoary classics a dramatic update that smacks of fine-dining razzle-dazzle.
"I kinda like the so-called patty melt traditionally served on sliced bread in diners," Rigato says, "but I personally like the melt on an English muffin. It's a bit of a sidestep from the traditional sliced bread. English muffins are easy to hold, kind of reminiscent of an Egg McMuffin, and griddle bread is very porous, so it soaks up all the drippings very well, and stands up to all that gooey cheese and rich lamb."
As for that "pub cheese," Rigato calls it "the star of the dish. It's gooey, funky, and has a lot of sharp flavors in it. It's kind of like if your grandma made the cheese dip for your Super Bowl party, and makes the dish almost like half grilled cheese sandwich, half patty melt, more like a big, intense, gooey diner burger. Obviously, all that funk in the cheese goes well with lamb, because lamb loves big flavors."
The other preparation Slaughter singled out for praise also draws on diner culture: The mushroom-Swiss combination found in so many burgers can also be found in the humble "mushroom melt." "They're usually done pretty poorly," Rigato says, "with flavorless mushrooms and Swiss." Instead, Rigato prefers specially pickled mushrooms, and uses kimchi to add a bit of funk and spice to the tired Russian sauce, which is usually a mere ketchup-mayo hybrid.
"Again, you're talking about very loud flavors in a very familiar format, so you're comforting people who want this melty, gooey burger, but elevating the experience through acidity and funk."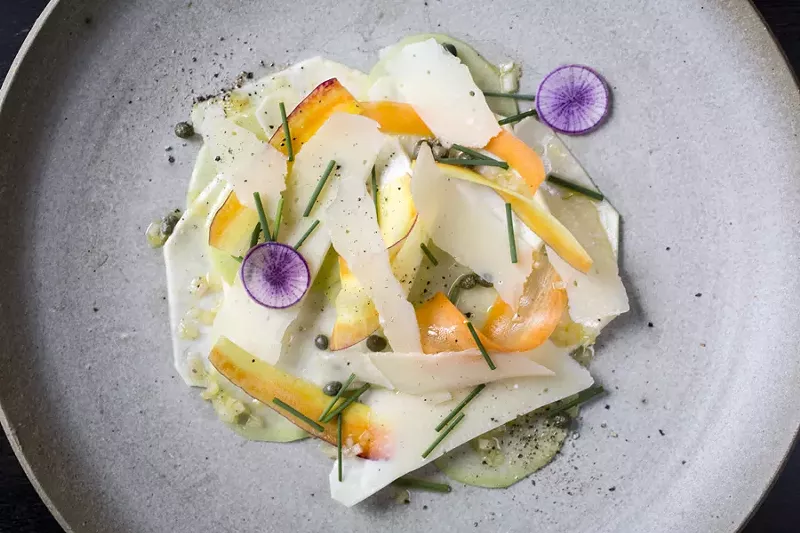 Vegetable Carpaccio, Selden Standard
Some might think a vegetarian riff on traditional beef carpaccio might be taking culinary playfulness a bit too far. But chef Andy Hollyday's vegetable carpaccio ($10) makes sense when you consider that the original dish features only whisper-thin slices of raw beef and gets most of its flavor from lemon juice and olive oil.
Plus Hollyday uses shavings of seasonal produce, especially sturdy root vegetables and the like. A vegetable carpaccio might include ultra-thin slices of celery root, kohlrabi, beets, carrots, fennel, or radish. Hollyday and crew seek out the highest-quality vegetables they can find from local farmers, and they often use the sweeter, more tender baby carrots and beets.
"We shave them super thin on the mandoline," Hollyday tells us, "then we give them a little soak in ice water, which helps firm them up a bit and keeps them cold and crispy for the crunch, the texture."
The dish then gets dressed in a lemon vinaigrette and finished with Parmesan cheese, black pepper, chives, and capers.
"It's a really simple kind of preparation," Hollyday says, "but I think it's great because it's light, fresh, and healthy, but at the same time it has some weight to it. For me, it's just super satisfying how the texture of it is fresh and crunchy."
To make the dish more visually appealing, Hollyday will select heirloom varieties that come in different colors, some with eye-catching candystriping. Not only does it amp up the color palette of a dish that's known for its presentation — it's named after a painter — it also adds to the playfulness, surprising diners as they bite into red carrots and orange beets. "You have a few extra colors popping," Hollyday says. "It makes it look really beautiful. There are so many possibilities it's almost endless: heirloom radishes, beets, carrots, purple kohlrabi, green daikon. ..."
"Honestly, that combination of lemon juice, olive oil, and Parmesan is going to be tasty on almost anything. And the cheese can easily be omitted and it's just as delicious as a vegan dish."