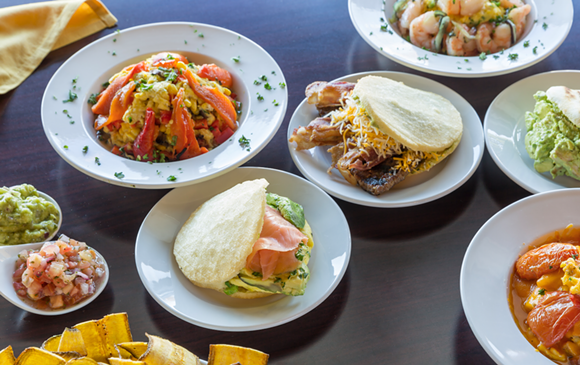 If you ever get tired of the same old drab breakfast day after day, you can shake up your daily routine with some exotic new dishes: From Venezuelan-inspired eats nestled in Grosse Pointe Woods to unique treats in the heart of Ham-town to beloved diners in Ann Arbor and beyond, metro Detroit is packed with eateries that will kick you out of your morning slump, and maybe expand your horizons a bit. If you feel like skipping the $3 coffee and doughnut tomorrow, here are some dishes at local spots that will awaken your taste buds with an ethnic treat.
Perico eggs at Garrido's Bistro & Pastry
This Grosse Pointe Woods spot features a smorgasbord that blends European and Latin American flavors, including the fan-favorite, "perico eggs." "Perico" is the Spanish word for parakeet, but no worries, you won't find a small, colorful bird on the plate. Instead, think traditional scrambled hen eggs, with a variety of peppers, veggies, cheeses and meats, like chorizo and bacon, which gives the eggs a wonderful array of colors — similar to the feathers on a miniature parrot.
Pair these eggs with some arepas, a traditional corn-based Venezuelan bread, a side of hash browns, and you've got a smooth blend of Latin and American to start your day.
Garrido's is at 19605 Mack Ave., Grosse Pointe Woods
A meat or cheese burek from Family Donut
In traditional doughnut shop fashion, you can find a hot cup of joe and all the fresh-baked goodies your heart desires, but what sets this Hamtramck shop apart from others are the unique bureks it's known for. These hearty delicacies are made with either ground beef or cheese folded into a dough roll and baked to golden brown. Some mornings they offer slices of burek pie as well. Either way, the end result is a mouthwatering treat that has been described as a reviving godsend by its fans.
Family Donut is at 11300 Conant St., Hamtramck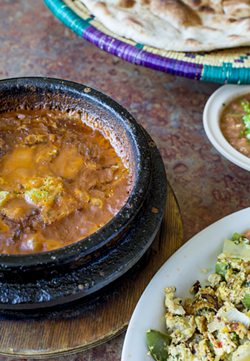 Chilaquiles and nopalicos at Evie's Tamales
This Detroit hole-in-the-wall specializes in tamales and burritos, including breakfast ones, but also offers more unique plates, like the ever-popular chilaquiles, which puts a Mexican twist on scrambled eggs — serving them up with corn chips, mild sauce, and cheese on top. Add a bit more flair to your morning routine with the bold nopalicos: another scrambled egg dish that is cooked with cactus, bell pepper, onions, and tomatoes.
Evie's Tamales is at 3454 Bagley Ave., Detroit
Bibimbap at Bell's Diner
For 30 years, this Ann Arbor spot has been serving delectable Korean-inspired dishes alongside the traditional omelets, pancakes, and bacon that most Americans favor for breakfast. And yes, there are lunch and dinner options as well, such as salads, burgers, and sandwiches. But where else would it earn you a shrug to order a Korean staple like bibimbap for breakfast? It's recommended by owner Ben Kwon, and can be personalized to your taste.
Pick your protein from beef, chicken, or tofu, and then load it up with egg, spinach, bean sprouts, and shredded cabbage, carrots, and cucumbers. Each ingredient is served in a separate group on a bed of brown, or white, rice with a dash of Korean hot sauce.
Bell's Diner is at 2167 W. Stadium Blvd., Ann Arbor
Gallabah and mathlooth at Sheeba Restaurant
This Dearborn eatery offers up traditional Yemeni and Mediterranean dishes for breakfast, lunch, and dinner. If you're one who loves a bit of protein in the morning, start your day off with a hearty helping of gallabah, which can be made with lamb, beef, chicken, or shrimp, sautéed with onions, tomatoes, and Yemeni spices. Not big on meat? Try a bite of mathlooth, a dish that packs a clay bowl with beans, eggs, olive oil, and tahini.
Sheeba Restaurant is at 13919 Michigan Ave., Dearborn