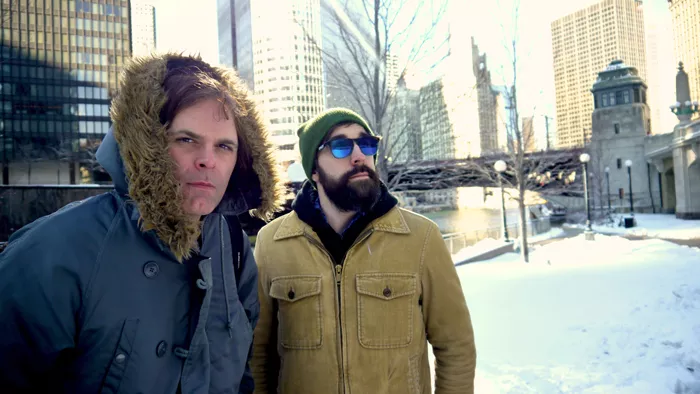 While Blowout is primarily a local music festival, we're not averse to putting a couple of national bands in front of our crowd if we feel it's a good fit. Chicago's Local H certainly ticks all the right boxes — an alternative rock duo that formed in 1990 and signed to Island Records in '94. Those days of the big-league record deals are long gone, and the band has moved between indie labels since '99, putting out a string of solid records.
The duo was originally composed of vocalist and guitarist Scott Lucas, and drummer Joe Daniels. However, Daniels left in '99 (coinciding with the band's departure from Island Records), and the drum stool was filled by Brian St. Clair. He left last year, and his replacement is Ryan Harding. One would imagine that, with the band being a duo, a new member has a huge impact on the sound. The new lineup hasn't put out a new album yet, so it'll be interesting to observe the chemistry, the dynamic, at Blowout. Lucas isn't about to hire just anyone though, and Local H has always been known for its energetic live shows. That's been true for 24 years, Lucas fighting to keep the name alive. We'll wager it isn't about to stop now.
MT: When was the last time you were in Detroit?
Scott Lucas: Probably I was there playing with my other band, Scott Lucas & the Married Men last year. We've been playing Detroit for years. We used to play there all the time. I like it a lot.
MT: Do you have any particular memories of Detroit?
Lucas: What's that place that has the different levels? It has the Shelter downstairs. St. Andrew's — we've played that place and the Shelter so many times, when we were just starting. We must [have] played there three times a year at least. No particular memories, but that could be because of a lot of things.
MT: Are you familiar with Blowout?
Lucas: I'm not, but it's impressive that there are venues all across the city and so many bands. I'm very keen to see the schedule. I'm a Death fan.
MT: What are the plans for your set?
Lucas: I don't know. We've been working on new songs, and we've been working with a new drummer, so everything's been energetic and exciting. You don't really know until you get there, you look around, you see who's in the room, and you get a feel for what's going on.
MT: When Blowout's over, what's next for you?
Lucas: I think that might be the last date on the East Coast tour, so we come home for a couple of weeks, and then we go back out to the West Coast. Maybe we'll do some recording, and then go back out.
Local H plays the Metro Times Blowout at 11:30 p.m. on Wednesday, April 30, at the Magic Stick, 4120 Woodward Ave., Detroit; 313-833-9700; mtblowout.com.