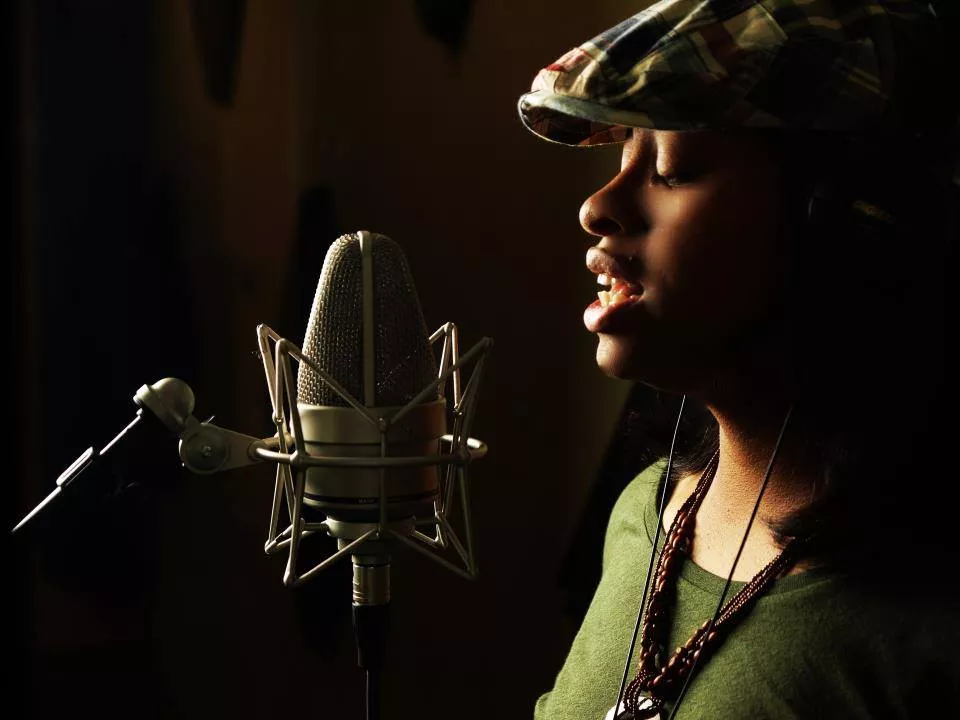 Since the early days of Blowout, there have been hip-hop acts on the bill. Over the last couple of years though, rap has become an integral part of the festival — a breath of fresh air — thanks in part to groups like Passalacqua, Cold Men Young and Clear Soul Forces. And the music is always great.
This year, rounding out the Friday night Blowout at the Seven Brothers Bar in Hamtramck is a supremely talented artist who goes by the name Insite the Riot. She's not interested in telling us her real name, and we're not going to pursue it because she's worked so hard over the last decade to brand herself. She's a bright, razor-sharp woman, determined to prove through her own work and the work of others that hip-hop can be a positive, inspiring force for society. Ignorant stereotypes be damned — this lady makes sport of disproving every one of them.
Insite (as she likes to be called) has been performing since she was 8 years old. "That grew out of a love for DJ-ing initially," she says. "My uncle, who I grew up in a household with, was a DJ. When I was younger, I used to sneak onto his turntables and play records. There was one particular record that I really liked, "You Can't Play with my Yo-Yo" by Yo-Yo. I scratched his record up, he found it and put two and two together. I was essentially banned from the turntables, and since I couldn't play the music anymore, I started creating my own. I've probably been doing performances in a real way since my early 20s. I'm 32 now, so 10 years or so."
Influenced by the few positive female role models that the mainstream allowed back then (Queen Latifah, MC Lyte), Insite has spent years developing lyrics that are fun but not without meaning. "I hope it doesn't come across as too serious," she says. "The ideas definitely have to have front. My name, Insite the Riot, is a play off the phrase 'Incite the Revolution in Our Thinking,' so the idea is that hip-hop can be a tool for personal development, and a way for us to find ways to persevere and just be resilient. I just try to promote that through the music that I create."
Insite has played a significant role in the building of the 5E Gallery, an art gallery and cybercafe on Cass Avenue in Detroit, as well as the foundation associated with it. 5E is one of the more important hip-hop spots in Detroit right now, responsible for providing a stage for Insite, as well as artists like Miz Korona and Nique LoveRhodes.
"The foundation is a collective of women artists," Insite says. "There are artists like Nique LoveRhodes and others really ingrained in the grass-roots social justice thing — it's a really exciting time right now. Even beyond that, you've got a lot of younger artists who are coming up as well."
This being 2014 (for Christ's sake), we really shouldn't have to talk about the obstacles still encountered by female musicians. Society should have moved on, attitudes should have evolved — humanity should be way above that. Sigh. Not yet.
"There's progress," Insite says. "If you look at hip-hop from a commercial standpoint, we're obviously missing on that landscape. The reality is, on the underground scene across the country, there's a resurgence of women in hip-hop. I think we've always been here, but there's this resurgence of collectives forming, artists coming together, supporting each other and making a name for themselves. There are definitely still barriers and challenges, but I think we're at a point where we're taking on our audience with our own hands."
That's a positive outlook, at least. But then, this is a strong woman who is used to tackling issues head-on. She's performed at shows to raise awareness of breast cancer and AIDS. She doesn't shy away from anything.
"My preferred audience is one that may not be hip-hop heads, and may not be as familiar with the genre," she says. "I did a set at Oakland University last month, and you're talking about a room full of college professors and intellectuals, and I literally had people come up to me and say, 'I didn't know hip-hop could be this. I didn't know it could be positive. I didn't know it could be so interactive and engaging.' To me, to be able to change people's perceptions, that's awesome."
So what does she have planned for her set? "It's going to be high-energy," she says. "The set that we put together so far is a mixture of some of the songs that I traditionally perform, but I'm actually going to be doing some R&B stuff at Blowout. Play with a live band."
There's something important happening at the 5E Gallery, and we're going to get a flavor of it at Blowout. There are women in town who have been faced with a seemingly infinite number of obstacles, and preconceived notions of what a female rapper should look like, talk like, dress like, and how she should behave. Insite the Riot is no slogan-wearing, heavy-handed, political bandwagoneer, but she is proving that some walls are meant to be brought crashing down.
Insite the Riot plays the Metro Times Blowout, closing out the night on Friday, May 2, at Seven Brothers, 11831 Joseph Campau Ave., Hamtramck; 313-365-6576; mtblowout.com.