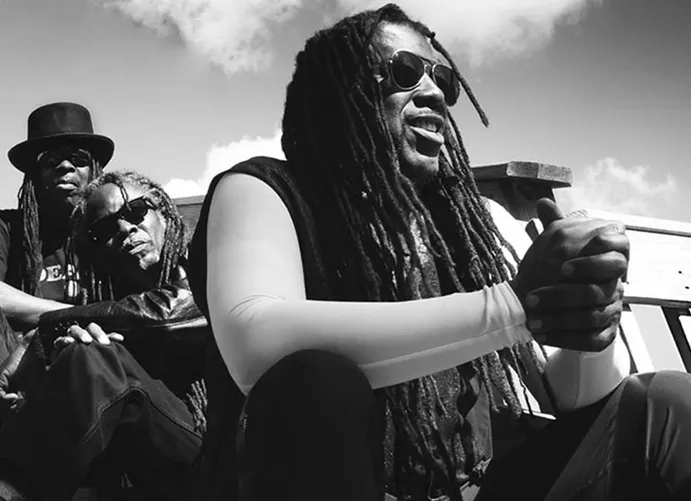 t's been five years since Death, the first black punk band, reformed and played a highly anticipated show at the Magic Stick. Back in the early '70s, the band had formed as an R&B trio but switched to raw rock 'n' roll after seeing the Who. They recorded a bunch of demos, which lay dormant until their sons dusted them off and started playing the songs under the name Rough Francis. Interest grew, reaching a climax of sorts when the A Band Called Death documentary movie was released last year.
It's fitting that the band is back at the Magic Stick for a Blowout performance, and we spoke to Bobby Hackney to dig up the details. Bobbie Duncan and Dannis Hackney were also in the room, but Bobby seems to be the mouthpiece. …
Metro Times: This is the first time you've played Blowout, right?
Bobby Hackney: Yes, this particular event. It sounds like a big Blowout party, though.
MT: There was a buzz around the band since the reformation anyway, but did the movie take that up to another level?
Hackney: It went hand in hand. We were starting to pick up steam, my brother and I. It takes time to develop, but we had a game plan and the movie has escalated everything and we're just so glad that we've living this great story. We don't pay attention to it; we're just living it.
MT: When you first reformed, you'd have to fill up the set with songs by your reggae band, Lambsbread. Is the set all Death material now?
Hackney: It's all Death. That's always been the way Death has been, since the beginning. We played all those great songs by the Who, Chuck Berry and Jimi Hendrix just like all those great bands did in the '60s. We became committed to our original material and tried to develop a show that we wanted to take out into the world; we always did Death music. When you see us in Detroit, you will some of the old and new stuff.
MT: What's the current situation with your reggae band, Lambsbread?
Hackney: It's on a hiatus right now. The Death situation is something where Death fans all over the world want to see old and new Death music. David [Hackney, who died in '82] and I wrote a lot of songs in the '70s, a lot of songs that didn't make it into the recordings. We like to share some of that stuff, and fortunately on the new album that we've just completed, we've done that.
MT: So you have a new record coming out?
Hackney: This is an interesting thing. We have two projects. The first is a historic project that spans from Detroit all the way here to New England, in Vermont, between me, Dennis and David [the original lineup]. It's called Death III and it's coming out on Drag City Records on April 22. We also completed at the end of 2013 tracking and mixing the first Death studio-recorded album since [we reformed]. The second half of this year, you will see a brand-new album from the current Death band.
MT: What are your plans after Blowout?
Hackney: We've got a ton of music to record, we've got a ton of places to go around the world, and we'll rock 'n' roll. That's our plan.
Death plays the Metro Times Blowout, closing out the evening of Saturday, May 3, at the Magic Stick, 4120 Woodward Ave., Detroit; 313-833-9700; mtblowout.com.