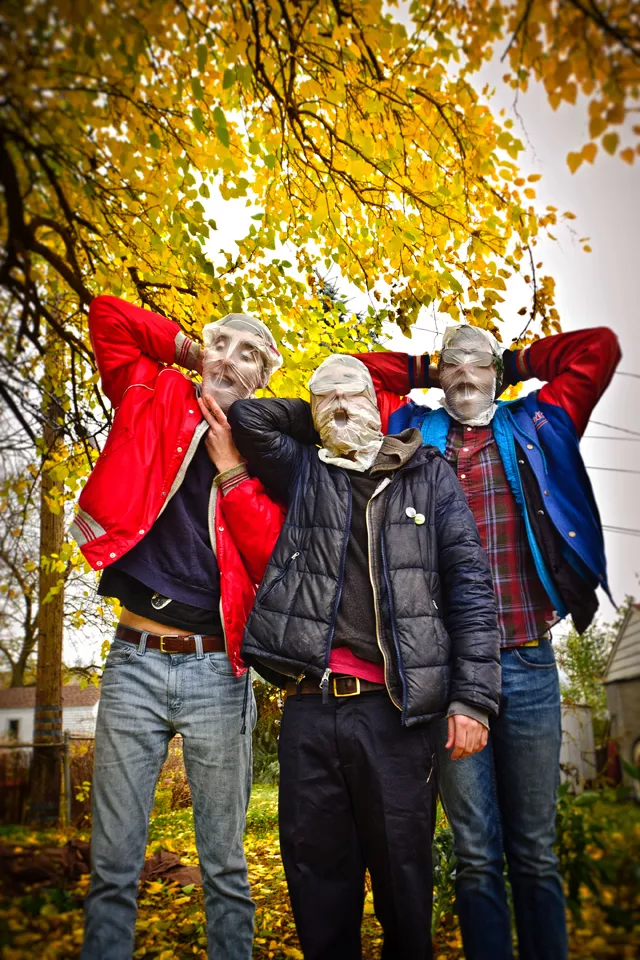 Jamaican Queens tour the Midwest with Passalacqua through Nov. 17. Find their vimeo channel via their website (jamaicanqueens.com). The video for "Kids Get Away" is tentatively scheduled to drop before Thanksgiving.
Their drum machines deceive; this is not dance music. "I don't want to make party music, I don't think ... ever," surmises singer, guitarist and fledgling beat experimenter Ryan Spencer. "I want the focus to be the music, not the party."
Jamaican Queens pile on heavy rap beats, low-woozy-bass bursts, trundling 808 Rolands and cascades of spacey-synth samples. Describing the JQ sound with his bandmate Adam Pressley (JQ-co-founder, guitarist, beat experimenter and producer), Spencer tellingly repeats the phrase: "Fuck with it."
"Fuck with it" until achieving "a more epic feel to our songs," says the tall, rail-thin, reedy-voiced singer. "Taking what might be cool as a folk kinda song, but, instead, fuck with it until it gets out toward a weirder rap-pop-alien hybrid." You couldn't come up with a better description of the forthcoming full-length debut, Worm Food (tentatively slated for late January 2013).
Not rock music, not electronic music, not rap music and not folk music, but yet, it's music fucking with each style. Pitches are shifted. Voices and instruments are shadowed with fuzz and looped back on themselves. Then the alien-pop platter is sweetened by keen harmonies, warmed with acoustic guitars here and there, and all held together with precise drumming (by third Queen Ryan Clancey). 
Spencer chuckles with a note of self-deprecation at his just-stated dance-dissing philosophy, admitting that he's been addicted, lately, to house jams, live techno shows and DJ nights of bumping, instrumental funk. But the thing is: Spencer's brutally honest lyrics over Pressley's knack for hip-hop arrangements aim to invoke more of an emotional response than the typical danceable-pop fare. Indeed, you can't really dance to any JQ jams; detached rhythms thunder atop droning synths and low-swaying bass grooves while Spencer spits out his dark diaries. 
"People are gonna get sick of watered-down pop that's poetic for fashion's sake," Spencer says. "At least I am."
Now that Pressley's gotten him into rap music, Spencer has found visceral connections to "the rhythmic flow," of the vocal delivery by the more daring emcees, those whose phrasings "can sometimes make the hair on the back of your neck stand up." 
Spencer grew up in Detroit's northern suburbs and Pressley came to Ferndale via Normal, Ill., so they both know they could never pull off Lil' Wayne-isms and they're not gonna try. ... Both secured their own unique takes on intriguing pop songwriting through their previous bands. The reverence for rhythm is where their chemistry thrives. 
So the pair started this group a year ago this week, unofficially. Spencer and Pressley were spitballing while strolling through Brooklyn, grabbing banh mi sandwiches for sustenance between live sets at the CMJ music festival. "Wouldn't it be great if ..." If it were just the two of them, how much faster songs would come, how much more they could implement drum machines, only if ... Only if they weren't already touring their asses off in the five-member Prussia with an album (Poor English) to support. 
Prussia, one of the late '00's more celebrated indie-acts in the Detroit scene, pushed a progressive kind of pop-sound, distinguished with dashes of dark atmospheric soul and spacey orchestral folk. Pressley, previously with Chicago-based Ohtis, toured with the group in 2010, eventually joining in early 2011. 
With Prussia disbanding in February, the boys were freed to get rolling in Pressley's Ferndale home studio. By September they streamed two online singles: "Kids Get Away" and "While You Sleep" (a My Bloody Valentine cover). They now have three local filmmakers wrapping up music videos for three of the nine tracks on the Worm Food LP. 
This is, as Spencer puts it, "that band after your first band," meaning that they "really get it, more-so," this time around. He's pretty sure he's still the same person he was in Prussia, but he's definitely sure that, now, he loves writing lyrics over drum machines and wants to get funkier. In Prussia, their trip was more soul, R&B and weird psyche-folk, but now he's more into Prince, now he wants to "get slap-bass-y" and bang it up beyond the blasé of modern pop. 
"If it ain't the real deal, don't bother."
Jeff Milo writes about music for Metro Times and regularly contributes to the Music Blahg at metrotimes.com.