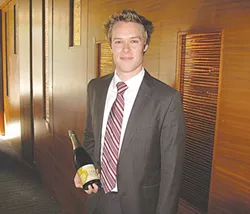 This month, Roast celebrates two years of adding a bit of casual sophistication to downtown Detroit's dining scene. The restaurant's sleek modern interiors, casually dressed servers and inventive dishes (bone marrow, anyone?) are anything but fusty, appealing to a younger crowd of diners.
That youth extends to the staff. Their sommelier, Joseph Allerton, was only 27 years old when he started there two years ago.
Of course, the finest sommeliers often spend a lifetime mastering wine's subtleties, so Allerton had to start early, not long after he started out at 18 working in a coney island and going out to rap shows. "In 1999," he says, "I didn't know a thing about wine. I was just starting to learn then. I wondered why Notorious B.I.G. was talking about this particular wine or liquor. It got me curious. Why would somebody pay $250 for a bottle of Cristal?"
Then things happened quickly. At 21, after landing a gig as a server at Matt Prentice's Morels, Allerton met master sommelier Madeline Triffon and got to work closely with her, getting a crash course in beer, wine and spirits in the bargain.
"We'd do these seven-hour inventory shifts, and they were a priceless education. We would be tossing pronunciations back and forth, with a question here and there. Or I'd get a little history while counting wines.
"I was already curious about wine the three years before meeting her. I saw it as an opportunity to become more knowledgeable — and more valuable to the restaurant."
Allerton parlayed his skills into work at high-end venues, helping open Coach Insignia and getting a sommelier gig at a high-end steakhouse.
"That's when everything changed," Allerton says. "It became less about trying to become valuable to an employer and turned into an obsession to try everything I got my hands on. I started reading books about it. If I read about some wine calling it the most legendary example of a Chenin Blanc, I'd go seek it out. It still hasn't stopped. I'm always still finding new beers, and wines from new grapes, new places. It keeps it interesting."
And at Roast, Allerton enjoys freedom to explore, with full control over the wine and beer list. "Even though Michael Symon's is a corporation, it still has a little bit of that family-owned feeling to it, so it's the best of both worlds. At the end of the day the creativity is still in our hands," he says.
It all comes at a time when Detroiters are growing a little more sophisticated about what they drink, riding on the popularity of craft brewing, and classic cocktail culture seeping in from the coasts (and, of course, Mad Men).
"We have a slight advantage at a Michael Symon restaurant, because people come in with an open mind. With stuff like chicken livers or beef cheeks on menu, people kind of expect something unusual and they're ready to experiment."
Roast's cellar has much to experiment with, including 300 bottles of wine representing as many grapes, regions and prices as possible.
"But on the beer list," Allerton says, "we definitely went for broke on that. We took some serious risks. There are 80 beers to choose from — five on draft, always with a good draft selection of Michigan beer. Bottle selection is where it gets playful: The beers on the first page are all sour: Michigan sours, Belgian sours, American craft sours as well. The next page is a well-rounded selection of beer: hoppy and malty. ... Even on our wine list, the first page is all beer."
Allerton says diners are responding to the offbeat choices. "It's been a lot of fun to see folks enjoy 750-milliliter champagne-corked bottles of beer. They'd rather pay $28 for the No. 1 rated bottle of Saison as opposed to paying $48 for the No. 1 rated Bordeaux."
The work that goes into making these craft beers explains the prices. Allerton extols the wonders of bière de garde, French-Belgian-style oak-aged beers made with open-vat fermentation, wild yeasts and a decade or more of bottle conditioning, each batch possessing unique characteristics. Or lambic-style spontaneous fermentation ending in four or five years of barrel aging before maturing into lightly carbonated quaffs that can taste mineral, vinegary and sour, with faint aromas of iodine. Or gueuzes, lambic blends that combine citrus, lemony flavors with funky, earthy, mineral characteristics.
Given the intensive processes, the fine-tuned flavor profiles and ingredients that can be hops or black currants, it's enough to make you wonder: Is beer the new wine? Allerton laughs at that, but says, "It's shared like wine. We cellar and age it like wine. And we give it a respect usually accorded only to wine. We put it right up there: This isn't just beer. It deserves the same level of respect as some of the wines deserve."
Speaking of respect, Allerton seems to deserve some himself. He's not even 30 yet, but, thanks to hard work, a sensitive palate and years of study, he's a sommelier who knows his stuff.
But that's not what his friends say.
"They say, 'Oh, your job is to drink — and tell other people what to drink. That sucks.'" Then he laughs, adding, "Yeah, it's a fun job. I couldn't be happier with how it's panned out."
Roast is inside the Book-Cadillac Hotel at 1128 Washington Blvd., Detroit; 313-961-2500.