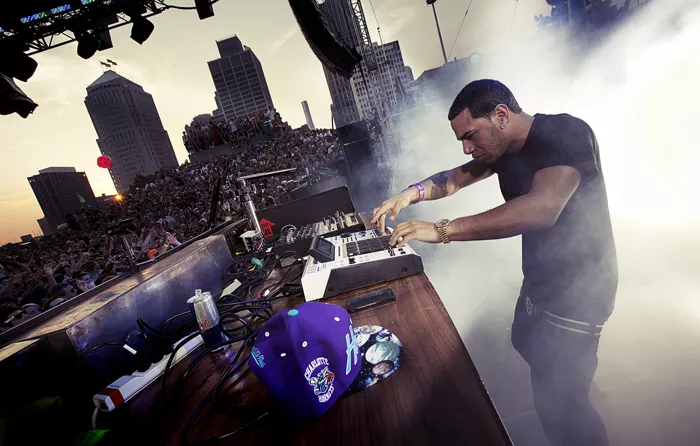 Ann Arbor Folk Festival
January-February; Ann Arbor; theark.org
Two-day fest dedicated to all things folk to support Ann Arbor's great folk venue, the Ark.
Meridian Winter Blast
February; Detroit; winterblast.com
February is right in the thick of a Michigan winter, so why not embrace it with ice-skating, bonfires, snow slides and all sorts of other ways to enjoy the cold.
Motor City Tattoo Expo
February; Detroit; eternaltattoos.com
This event draws tattoo aficionados from all over, with seminars, vendors, live music and more.
Ann Arbor Film Fest
March 25-30; Ann Arbor; aafilmfest.org
Not quite Sundance, but this film fest is the place to go for independent, experiemntal film.
Festifools
April 6; Ann Arbor; festifools.org
The streets of Ann Arbor get invaded with a flashmob army of papier-mâché puppets.
Metro Times Blowout
April 30-May 3; Detroit, Ferndale, Hamtramck; mtblowout.com
What started as the little music festival dreamed up by Metro Times' music editor has now becomes a sprawling event that hosts more than 300 bands across three cities.
Downtown Hoedown
May 30-June 1; Detroit; wycd.cbslocal.com
Detroit's not the first place people think of when they think of country, but the Hoedown draws thousands of fans to see acts big and small.
Movement
May 24-26; Detroit; movement.us
Celebrate Detroit's legacy of electronic dance music at an event that draws fans the world over.
Detroit Chevrolet Belle Isle Grand Prix
May 30-June 1; Detroit; detroitgp.com
Michigan's new state park is transformed into a Grand Prix racing track.
Motor City Pride
June 7, 8; Detroit; motorcitypride.org
Whether you're L, G, B, T or an ally, Motor City Pride is the time to joins cities all around the world in celebrating gay culture.
Ann Arbor Summer Festival
June 13-July 6; Ann Arbor; a2sf.org
Featuring music, art, film and more Ann Arbor's massive festival practically takes up all summer.
Clay, Glass and Metal Festival
June 14; Royal Oak; royaloakchamber.com
Celebrate the spirit of creativity, as artists showcase jewelry, sculpture and more.
Stars & Stripes Festival
June 27-29; Sterling Heights; starsandstripesfest.com
This patriotic fest is a sort of pre-game for Fourth of July celebrations.
Jazzin' on Jefferson
June; Detroit; jazzinonjefferson.com
A two-day fest that shuts down the streets of Jefferson-Chalmers to celebrate jazz, blues, food, arts and more.
Detroit Electronic Music Festival
July 4-6; Detroit; demf.us
That's right, there are now two electronic music fests in Detroit, as EDM's massive popularity gave festival promoters a good excuse to dust off this old moniker.
Wyandotte Street Art Fair
July 9-12; Wyandotte; wyandottestreetartfair.org
Celebrate art and culture in the heart of Downriver.
Concert of Colors
July 10-13; Detroit; concertofcolors.com
How often do you get to hear music from all around the world? Don't miss this annual festival.
Michigan Elvisfest
July 11-12; Ypsilanti; mielvisfest.org
Pretty much exactly what it sounds like. Celebrate the King with Elvis impersonators and superfans alike.
APBA Gold Cup
July 11-13; Detroit; gold-cup.com
More than 100 years strong, it's the oldest active motor sports trophy — and as good an excuse as any to spend a sunny day downing a few beers.
Ann Arbor Art Fairs
July 16-19; Ann Arbor; artfair.org
Your summer is not complete until you stroll the streets of downtown Ann Arbor to browse contemporary fine art and crafts.
Pig and Whiskey
July 18-20; Ferndale; metrotimes.com/pigandwhiskey
Three nights of barbecue, live music, a beer tent and, oh, yes, whiskey by the barrel.
The Woodward Dream Cruise
Aug. 16; various; woodwarddreamcruise.com
Grab the lawn chairs and stake out your plot of grass along Woodward for this weekend event featuring classic cars and cruisers.
Detroit International Jazz Festival
Aug. 29-Sep. 1; Detroit; detroitjazzfest.com
Spanning several city blocks downtown, this hip celebration of jazz has fireworks, jam sessions and more.
Arts, Beats & Eats
Aug. 29-Sep. 1; Royal Oak; artsbeatseats.com
The name says it all — local artists, musicians and restaurants from metro Detroit give Royal Oak a taste of what they're all about.
Renaissance Festival
August-September; Holly; michrenfest.com
The Ren Fest has it all — jousting, musicians, costumes and turkey drumsticks. Huzzah!
Dally in the Alley
Sep. 6; Detroit; dallyinthealley.com
One historic block of the old "student ghetto" is cordoned off and given over to people hawking art, T-shirts, books, beer and music.
DIY Street Fair
September; Ferndale; diystreetfair.com
Celebrate the art of doing-it-yourself with live music, food, and vendor booths hawking all manner of unique items.
Noel Night
December; Detroit; midtowndetroitinc.org
Noel Night is a great opportunity to get some gift shopping done, plus you can catch Christmas carolers, ice sculptors, horse-drawn carriages and more.