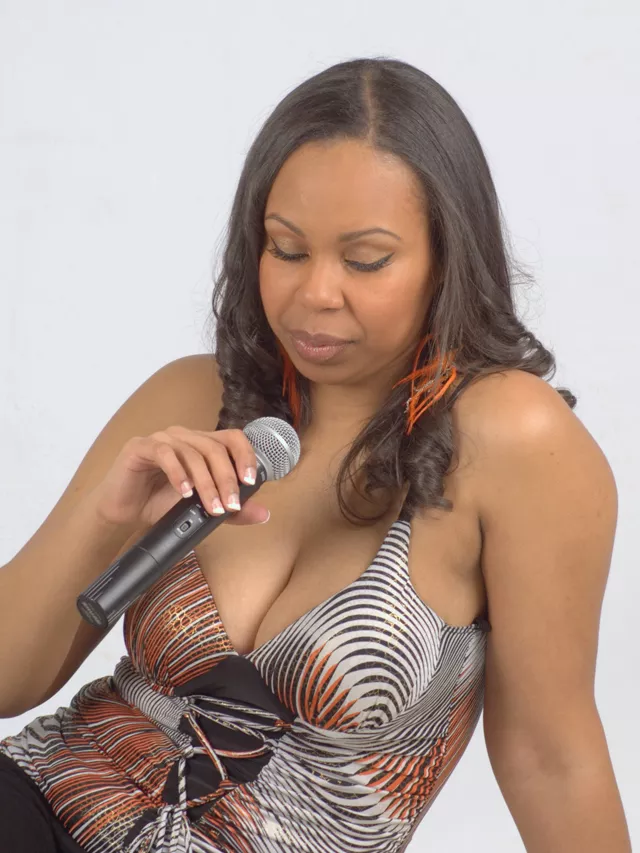 Catch one of Ashaki Zeigler's live sets and some things will be clear. She has an infectiously upbeat stage presence and a Champagne-bubbly voice that work together to disarm you. Once your guard is down, you're hit all the harder by her chops and artistry. She strives to be classy, but if pressed, she can be a bit of a ham too.
At a concert last summer, for instance, she co-led with vocalists Armond Jackson and Kimmie Horne, masterful scatters both. Knowing Zeigler isn't big on scatting, Jackson and Horne put on a display, showing off their scatting abilities as if performing at Buckingham Palace for the royal family.
When they were done, it was Zeigler's turn, and she didn't buckle. She matched them note for note, scatting across her octaves and shifting tempos so skillfully that the original scat cat Louis Armstrong probably would have winked.
And, in case you had any doubts, she'll emphasize that when you come to her shows, have no fears of less than ladylike behavior — or as Zeigler puts it, booty-bouncing or that dropping-it-like-it's-hot mess. To Zeigler, it's all about a singer's voice, and using that voice to sell a song.
"I don't have to be overtly sexual to sell a song," Zeigler said recently at the Starbucks on Woodward and Mack Avenue, nursing a hot apple cider and caramel drink, talking about her career and the new album she's working on with bassist-to-the-stars Ralphe Armstrong.
Zeigler's 10-year-old son, Khanya, was there. Hours before they'd attended a pre-Halloween event, and Zeigler hadn't removed the face paint on her left cheek, and Khanya was still in his costume, dressed like the civil rights leader Martin Luther King Jr.
Zeigler is in her mid-30s, with the same effervescent disposition offstage as on. Being with her is like having a dream date with a companion who's smart, funny, genuinely optimistic, and drop-dead fine.
"I'm extremely proud of Ashaki," says jazz pianist Pam Wise, who has worked off and on with Zeigler since the singer was 16 years old. "You know, she started out with [Harold] McKinney and Teddy Harris, and she has taken that knowledge they gave her and made it her own. It's been an exciting process watching her grow. Now it's like she's re-introducing herself to the Detroit jazz scene."
Zeigler grew up in Detroit in a family of singers. Her parents, who formed the gospel group Disciples of Joy, and raised Zeigler on gospel greats such as Tramaine and Walter Hawkins along with the jazz greats like Ella, Sarah and Billie. Yet, they tried to dissuade her from becoming a singer. Instead, they wanted her to be a doctor.
"When I was about 8 years old, I asked my uncle if I could join the choir, and he said no, because it was mostly adults and a few teenagers in the choir. He thought I was too little, but I kept bugging him and he finally said OK, he was going to let me sing a solo at the church," Zeigler recalls.
"I got up there in my little pink dress, and I sang my solo. I wasn't nervous. I was smiling and looking at people. Funny thing was, after that my uncle still didn't let me join the choir until I was 16 years old," she recalls.
Zeigler graduated from Cass Technical High School and attended Wayne State University. Her only formal musical training — and it was invaluable — was with the late jazz pianist Harold McKinney, who conducted a weekly jazz workshop at the old Serengeti Ballroom on Woodward Avenue. Also a gifted singer, McKinney attracted lots of aspiring vocalists to the sessions.
"When I got my first professional gig, I told Harold that I needed to put together a band and I needed to find a good piano player. Harold said, since I was talking to him about the gig, how about hiring him?" Zeigler recalls.
She continues: "I didn't think I was good enough to the point Harold would want to play with me. The gig was at the Comfort Zone. Djallo Djakate Keita was on drums, and Don Mayberry was on the bass. The first song of the last set I completely jacked up, but Harold covered it up. He played some chords over the mistakes and made them sound beautiful. That night if I had coughed Harold would've made it sound beautiful."
Zeigler was in her early 20s when her parents finally gave up trying to convince her to give medical school a shot. At the time, Zeigler had a good-paying job at DTE Energy, which she quit to work in a neighborhood music store for $10 per hour. Working there freed up more time for her to practice and hustle gigs.
The decision proved to be sound. A cousin of a close friend offered Zeigler a job singing in Japan, and she accepted. Gigs for jazz musicians in Japan were plentiful, but she worked with R&B acts.
"In Japan, there were so many people serious about what they were doing I had to step up my game. Musically, there were no limits. I was going around with all these people, all and they did was perform year-round."
She was pregnant with Khanya at the time and returned to Detroit after six months so he could be born here, but she planned to go back. When he was born, she decided to stay home, not wanting Khanya always to be that far from his dad.
Zeigler continued to perform, but the gigs in Detroit were scarce, so she returned to college, and earned a degree in special education. Then she landed a job teaching at an alternative high school. She performed infrequently, but she recorded three self-produced albums Ashaki Live, Every Time and Beautiful.
Asked how she was able to keep her voice up to snuff only performing here and there, Zeigler explains she was a habitual "car singer," singing in her car with the music blaring no matter where she's going.
Right now, Zeigler performs around town, and at a lot of private functions. Over the summer, she won a national singing competition called Rep Your City, which tours city to city searching for the best singers. Her first-place prize is opening for the R&B heartthrob Trey Songz when his national tour hits Detroit next spring.
Zeigler's biggest project is under way, recording a full-length album of originals songs yet untitled, produced by jazz bassist Ralphe Armstrong. Although Zeigler is a bona fide jazz vocalist, the new album will be completely neo-soul recording, although there was some R&B on her previous albums. She plans to push the new album to the max. Not that she's ever done anything concerning her career half-ass. This album is way more personal than her others.
Given her jazz background, is she concerned about being labeled a sellout?
"People keep telling me that I would do well performing mainstream. So I'm going to do that," she says. "Then I'm going to return to my roots, which is jazz. Jazz is a big part of me, and I don't want that die. So, I'm not going to sell out."
Charles L. Latimer writes about jazz for Metro Times. Send comments to [email protected]