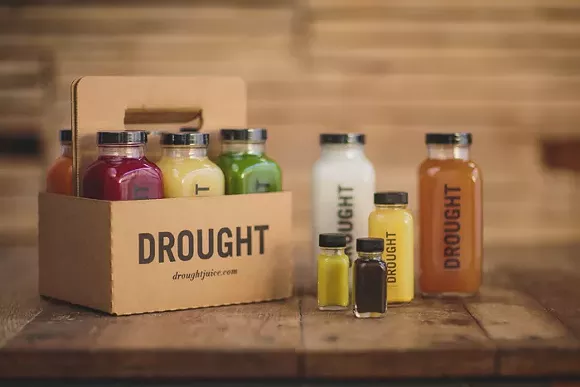 Over 80 percent of U.S. residents drink some form of coffee every day, and if they're not envigorated by a caffeine buzz, it's likely they're slamming a cup of juice, or something tasty. Here in Michigan, an abundance of coffee roasters and juice makers offer an incentive for residents to buy local to get some energy. Here are some worth knowing.
Schuil Coffee


Grand Rapids
schuilcoffee.com
If you've been fortunate enough to enjoy a quiet brunch at Russell Street Deli in Eastern Market before the lunchtime crowds or Saturday shoppers flock inside, hopefully your meal was punctuated by a cup of coffee, which the restaurant gets from Grand Rapids-based Schuil. The company's description of what it produces is fairly on-target: Schuil offers specialty roasts that have a delicious, nuanced flavor. The Schuil family's foray into coffee began in 1970 when Garry Schuil "experienced a cup of coffee unlike any he'd ever tasted," the company says on its website. With the insistence for specialty-everything in mind, Schuil set sail in 1981 with its signature roasts of arabica coffee beans that taste like they were produced with attention to detail.
Populace Coffee


Bay City
populace.coffee

Launched in 2010, Populace Coffee slings wholesale beans from a Bay City operation, just outside of Saginaw. The company distributes to 40 shops across the country, including several in Detroit.
Owner Andrew Heppner has a splendid supply of options to choose from, depending on your personal preference. There are cold brews, delicious blends, and beans that come directly from a local farm (known as "single origin"). Some come in limited supply, which makes each purchase more memorable for coffee gurus. If you're looking for a particular blend to start with, try the Guatemala Hunapu, which is driven by a flavor palette that includes butterscotch, plums, and chocolate.
Light of Day Organic Teas

Traverse City
lightofdayorganics.com
Located just outside of downtown Traverse City, Light of Day's background stems from founder Angela Macke's efforts to combat an auto-immune disease she was diagnosed with. The company produces organic tea, with most grown on its Traverse City farm. One of the main reasons why the company's products have garnered praise is its production method: As the company describes, it's driven in "small batches to promote consistency, to maximize freshness, and with the intention of offering them to you in their most pristine state so that you may enjoy the maximal nutritive benefits as Mother Nature intended."
Light of Day teas use packaging in a form that puts a green mentality first: Teas are kept in silver tins with soy-based ink labels and an emphasis on keeping things local. And the company emphasizes that on its website with pride: All teas are packaged and labeled and blended inside the farm's kitchen.
Eli Tea

Birmingham
eliteabar.com

Twentysomething Eli Majid took an unusual route to the tea business: His background is plant biology. After intensive research of native Midwestern edible and medicinal plants, he decided to put that knowledge to work by making and selling his own teas. One of his most popular flavors, Traverse City Cherry Festival Tea, is a light, fruity tea that uses all-natural ingredients to create a drink some compare to cherry Kool-Aid, and his Indian Masala Chai is from a family recipe.
Drought

Detroit
droughtjuice.com

Sure, Drought has attracted an onslaught of attention due to its locations in some of metro Detroit's hippest locations, but the company's raw juice is outstanding. Drought uses only organic fruits and vegetables, the juice is unpasteurized, and it's pretty obvious that's about as raw as it gets for juices. The company seems to peg itself as the antithesis of today's juice, which has been shot down by some health authorities almost entirely. "There is work to be done to repair the integrity of juice," the company says on its website. Sound heavy-handed? Who cares? Drop by one of their locales and give Drought juice a shot.