Between Black Friday and Jan. 1, the den of iniquity that is a children's toy store goes from simply annoying to the seventh circle of hell. Avoid the lines, the screaming kids, and the tiny plastic toys that will inevitably end up in your vacuum cleaner by picking up any one of these locally made trinkets that are just for kids.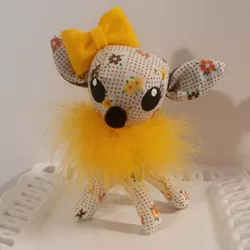 So Nifty Thrifty

Tooth fairy pillow

No one ever acknowledges how truly bizarre the tooth fairy mythology is, but that is neither here nor there. Inevitably a kiddo in your life is going to lose a fang and want to stuff it under their pillow in hopes of receiving riches from a tiny, winged chimera. Help them (and their parents, who have to fish it out from under said pillow while they sleep) keep those cuspids safe with this totes adorbs pillow made by So Nifty Thrifty. You can pick it up at HandCrafted in Riverview.
My First Pal by Amy Moore
Socktopus
Amy Moore is just a regular lady who loves making funny creatures out of crazy socks. She's got a regular day job, so she stitches and sews a menagerie of one-of-a-kind, colorful creatures while watching TV. You won't find her wares online, but she's a regular at local street fairs and craft shows. You can also reach her by emailing [email protected] Each pal is $20 and you'll never find two that are exactly alike.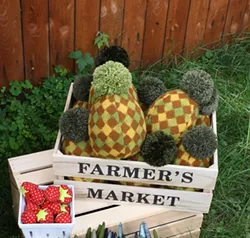 Wooly Mammoth
Fresh fruits
Some people might look at a stuffed fruit and wonder whether such a thing needs to exist, but anyone who's stepped on seemingly innumerable plastic vegetables will really get the point of crafting toys out of soft materials. Pick out a selection of Wooly Mammoth's stuffed fruits and vegetables for an adorable (and pain free) farmers market feel. You can purchase goods from Wooly Mammoth on Etsy or at the Detroit Urban Craft Fair.
Enamor
Friendly fawn
There is truly nothing more darling than when a tiny tot attaches itself to a soft, stuffed creature. But, to the horror of many parents, it's often some horrendous Mickey Mouse doll that will leave you reeling from the the commercialization of their offspring's childhood. Pick up this dreamy dear at the Detroit Urban Craft Fair. Your friends, and their progeny, with thank you.

Mended
Vintage baby sweater
Dude, forget about Carters. #Everyone will be wearing that plaid hoodie at the playground. Set the kiddo in your life up for success with their first-ever vintage sweater. These adorable little jumpers are made from reclaimed materials and will go great with a lovely little pair of leggings. The one-of-a-kind sweaters are $34 and can be purchased on Etsy or at the Detroit Urban Craft Fair.