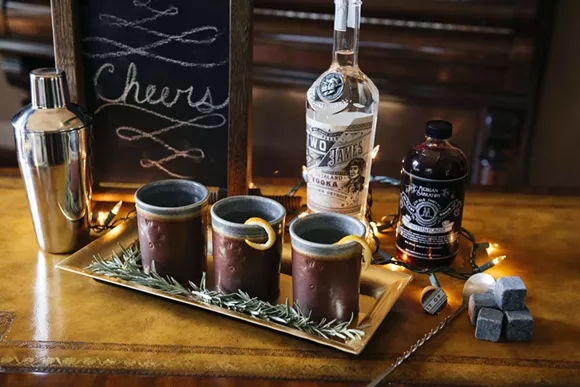 Sure, Target may be selling a 1,000-inch flat-screen TV for $60 on Thanksgiving Day and maybe that would make your dad happy, but in an attempt to reel in the over-commercialization of this Yuletide season, we'd like to humbly suggest giving these shops a chance to prove they've got something for everyone on your list.
Detroit Institute of Arts Gift Shop
5200 Woodward Ave., Detroit;
313-833-7948; dia.org
Each and every year some gift guide in some publication (eh-hem) will tell you they have the perfect thing for that person who has everything. Well, does that impossible-to-buy-for person on your list have a chandelier composed of vintage spoons? My feeling is no. The Detroit Institute of Arts gift shop has those in varying sizes (and, yes, I want one) as well as many other interesting oddities. They sell jewelry (also made from spoons!), plus books on everything from art to tea, handmade ornaments, ceramic tiles, quirky bookmarks, and plenty more. You can hit the museum or shop for a slew of gifts in their online store.
Eldorado General Store
1700 Michigan Ave.,
Detroit; 313-784-9220; eldoradogeneralstore.com
Erin Gavle has received her fair share of press, but take a step inside Corktown's Eldorado General Store and you'll see what has bloggers and major news outlets alike entranced. She sells a host of goods, from vintage to brand new, and stocks goods that would delight both guys and gals. Her collection of jewelry is to die for, as are her stock of tarot cards, candles, and vintage sweaters. Gavle travels the states collecting items to sell in the store and the care and thought put into her collection is apparent.
Elphie Elora: Purveyor of Fine Goods
Elphieelora.com
This little shop opened last year just off South Washington in Royal Oak, but sadly the brick-and-mortar incarnation of the business didn't last long. Thankfully, however, Elphie Elora has survived as an online business, so you can still support the proprietress Kristen Hawley in her endeavor to bring quirky and kitschy gifts to the masses. Think: bacon bandages, funny socks, voodoo dolls, hand-shaped hand soap and other various gag gifts that make for perfect stocking stuffers.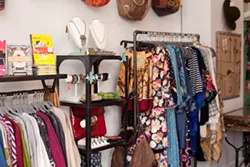 Frida
15 E. Kirby St., Detroit;
313-559-5500; fridadetroit.com
Sister to Rachel Lutz's Peacock Room, Frida is a little more laid-back, and just as much fun. You'll find Mexican-inspired wares from jewelry to handbags, from dresses to notepads. It's a the perfect place to pick up something for your girlfriend or your best friend — chances are she'll love everything in this store.

HandCrafted
18511 Fort St., Riverview;
734-288-0563; craftedmi.com
Downriver, for all its merits, is often late to the trend game. It's taken the region a while, but they finally got a shop that focuses solely on Michigan-made items. You can pick up JKM candles, Cellar Door soaps, Detroit Cargo bags, plant terrariums, and plenty more, plus they've got stuff for guys, gals, and kiddos too. In addition to being a great place to shop, they also hold craft classes, if you're more of a doer than a buyer.
Henry the Hatter
1307 Broadway St., Detroit; 313-962-0970;
Henry the Hatter is something of an institution in Detroit. The shop's been around since 1893 selling fancy toppers and casual caps. Everything on its shelves is made with quality and you'll get impeccable service too. Not in the market for a felt topper? They also sell Russian-style rabbit fur hats that will keep a noggin warm on the coldest of Midwestern days.
Hihi
220 W. Fourth St., Royal Oak;
248-658-8900; hellohihi.com
Maybe you have a 15-year-old niece who is obsessed with anime and Japanese pop culture. Or maybe that person is your 30-year-old boyfriend. Either way, Hihi is a little shop that's full of Pusheen stuffed dolls, Tokidoki unicorn figurines, Big Pants Cats toys, Sanrio notebooks, and various other colorful items that will serve as joyful stocking stuffers.
Pewabic Pottery
10125 E. Jefferson Ave., Detroit;
313-626-2000; pewabicstore.org
OK, your pockets will have to be a little deeper to pick up presents at this Detroit institution, but chances are gifts from this store will last a lifetime. A small Celtic vase will run $135, a set of three blue ceramic snowflake ornaments will cost a cool $70, and a classic mug is around $60. The items are beautiful, handmade, and one-of-a-kind, which makes forking over a little extra dough worth it for that special someone.
Wheelhouse Hamtramck
9401 Joseph Campau Ave., Hamtramck;
wheelhousedetroit.com
Wheelhouse Detroit owner Kelli Kavanaugh recently opened a second location of her successful shop, this time in Hamtramck. Whether you're looking for a set of wheels to gift your true love this holiday season or you're just hoping to put some bicycle accessories under the tree this year, Wheelhouse is the perfect place to pick up those items. This location will also exclusively sell a line of cycling-inspired clothing that's designed especially for folks who ride their bikes to work.
Xochi's Gift Shop
3437 Bagley St., Detroit;
313-841-6410;xochis.net
Traditional Mexican folk art, colorful crosses, ofrendas, Katrina dolls, beautifully painted skulls, wooden flutes, tiny sombreros, taco-shaped Christmas ornaments, handmade Nativity scenes, and so much more await all those who stop into this Mexicantown gift shop.