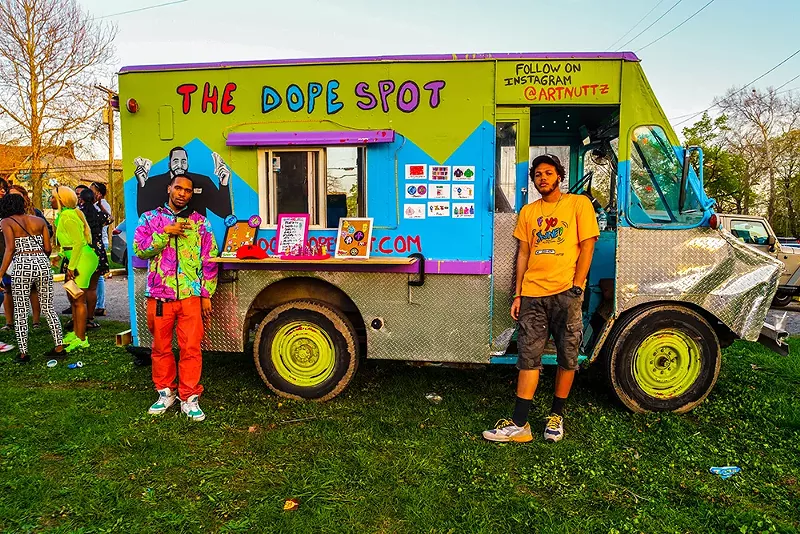 Art doesn't only happen in galleries and museums here in Detroit — though we do have plenty of those, too. But we also have an abundance of space in previously underutilized buildings and a greater affordability relative to other cities, both of which have long helped make the Motor City an attractive area for artists.
That said, it's not easy being an artist here. Detroit artists are resourceful and scrappy, making do with what they have. Yet Detroit's art scene flourishes. It's precisely that authenticity that makes Detroit's art scene stand out from the rest.
Newcomers have likely heard of the Heidelberg Project (
3600 Heidelberg St., Detroit; 313-458-8414; heidelberg.org
). Starting in 1986, artist Tyree Guyton began transforming empty lots and even entire houses into found-object art in his neglected childhood neighborhood. A lot has changed since he first started painting polka-dots and assembling found objects into whimsical sculptures. The city tried to raze it twice, and in recent years, vandals have even tried burning it down, but each time, Guyton bounced back. Now, Guyton has embarked on what he calls "Heidelberg 3.0," which has seen the artist consolidate the sprawling works into a more permanent central location. No matter where you fall on the art or eyesore debate, you have to agree there's no place quite like the Heidelberg Project on earth.
Another location in Detroit that has received international attention is the Eastern Market district (
Eastern Market, Detroit
), where many of the city's newest murals can be found. That's where local print house and art gallery 1xRUN has held its annual Murals in the Market festival every September, inviting local, national, and international artists to transform the walls into vibrant works of art. Though the fate of the festival is in question in 2020, the murals remain. There are also more murals in the nearby Dequindre Cut, a defunct rail line that's been transformed into a greenway with bike lanes for public use, as well as the Grand River Creative Corridor on the west side, which includes more than 100 murals from multiple artists.
Another spot known for outdoor art is the Lincoln Street Art Park. Anchored by Recycle Here! (
1331 Holden St., Detroit; 313- 871-4000;
recyclehere.net
), a community recycling center founded in 2005, the sprawling site includes murals from the likes of Carl Oxley and Robert Sestok, and a found-object sculpture park with a bonfire and stage known to host parties like Butt-Con. (Seriously, an annual celebration of butts. Only in Detroit!)
For more found-object fun, head to Hamtramck Disneyland (
in the alley behind 12087 Klinger St., Hamtramck
), which was created over the course of more than 20 years by the late Dmytro Szylak, a retired General Motors autoworker who began installing the moving sculpture — complete with whirligigs and other kinetic elements — in 1992. After Szylak died in 2015, the fate of the installation was in jeopardy, but an arts group eventually bought the property to look after it — because our art scene would be nothing without community.
Along those lines is also the African Bead Gallery and MBAD Museum (
6559 Grand River Ave., Detroit
), a bead store and outdoor art installation created by artist Olayami Dabls starting in the early 2000s as an attempt at creating an "African Town" like the city's other ethnic neighborhoods. The sprawling outdoor installation "Iron Teaching Rocks How to Rust" is a musing on race in America, and Dabls will even offer a guided tour. Another offbeat tour is the Detroit Parade Co. (
9500 Mt. Elliott, Detroit; 313-923-7400
), the 200,000-square-foot wonderland where artisans work on the floats and costumes for America's Thanksgiving Day Parade. The company offers tours year-round.
Hungry? There are plenty of places where you can have a feast for your eyes, as well as your stomach. Trinosophes (
1464 Gratiot Ave., Detroit; 313-778-9258; trinosophes.com
) has a café that also includes a performance space and gallery. There's also the Cass Café (
4620 Cass Ave., Detroit; 313-831-1400; casscafe.com
), a hip restaurant and bar that has a rotating exhibition of art on its walls from local artists.
Back in Eastern Market is Signal-Return (
1345 Division St., Detroit; 313-567-8970; signalreturnpress.org
), an old-fashioned print shop founded in 2011 that specializes in letterpress, a technology that dates back to the 15th century. You can buy prints from local artists or sign up for a workshop where you can learn to make your own letterpress prints.
A relative newcomer to the scene is Shoot Dope Spot (
shootdopespot.com
), like a food truck that instead slings art by Thomas "Nutty" Ingram III. Ingram's edgy, colorful designs include tie-dyed and neon-colored shirts with messages that poke fun at this whole scene, like "Hustle them fake artsy ri¢h kid$" and "I went to Detroit got this shirt and I didn't get shot." Hey, like we said, you have to be scrappy and resourceful to make it here — and have a bit of fun along the way.
We have a new events newsletter! Find out the best things to do in the area every Thursday morning in your inbox.