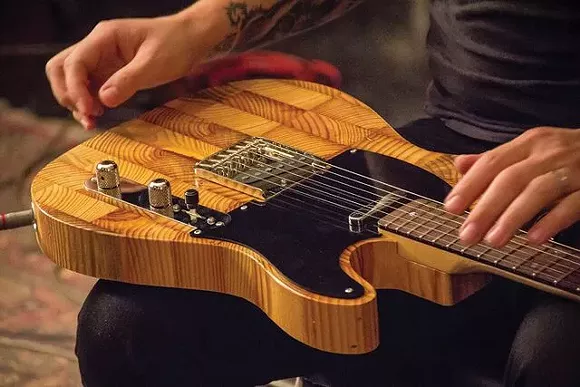 Michigan has a rich music history, with landmark artists and records originating from within the state. And with that history, there are a slew of opportunities to score Michigan-made gear. If you play music, these names should certainly be on your radar.
Wallace Detroit Guitars
Detroit
hel
[email protected]
; wallacedetroitguitars.com
Sure, you've heard plenty about folks in Detroit using reclaimed wood to appropriate it for a fresh use. For Mark Wallace, he's taken the concept and injected it with a dose of melody: Since 2014, Wallace Detroit Guitars has been using wood that's over 100 years old and reclaimed from buildings across the city of Detroit to construct guitars. And damn, these things sound lovely. The wood finishes are a sight to behold. "I love Detroit and I love music so it just made sense to combine those two things," Wallace says in a video on the company's website. The result is clearly a byproduct of that passion and a labor of love.
GHS Strings
Battle Creek
800-388-4447; ghsstrings.com
Founded in the mid-1960s, GHS has been a mainstay for guitar players looking for an easy-to-use set of strings. The company offers a variety of bright-sounding options, with plenty of mellow tones too. GHS slings product for a vast amount of stringed instruments, including bass, banjo, and mandolin. The company's Michigan roots extend to the musicians who endorse and use GHS, chiefly, Jack White of White Stripes fame.
World Class Tapes
Ann Arbor

734-662-0669; worldclasstapes.com
At some point, if you record a tune, you'd consider having the music published in some format. World Class Tapes is a starting point on that front, with duplication services for CDs, DVDs, and tapes. A go-to for local musicians for over a quarter-century, it's an ideal shop to ensure a physical copy of your music is delivered in a fine format. Also: It beats using Kinkos to print CD covers and glue them yourself, or burning a copy on your desktop's hard drive.
VG Kids

Ypsilanti
800-528-6343; vgkids.com
Those involved in the metro Detroit hardcore punk scene may recall the "The Vegetarian Grocer" in Pontiac. The vegan food store doubled as a venue for punk shows, and it's where James Marks, VGKids founder, began the collective that continues today as a screen printer in Ypsilanti. The shop has been the location for bands to have high-quality shirts, stickers, and posters pressed before heading off on a tour.
Bletchley Amps
St. Clair Shores

586-772-4458; bletchleyamps.com
Danny Russell is the man behind Blitz Amplifiers, one of the most well-respected amplifier technicians in metro Detroit. On the side, Russell also has a penchant for crafting finely crafted boutique amps under the name Bletchley Amps. The amps Russell creates provide an option to step outside the comfort zone of a big-box guitar megastore and try something new.
Bogdon Box Bass

Detroit

734-679-8181; bogdonboxbass.com
These quirky basses may be a bit off-putting upon first glance, but the Bogdon Box Bass has a righteous sound once you hear it. The creation of Bogdon Vasquaf, the instruments also offer the opportunity for someone who enjoys being crafty to get wild, as the bass comes prepared as a kit. According to the website, all you need is a hot glue gun, razor blade knife, Phillips screwdriver, packing tape, and a 7/16-inch wrench. If that doesn't sound appealing, and you're willing to pay additional cash, Bogdon says the bases can come fully assembled.