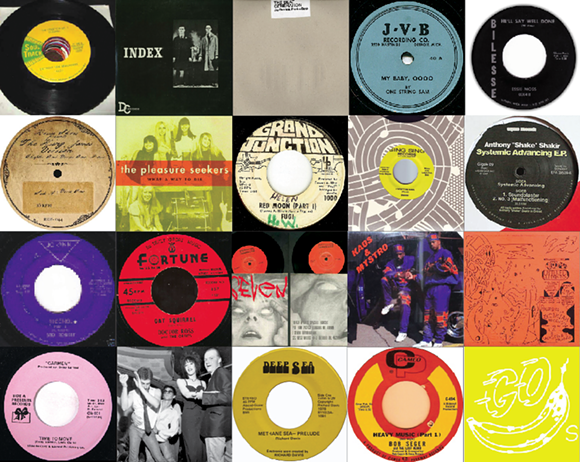 Planning a road trip around the city, and want to impress yourself? Are you in need of new tricks, having long since exhausted the available supply of MC5, Motown, Belleville Three, Gories, and P-Funk jams? Our panel of experts has compiled a list that will blow your socks off, Tiger.
Detroit Sex Machines, "The Stretch" (Soul Track, 1972)
Absolutely devastating and trippy funk jam rarity, thankfully bootlegged and readily available.
The Index, "Eight Miles High" (DC, 1967)
Barely ept high school garage psych at its finest from this Grosse Pointe trio.
Jay Dee with Frank-N-Dank, "Pause" (BBE, 2001)
This rare J Dilla production is infectious, head-nodding, and a bit weird — just perfect.
One String Sam, "I Need a Hundred Dollars" (JVB, 1958)
A diddley bow is a one-stringed guitar, and Sam Wilson made a glorious racket on the thing.
Essie Moss and Robert Grant, "The Detroit Riot" (Billesse, 1968)
Did you know there's an amazing, soulful gospel ballad released right after the riots? You've never heard anything quite like it.
DJ Houseshoes, "The King James Version" (no label, 2009)
No true history of Detroit's hip-hop scene can omit this colorful and inventive cut-up artist.
Pleasure Seekers, "What a Way to Die" (Hideout, 1965)
Raw, heavy-rocking garage scorcher from a 17-year-old Patti Quatro and her 15-year-old sister Suzi.
Fugi, "Red Moon" (Grand Junction)
You already know about proto-punkers Death; what if we told you the first black psych-rock band was from here, and that they were awesome?
Dwarf, "I Won't Be Back" (1975, Merlyn)
Fabulously hard, cowbell-fueled power-pop that came straight from nowhere and stayed there, but you just have to hear this; it rules.
Anthony Shakir, "Systemic Advancing" (International Gigolo, 1997)
Rarely mentioned second-wave techno artist who's one of the most unusual, off-kilter voices in Detroit electronic music.
Bro Robert, "Alcohol" (Jo Ann, 1968)
Very bluesy, funky ode to alcoholism.
Doctor Ross, "Cat Squirrel" (Fortune Records, 1961)
Hopped-up, raw jump boogie from one of the greatest record labels of all time.
L-Seven, "Insanity" (Touch and Go, 1982)
No, not the grunge-era act, but an earlier, excellent post-punk act.
Kaos & Mystro, "Mystro on the Flex" (1989, World One Records)
Afrocentric hip-hop over speedy beats, so good.

Nicodemus, "Backstreet Orange" (Zedekiah, 1978)
Funky, moody, biker funk-rock? Lordy, all of those are here and more.
Carmen, "Time to Move" (Presents, 1984)
An electro boogie jam perfectly suited for the roller rink.
Ramrods, "I'm a Ramrod" (DRC, 1977)
Understandably, some of the most brutal punk rock has come from Detroit, from the Stooges on through to Negative Approach. Here is a delightfully dunderheaded entry, straight from 1977.
Richard Davis, "Methane Sea" (Deep Sea, 1978)
None other than radio great the Electrifying Mojo used to start his shows with excerpts from this wacky proto-techno gem, thankfully recently reissued.
Bob Seger and the Last Heard, Heavy Music (Cameo, 1967)
Super soulful, heavy garage blaster from the days before Chevy trucks were "like a rock."
Superlife, "Go Bananas" (Go Bananas, 1982)
Bonkers horny electro super funk; unfuckwithable.