You might say that Grand Rapids is Detroit's little brother. As the state's second-most-populous city, the two cities have something of a rivalry, and it's likely plenty of people will argue "the west side is the best side." Maybe they have a point. Here are some of the places to visit when you want to escape the fracas of the Motor City for another.
YesterdogThere's a reason Hillary Clinton, Barack Obama, and Floyd Mayweather have all shoved these hot dogs into their mouths. This place has a reputation for a reason, and it's beyond nostalgia. OK, maybe it is just nostalgia: There's something about the smell of boiled hot dog water that just says "comfort food." Sure, you're not going to get the standard "snap" of the beloved Koegel's casing, but you're not in Detroit. There are no fries here, but you can smash some Michigan-made Cheeze Kurls. Pro tip: Come here for a cheap date if you only have $5 to your name. 1505 Wealthy St. SE, Grand Rapids; 616-336-0746; yesterdog.com
Founders Brewing Company
Yes, there is a Founders in Detroit now, but this is the OG. If there is any one reason Grand Rapids is named "Beer City, USA" it's because of this place — there are plenty of breweries here, but this is the daddy of them all. Founders beer is brilliant, and the establishment itself is second to none, with a giant main floor, great sandwiches, a huge outdoor patio, and a live music stage. Be warned, it is always busy — so get ready for a crowd, and be sure to try a Red's Rye IPA, which is not sold in stores. 235 Grandville Ave. SW, Grand Rapids; 616-776-1195; foundersbrewing.com
Grand Rapids Art Museum
At the GRAM, they have specialized exhibits from both artists from Michigan and beyond. Admission is $10 for adults, although it is free on Tuesdays and Thursdays. (Thanks, Meijer donations.) 101 Monroe Center St. NW, Grand Rapids; 616-831-1000; artmuseumgr.org
Grand Central Market
Down the street from the GRAM you'll find all of your deli and beverage needs — and you'll probably need a snack after you get out and contemplate all the art you really didn't understand but pretended you did in front of your date — where you can get a $12 sandwich and $3 craft soda. Nearby, they film our local WOOD-TV news front and center in the window. Feel free to walk back in front of the TV station and wave a dumb sign if you want. Hi, Mom! 57 Monroe St. NW, Grand Rapids; 616-454-5300; grandcentralmarketgr.com
Donkey Taqueria
Welcome to West Michigan's answer to Detroit's Cass Corridor — ironically, this neighborhood is also called Midtown, and what was once a barren wasteland of boarded-up buildings is now also filled with great restaurants and bars. Hooray, gentrification! If you're in a Mexican street food mood, try Donkey Taqueria, which has the best queso and margaritas in town. 665 Wealthy St. SE, Grand Rapids; donkeygr.com
The Winchester
Located across the street from Donkey Taqueria, the Winchester has a great Sunday Bloody Mary bar, complete with a '90s hip-hop playlist. You build your own Bloody as far as all the spices and sauces go, and there's also a plethora of skewer toppings (like bacon, pepperoni, cheddar cheese, shrimp, and blue cheese-stuffed green olives) to shove in your glass as well. Be sure to load that skewer all the way up and get your $7 worth, and remember to Instagram or it didn't happen. 648 Wealthy St. SE, Grand Rapids; 616-451-4969; winchestergr.com
The Meanwhile
If you are feeling extra hip, the Meanwhile has got you covered, with cheap, strong drinks and a multitude of local artwork adorning the walls. While there is an old-school jukebox here (not the internet kind), usually the bartenders will just play whatever they want. Here, you can enjoy a spirited round of old-school Pac-Man (you know, the sit-down kind) over a house classic Vern Ehlers (Vernors and whiskey). 1005 Wealthy St. SE, Grand Rapids; 616-233-1679; meanwhilebar.com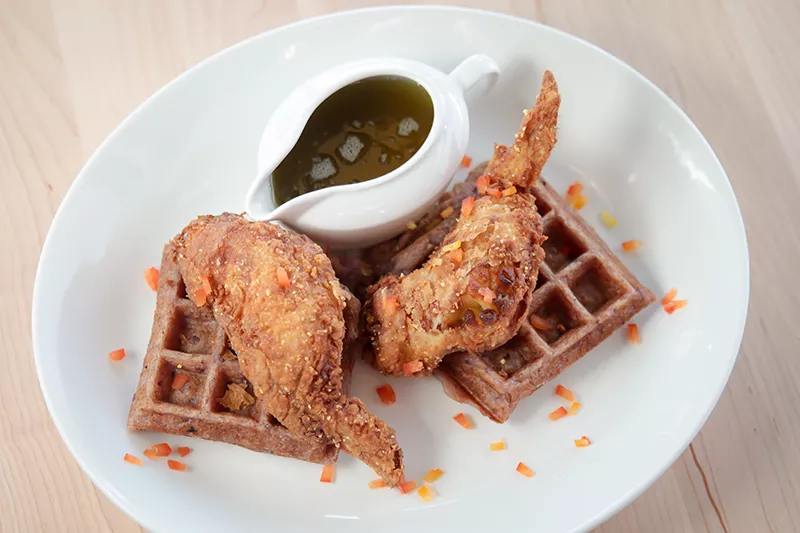 Forty Acres and a Mule
Half a mile up the street from the Meanwhile is this newly opened soul food restaurant and bar. Owners Darel Ross and Lewis Williams have long been community activists for Grand Rapids, and proudly represent the black community. When they saw a void in Grand Rapids when it came to black-owned businesses and restaurants, they started their own, bringing upscale soul food to the Wealthy Street business district. (All of the aforementioned hot spots have outdoor seating, so you can feel the summer breeze whisper sweet nothings into your ears and enjoy the sun before Old Man Winter comes for the next eight months.) 1059 Wealthy St. SE, Grand Rapids; 616-723-9770; fortyacresgr.com
Millennium Park
If you want to lay in the sand and jump in some water while without going too far (10 minutes from downtown), this is the spot to do it. Admission is $4 and well worth it. Besides swimming, there are nearly 18 miles of walking and bike trails that surround this little beauty. You can also rent kayaks, canoes, and stand-up paddle boards. There are also picnic pavilions with grills and a playground for the kids. 1415 Maynard Ave. SW, Walker; 616-791-2357; kentcountyparks.org/millennium
Frederik Meijer Gardens
Here, a conservatory of rare plants from around the world are surrounded by plenty of sculptures. Notables include "Plantoir," a dinosaur-sized shovel, and "The American Horse." The Great Lakes Garden is also a great interactive experience if your spawn are with you. Besides the Amphitheater Garden, which hosts many shows throughout the summer, the Frederik Gardens are most renowned for its butterfly exhibition. 1000 E. Beltline Ave. NE, Grand Rapids; 888-957-1580; meijergardens.org
Tree Runner Adventure Park
Since butterfly-watching is such a riveting event, you can pump that adrenaline back up at this nearby park, which features obstacle courses, rope bridges, and even zip lines so you can fly through the trees and get your Tarzan on. 2121 Celebration Dr. NE, Grand Rapids; 616-226-3993; treerunnergrandrapids.com
Stella's Lounge
Besides touting America's best burger (as named by GQ in 2013), Stella's also has more than 200 whiskeys and classic arcade games. On a Monday you can catch the Drunken Retort, an outlet for artists to express themselves in an open mic format put on by a collective of local poets and activists, the Diatribe. Get there early — it fills up quick. 53 Commerce Ave., Grand Rapids; 616-742-4444; stellasgr.com
ArtPrize
Falling in September and October, ArtPrize — the brainchild of Rick DeVos (the DeVoses run Grand Rapids much like Dan Gilbert runs the D) — brings people from around the world to the city. In 2017, 1,346 works created by 1,512 artists from 42 states and 47 countries were exhibited in 175 venues. While some locals groan at the increased tourism and kitschy art, there's no denying ArtPrize is truly a spectacle, with all the excitement and controlled chaos running downtown. ArtPrize venues range from outdoor exhibits to local bars, encompassing paintings, sculptures, murals, and more. Many are featured in the galleries of the Heartside District, scattered throughout downtown. If you don't mind large crowds, this is for you. Get your camera phone ready, some of the displays are mind-blowing. artprize.org
The Pyramid Scheme
GR has an array of music venues to catch a show, and all the good ones are smack dab downtown. This venue hosts great indie shows, and also boasts 24 pinball machines. 68 Commerce Ave. SW, Grand Rapids; 616-272-3758; pyramidschemebar.com
The Intersection
The Intersection is also a solid for live music, with three different stages — so they can hold multiple shows at the same damn time. 133 Grandville Ave. SW, Grand Rapids; 616-451-8232; sectionlive.com
From our 2018 Made in Michigan issue.