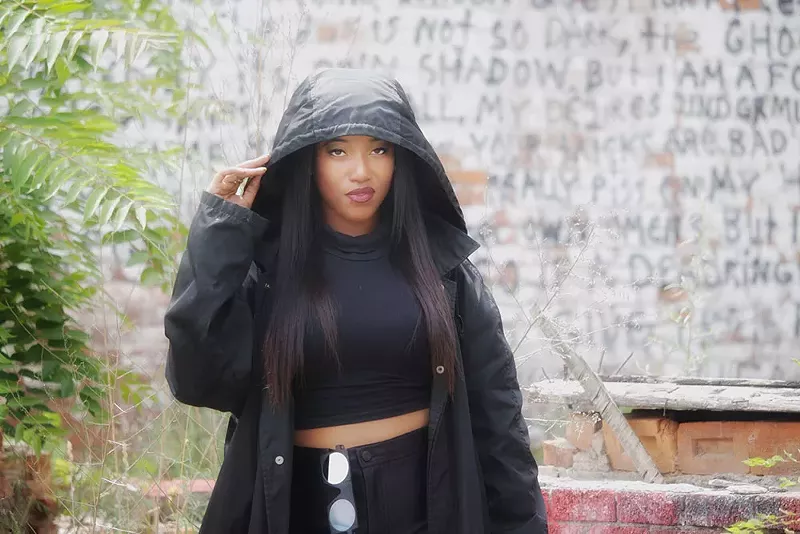 It's no secret that Movement Music Festival draws renowned musical acts across genres from every corner of the world. But the truth is, you don't have to look beyond our own backyard for some of the most innovative electronic artists working today. Nearly 40 acts on the bill this year hail from metro Detroit, many of whom will sound pretty familiar considering they pretty much created the damn scene (we're looking at you Carl Craig, Kevin Saunderson, and Stacey "Hotwaxx" Hale). Here are 10 local artists to add to your personal lineup.
Count Mack
Saturday, Red Bull Music Stage, 4:30 p.m.-5 p.m.
Vaughn Taormina wears many hats and sports just as many monikers. As a Detroit fine artist, digital media maker, and emcee, Thir$ty Boy Entertainment's own Count Mack (or Mackie Bambino) has the feel-good party swagger on lock.
Listen to: "Pills x 100" (2014)
Waajeed (live)
Saturday, Stargate Stage, 3:30 p.m.-4:30 p.m.
When your breakthrough career move was founding Slum Village alongside T3, Baatin, and the legendary J Dilla, the ceiling does not apply to you. Such is true for music-producer Waajeed. He would later go on to form the Motown and Underground Resistance-inspired label Bling 47 in 2002, which has served as a launching pad for up-and-coming artists. Most recently he has adopted a more dance-floor heavy sound.
Listen to: "Better Late Than Never," Shango (2017)
Stacey Pullen
Saturday, Stargate Stage, 7:30 p.m.-9 p.m.
For more than 20 years, Stacey Pullen has been concocting his interpretation of an array of influences. Pullen pulls from fellow Detroit-techno greats the Belleville Three and jazz legend Herbie Hancock, which is how he has managed to create a transportive house aesthetic.
Listen to: "Tsunami," Today Is the Tomorrow You Were Promised Yesterday (2001)
DJ Holographic
Sunday, Red Bull Music Stage, 3 p.m.-4:30 p.m.
Described as a one-woman funk machine, DJ Holographic (aka Ariel Catalina) has performed at high school proms and international electronic clubs. It doesn't hurt that she has DJing in her blood, as her father was spinning vinyl long before she was born. Her glittering disco-house is fit for kings and queens of the underground both past and present.
Listen to: "How Players Play" (2014)
Shady P
Sunday, Underground Stage, 3 p.m.-4 p.m.
Shady P could not be more aptly named as he seems to level-up the more underground he becomes. A resident TV Lounge performer, Texture collaborator, and co-founder of How to Kill Records Detroit, Shady P's sludge and house vibes are emerging as some of the freshest in the scene.
Listen to: "Hand on Shady P (Janky Edit)" (2016)
Shigeto
Sunday, Red Bull Music Stage, 6 p.m. - 7 p.m.
Zach Saginaw is better known as Shigeto — the Ghostly International master of pulse blends. He draws from his own family history and heritage through jazz, hip-hop, and even folk influences.
Listen to: "Detroit Part 1," No Better Time Than Now (2013)
Will Sessions & Amp Fiddler feat. Dames Brown
Sunday, Red Bull Music Stage, 7 p.m.-8 p.m.
The word "fusion" doesn't begin to skim the surface of the rich and diverse stylings of Detroit's hardest working band, Will Sessions. The eight-piece swells with reimagined funk that is equal parts jazz, soul, and hip-hop. To sweeten the deal, Will Sessions will team up with Livonia's modern Motown trio, Dames Brown.
Listen to: "Lost Without You" (2017)
Milan Ariel (live)
Sunday, Red Bull Music Stage, 2 p.m.-3 p.m.
She may be an up and comer, but nu-soul songstress Milan Ariel has techno in her blood. From an early age, her father and Detroit icon Juan Atkins immersed Milan in his brand of electro funk. The result? A hybrid of dreamy singer-songwriter sensibilities and classic afro-funk.
Listen to: "Circadian Rhythm," Twelve Moons (2017)
Stone Owl (live)
Monday, Pyramid Stage, 3 p.m.-4 p.m.
An elusive duo, Stone Owl is a cult favorite. Jake Greba and Eric Novak's subsonic and subversive output is chasmic. Frenzied production skills, immersive basslines, sacred geometry, crystal singing bowls, and subconscious vibrations are among Stone Owl's unique tools.
Listen to: "Chemtrails" (2013)
Golf Clap
Monday, Stargate Stage, 4 p.m.-6 p.m.
Hugh Cleal and Bryan Jones are Golf Clap — house music wizards and self-proclaimed afterparty enthusiasts. In only five years, Golf Clap has a slew of releases on some of the most influential house labels and have established themselves as festival favorites at Electric Forest and North Coast. The duo's stamina-heavy house speaks true of their work ethic, which is why these two are likely to be the last ones to leave the party.
Listen to: "Impact" (2018)
Movement Music Festival is from Saturday, May 26-Monday, May 28; 1 Hart Plaza, Detroit; movement.us; General admission for one day is $85; General admission tickets for the weekend are $195; VIP weekend tickets are $320.
Get our top picks for the best events in Detroit every Thursday morning. Sign up for our events newsletter.