Fucking idiots ...
I always have to defend my former hometown Chicago from my musician boyfriend and all his friends who insist that, aside from the jazz and experimental stuff, Chicago's scene is super lame. But I can't do it this time, not after reading Deanna Issacs' recent piece in the Chicago Reader: "Second Rate? Or Second City Syndrome?"
She writes: "Sympathy for the Devil," the new rock 'n' roll exhibit at the Museum of Contemporary Art, is getting a distinctly unsympathetic response from certain quarters. Subtitled "Art and Rock and Roll Since 1967," the show's intended to examine the "dynamic relationship" between rockers and artists, and it includes art from all over the world. But it's organized in geographic chunks, so it's instantly clear that while there's lots of art from Los Angeles, lots from New York, and a good deal from the United Kingdom, there's very little from Chicago. While LA and New York command their own expansive sections, Chicago is lumped with Detroit and Rhode Island and the rest of the country in a single grab-bag category.
How sad for them that they've been "lumped" with such lame ass cities as Detroit and, uh, Rhode Island. But folks on both coasts already know that Detroit's irrefutably more influential than Chicago, as far as the rock/art symbiosis goes, and Isaacs just makes herself and Chicago's creative-types seem provincial for not knowing that, let alone for whining about her city's own prominence in the exhibit.
If anything, Detroit should get as much wall space as L.A. and New York. We've got Gary Grimshaw, the poster child for the MC5, Iggy and the Grande Ballroom, as well as tons of back issues of CREEM magazine (whose logo, by the by, was inspired by a soul-city's neon signs... and neon was a big thing in the high art world, too, back in the '60s). The De Stijl-obsessed White Stripes just came out with their own camera. And Niagara (of Destroy All Monsters) and Glen Barr still rule Juxtapoz magazine. (Ironically, the image on the press release for the exhibit is a print by L.A. artist Patrick Painter, entitled "The Heart of Detroit by Moonlight" that's full of iconic Detroit pop cultural images; part of his "Destroy All Monsters Collective." Other paintings in this series — on display in Chicago — features images of John Sinclair, Mitch Ryder, Funkadelic, Question Mark & The Mysterians, and TV hosts Soupy Sales and Bill Kennedy, among other local superstars. One even features Niagara herself.)
I could go on, but I'll finish up because it's really "rock" and really "avant-garde" to not give a shit about some museum show.
Sympathy for the Devil: Art and Rock and Roll Since 1967 continues at Chicago's Museum of Contemporary Art, 220 E. Chicago Ave., Chicago, IL 60611, through January 6, 2008. Admission is $10 for adults; $6 for students and seniors. Phone 312-280-2660 for more information.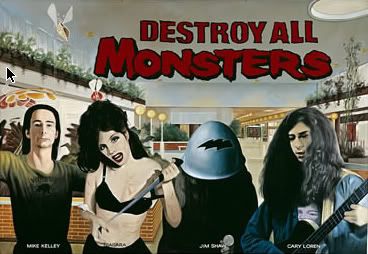 One of the prints from Patrick Painter's "Destroy All Monsters Collective" currently on display in Chicago