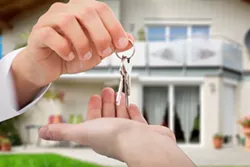 Thanks to predatory mortgage lenders, corporate greed, and plain old stupidity, the homeownership part of the American Dream has become increasingly difficult. In order to sidestep the risk of making a poor investment, many families are now opting to rent rather than enter into a 30-year loan payment plan that could end up in foreclosure, painful loss, and hurt feelings.
But, as my mother will tell you, renting isn't a better deal. In effect, you're often paying the same, or more, and with none of the investment. Where there is risk, there's reward — and stuff.
Anyway, home rental is at its highest since the '60s and this site called WalletHub did an "in-depth analysis" about of the best and worst cities for renters in American.
You guessed it! Of 150 of the biggest cities in this country Detroit is hanging out at the bottom of the list. We're the fourth worst in terms of affordability, even though we ranked pretty well in the cost of living department.
We're also the second worst in terms of job availability (big surprise there!), rank low in safety and rent-to-price ratio, and a large percentage of renters are paying AT LEAST 50 percent of their income in rent (yikes!). On the bright side, we're above average in the number of paid-relocation jobs per labor-force participants (yay!).
We have some good company down at the bottom of the list, including New York City, Philly, Portland, and L.A. Meanwhile, Arizona swept the top ten for rental market and affordability, filling six spots with Scottsdale, Chandler, Tempe, Gilbert, Phoenix, and Peoria.
So, you know, there's that. For the whole study click
here
.